Interested in purchasing my novels? Published by Classical Girl Press, the most recent is Ballet Orphans, a prequel to the Ballet Theatre Chronicles. Forthcoming in summer 2023 is Other Stages, its sequel. Also in the series are Off Balance  and the award-winning Outside the Limelight. All my novels are stand-alone stories, and don't have to be read in order. (But if you're new to the series, I'd propose you start with Ballet Orphans, Book 3 of the series.) My third novel, the Africa-centric A Dancer's Guide to Africa,  connects delightfully to the series in a unique way. Read it to see how! (Just click on their highlighted titles above.)
Classical Girl Press' Published and Forthcoming Novels
Off Balance, Book 1 of the Ballet Theatre Chronicles —  May, 2015
Outside the Limelight, Book 2 of the Ballet Theatre Chronicles — October, 2016
A Dancer's Guide to Africa, a novel — Oct, 2018
Ballet Orphans, a prequel, Book 3 of the Ballet Theatre Chronicles — January, 2021
Other Stages, Book 4 of the Ballet Theatre Chronicles — summer 2023, details HERE at the publisher's website.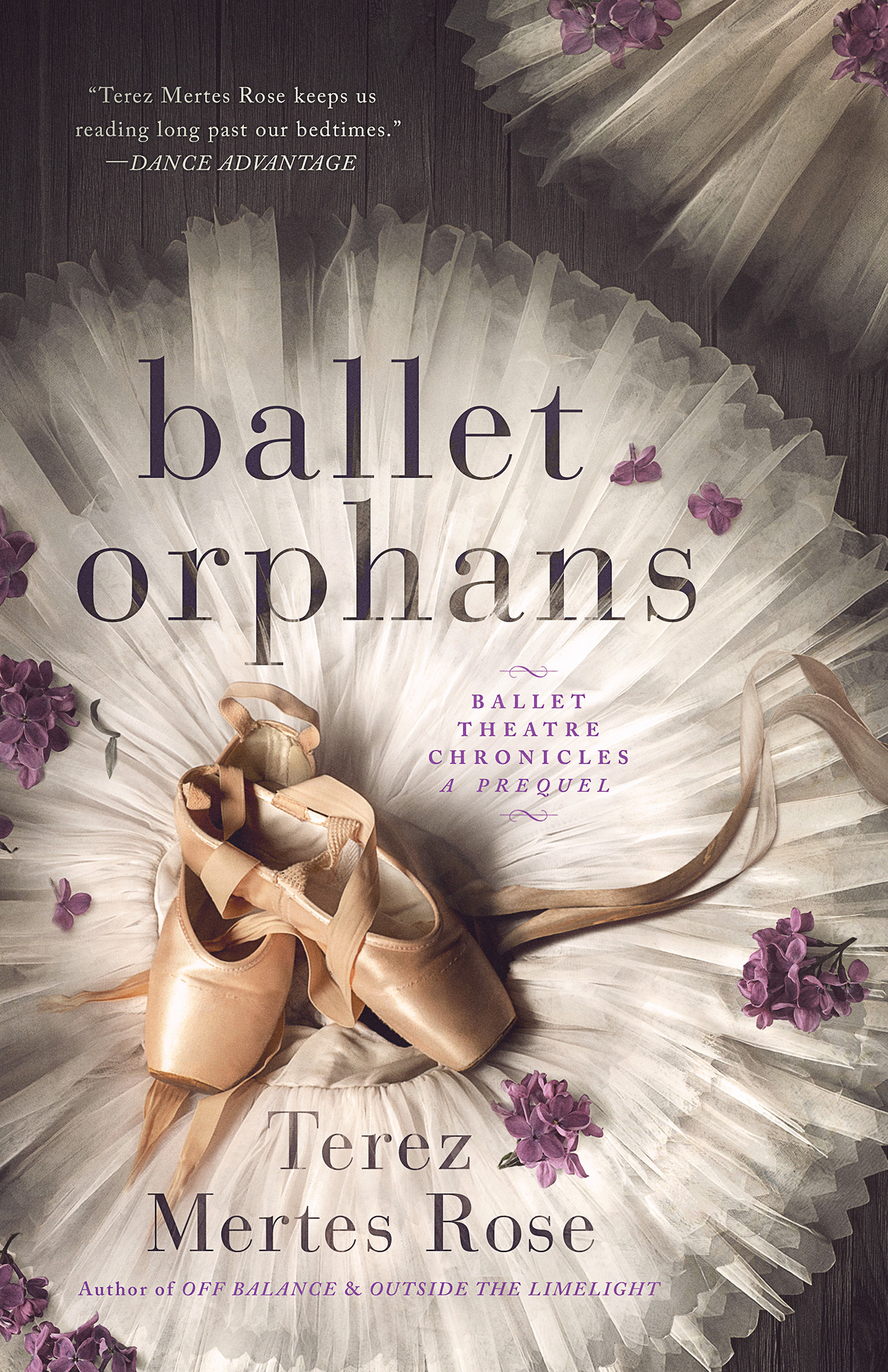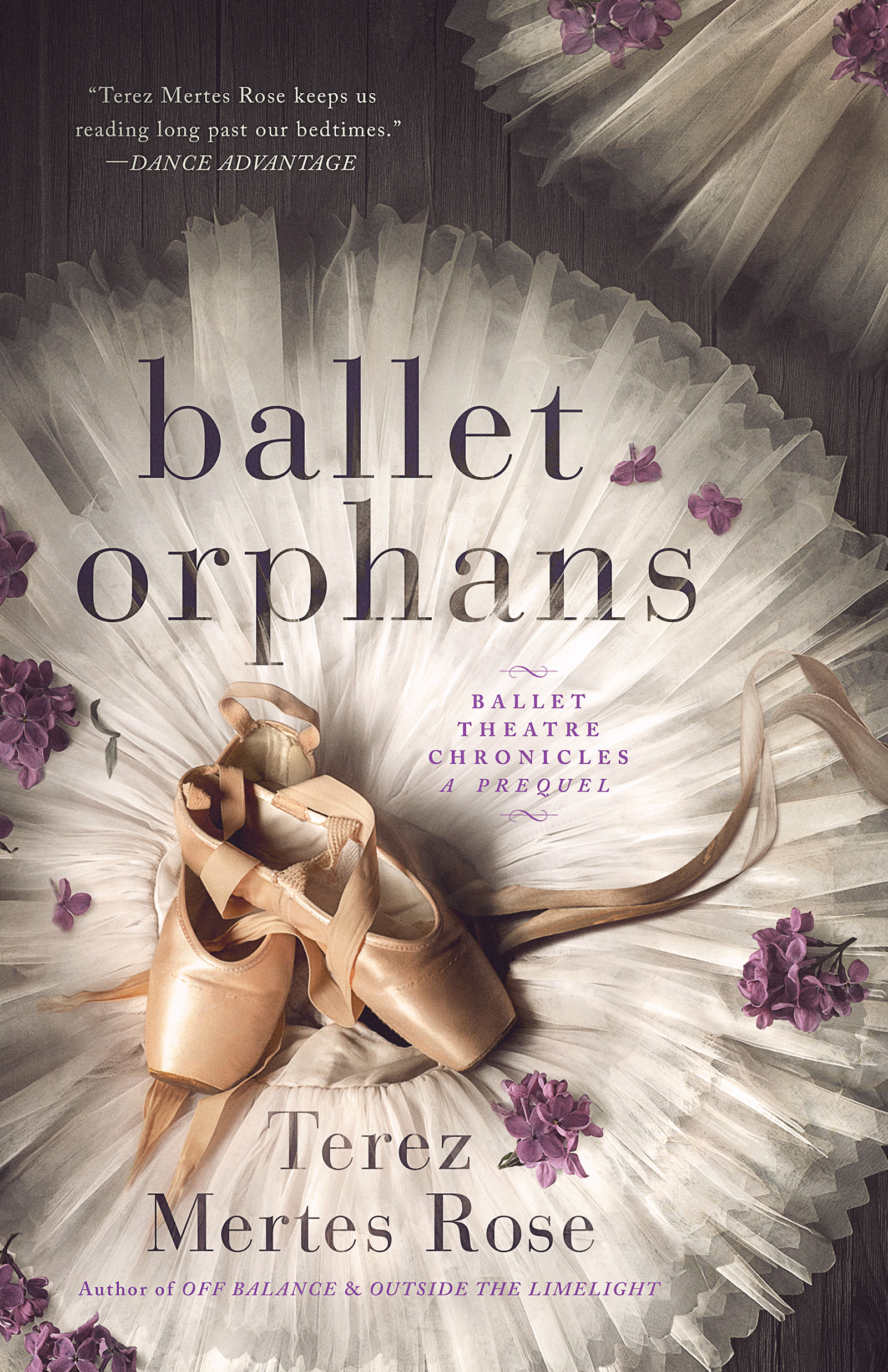 BALLET ORPHANS
It's 1990, and New York soloist April Manning is trying to rebalance her world in the aftermath of her parents' deaths. An offer to join the struggling West Coast Ballet Theatre as a principal dancer seems like the perfect opportunity for a fresh start—a new life in San Francisco, an exciting step up in her career, and the hope of a redefined sense of family. But the other dancers are wary, clannish and tight-lipped, particularly about an incident that hastened the departure of their beloved artistic director, leading to the arrival of his replacement, the young, inexperienced Anders Gunst. And no one wants to talk about Jana, a former company member who defiantly walked out rather than work under Anders. It is Jana herself who offers April hints, and even friendship, where she reveals a loneliness and hunger to belong that newly orphaned April well understands. But there is something troubling about Jana, and what April doesn't know could prove deadly. 
A prequel to the Ballet Theatre Chronicles, BALLET ORPHANS explores the work and sacrifices required to arrive at the highest tiers of the professional ballet world, coupled with the primal, universal desire to belong, to love and be loved, and the lengths we'll go to protect those we call family.
Praise for Ballet Orphans
"A stimulating and entertaining tale in which passion and art intermingle."
— Kirkus Reviews
"Terez Mertes Rose makes dancers of us all. She ushers us behind the scenes of the gritty and glamorous world of ballet and captivates us with a story that is ultimately about universal themes of loss, hope, belonging, and what makes a family. I took up residence in the pages of this book and didn't want to leave."
— Kelly Mustian, author of The Girls in the Stilt House
"In this compelling prequel to her Ballet Theatre Chronicles series, Rose once again immerses us in the fascinating, inner workings of a professional ballet company. Concurrently, the issues of loss and the search for family are beautifully and tenderly addressed. The unique personalities among the characters are depicted so clearly, they seemed like real people to me. I missed them when the story ended. A powerful, engaging read you won't soon forget."
— Grace Harstad, author of Invisible Woman: a Birth Mother's Memoir
"Terez Mertes Rose's descriptive writing leaps off of the page and takes you on a journey through protagonist April Manning's eyes. I could identify with her struggles and achievements and I rooted for her along the way. A recommended read for all, dancer and non-dancer alike."
— Lauren Jonas, Artistic Director, Diablo Ballet
"Under conditions of unrelenting minute-to-minute competition in an art form brutally  monetized at the box office, male dancers and artistic directors become protagonist April Manning's enablers onstage, and potential disablers in life. In the absence of an actual family, this fraught configuration of artists and business-savvy angle-shooters, becomes hers, with all attendant "family values" at work. Whether your remove comes from the vantage point of two-to-six degrees of separation or you are the dancer who has lived this 'What I Did For Love' experience, you'll find that Rose's every chapter could be a lusty, gusty, entry in and into your very own diary.
— Toba Singer, author of Fernando Alonso, the Father of Cuban Ballet and First Position: a Century of Ballet Artists
"What I love about Terez Mertes Rose's novels are her achingly relatable characters and their complex fully-realized relationships. No matter the setting in the ballet world, Africa, or even the early 90s of Ballet Orphans, I quickly fall into the rhythm of her narrative and enjoy the ride."
— Leigh Purtill, author (as Cat Jordan) of Eight Days on Planet Earth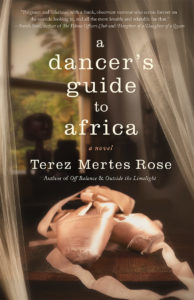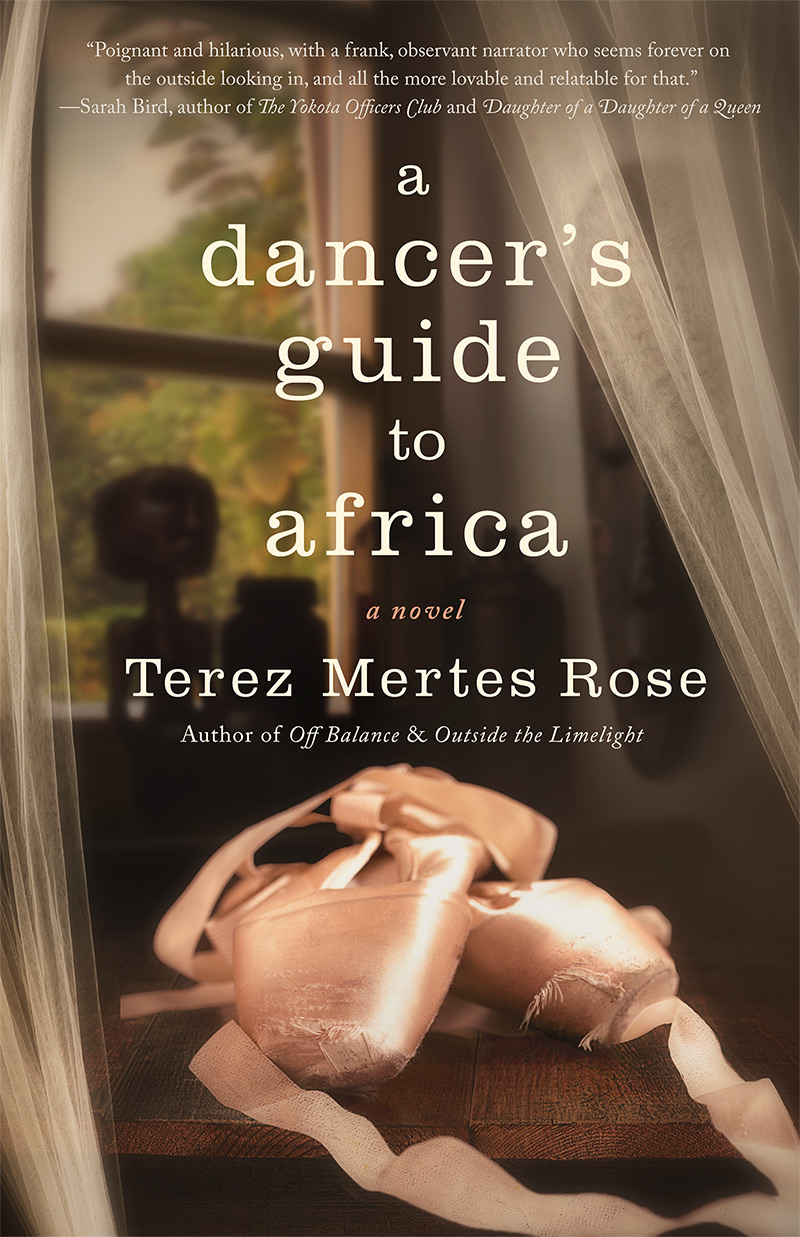 A DANCER'S GUIDE TO AFRICA
Fiona Garvey, ballet dancer and new college graduate, is desperate to escape her sister's betrayal and a failed relationship. Vowing to restart as far from home as possible, she accepts a two-year teaching position with the Peace Corps in Africa. It's a role she's sure she can perform. But in no time, Fiona realizes she's traded her problems in Omaha for bigger ones in Gabon, a country as beautiful as it is filled with contradictions. 
Emotionally derailed by Christophe, a charismatic and privileged Gabonese man who can teach her to let go of her inhibitions but can't commit to anything more, threatened by an overly familiar student with a menacing fixation on her, and drawn into the compelling but potentially dangerous local dance ceremonies, Fiona finds herself at increasing risk. And when matters come to a shocking head, she must reach inside herself, find her dancer's power, and fight back.
Blending humor and pathos, A DANCER'S GUIDE TO AFRICA takes the reader along on a suspense-laden, sensual journey through Africa's complex beauty, mystery and mysticism.
Praise for A Dancer's Guide to Africa
"Vivid prose and rapt evocations of the African surroundings make the story come alive."
– Kirkus Reviews
"Hilarious and poignant, with a frank, observant narrator who seems forever on the outside looking in, and all the more lovable and relatable for that."
— Sarah Bird, bestselling author of The Yokota Officers Club and Daughter of a Daughter of a Queen
"Terez Mertes Rose knows dancing. She can make us feel its soulful allure. And in A Dancer's Guide To Africa she captures the wonder, the culture divide, the longing and loneliness of being an outsider in the nation of Gabon. Better still, she delivers a cast of characters and a story that holds our attention from beginning to end. With this novel, Terez Mertes Rose, a savvy, insightful and entertaining writer, has come into her own."
— John Dalton, award-winning author of Heaven Lake
"Rich with the smells, sounds, sights and culture of Africa, this novel takes us on an exquisite journey, through the eyes of a ballet dancer turned Peace Corps volunteer. A Dancer's Guide to Africa is at once funny and dark, and superbly nuanced."
— Marika Brussel, choreographer and former dancer
"A textured, sensuous, coming-of-age story that had me turning pages until the very end. I could almost hear the drums and see the firelight as I followed these believably drawn characters through their cultural and romantic escapades in this wonderful novel."
— Anne Clermont, author of Learning to Fall
"Terez Mertes Rose has drawn on her considerable passions—dance, music, and storytelling—to take readers on a sometimes mystical and often suspenseful journey. The spiritual, visceral, and sensory-laden beauty of Gabon was a believable and riveting backdrop for this touching story of a women discovering her truth and power. A Dancer's Guide to Africacommanded my attention from the first page to the last sentence."
-– Jennifer Haupt, award-winning author of In the Shadow of 10,000 Hills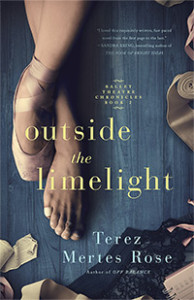 OUTSIDE THE LIMELIGHT, Book 2 of the Ballet Theatre Chronicles
Rising ballet star Dena Lindgren's dream career is knocked off its axis when a puzzling onstage fall results in a crushing diagnosis: a brain tumor. Looming surgery and its long recovery period prompt the company's artistic director, Anders Gunst, to shift his attention to an overshadowed company dancer: Dena's older sister, Rebecca, with whom Anders once shared a special relationship.
Under the heady glow of Anders' attention, Rebecca thrives, even as her recuperating sister, hobbled and unnoticed, languishes on the sidelines of a world that demands beauty and perfection. Rebecca ultimately faces a painful choice: play by the artistic director's rules and profit, or take shocking action to help her sister.
Exposing the glamorous onstage world of professional ballet, as well as its shadowed wings and dark underbelly, OUTSIDE THE LIMELIGHT examines loyalty, beauty, artistic passion, and asks what might be worth losing in order to help the ones you love.
Praise for Outside the Limelight
"A lovely and engaging tale of sibling rivalry in the high-stakes dance world."
– Kirkus Reviews (Starred review; a Kirkus Indie Books of the Month Selection)
"Balanchine said dance is music made visible; Terez Mertes Rose's Outside the Limelight is dance made readable. She reveals both the beauty of ballet and its pain in a compelling, deftly written novel that unfolds like a series of perfectly executed chaîné turns. Not to be missed!"
— Tasha Alexander, NYT bestselling author of A Terrible Beauty
"Outside the Limelight sweeps us backstage, through the wings, past the dressing rooms, and into the lives of its dancers, where we see them up close, flawed and beautiful."
— Adrienne Sharp, bestselling author of The True Memoirs of Little K and White Swan, Black Swan
"From the theater's spotlights and shadows, Terez Mertes Rose spins a nuanced drama of pain and beauty without one false note. I didn't want it to end!"
— Kathryn Craft, award-winning author of The Far End of Happy and The Art of Falling
"Readers will relish this fresh, enlightened insider's look at two talented dancer sisters beset by professional rivalry & bound by love. This glowing novel is full of heart. Enchanting."
— Sari Wilson, author of Girl Through Glass
Outside the Limelight , a Kirkus Indie Books of the Month Selection for January 2017, was named a Best Book of 2017 by Kirkus Reviews.  Still haven't read Book 1, Off Balance? It's $0.99 HERE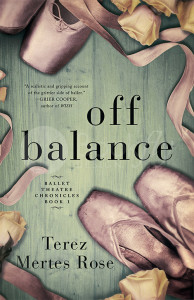 OFF BALANCE, Book 1 of the Ballet Theatre Chronicles
Alice thinks she's accepted the loss of her ballet career, injury having forced her to trade in pointe shoes onstage for spreadsheets upstairs. That is, until the day Alice's boss asks her to befriend Lana, a pretty new company member he's got his eye on. Lana represents all Alice has lost, not just as a ballet dancer, but as a motherless daughter. It's pain she's kept hidden, even from herself, as every good ballet dancer knows to do. Lana, lonely and unmoored, desperately needs some help, and her mother, back home, vows eternal support. But when Lana begins to profit from Alice's advice and help, her mother's constant attention curdles into something more sinister.  
Together, both women must embark on a journey of painful rediscoveries, not just about career opportunities won and lost, but the mothers they thought they knew.  
OFF BALANCE takes the reader beyond the glitter of the stage to expose the sweat and struggle, amid the mandate to sustain the illusion at all cost.
Praise for Off Balance
"Any readers who have ever grappled to find the courage to strengthen or to soften, to embrace a dream or to let go of one, will find themselves rooting for the two willful, yet wounded, protagonists in Terez Mertes Rose's edgy debut, OFF BALANCE. I loved this exquisitely written, fast-paced novel from the first page to the last."
— Sandra Kring, bestselling author of The Book of Bright Ideas
"A realistic and gripping account of the grittier side of ballet."
— Grier Cooper, author of Wish and Hope
"The demands of the stage—or memories of it—bring two lifelong dancers into an unlikely friendship that helps them face their respective breaking points. Powerfully rendered, sensuously artistic and hauntingly beautiful, OFF BALANCE is on track to become one of my favorite reads of the year."
— Tara Staley, author of Need to Breathe and Conditions are Favorable
"A refreshing and gritty story about friendships, dreams, and life. The reason why this story works on so many levels is the author's ability to create characters that ring true. Terez Mertes Rose delves deep into her characters' back story to show how they really are: human and flawed. While her characters are off balance, Rose has balanced her novel perfectly. It's well-written and constructed brilliantly. Off Balance will leave readers wanting more."
— Self-Publishing Review, 5 Stars
"Terez Mertes Rose writes with an urgency that keeps us reading long past our bedtimes."
— Dance Advantage