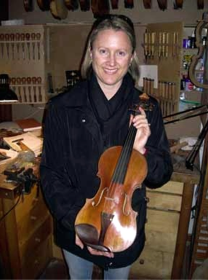 Since 2005, when I began to bumble along, learning to play the violin as an adult, I've posted essays and stories about my experiences, at Violinist.com. The site has great information, interviews, links, and a wonderful, engaged discussion forum. It's a must for anyone seeking information or discussions about the violin, its repertoire, learning/teaching, or for anyone who'd like to listen in on good conversation. Check it out at http://www.violinist.com/discussion/ And check out my blog here: http://www.violinist.com/blog/Terez/
Oh, and the fiddle in the image above? It's an 18th century Guadagnini. It's worth $600,000.00. I know, right?! It was fun to cradle (courtesy of luthier Claude Lebet and his Rome violin shop).
Interested in where to buy strings for the violin? Take a look at http://www.violin-strings.com, or check out Shar Music, for more general violin-related supplies, at http://www.sharmusic.com.