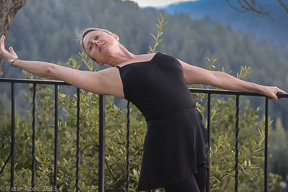 Welcome to The Classical Girl! If you were drawn to this site it's possibly for one of the following reasons: you're interested in ballet; you like classical music, or you play the violin. Or because you, like myself, are struggling to negotiate this bumpy, tricky path called life, and maybe my musings on this journey will provide further illumination.
If you're an adult beginner to ballet (or the violin, or really, any new endeavor in life), you might enjoy my post on "Beginner's Remorse" http://www.theclassicalgirl.com/?p=93. Anyone interested in ballet might enjoy this artist's spotlight on the lovely, talented Yuan Yuan Tan of the San Francisco Ballet http://www.theclassicalgirl.com/artists-spotlight-yuan-yuan-tan/  or the humorous (maybe now, but not when it happened) "Ballet Live: Biggest Onstage Gaffes" http://www.theclassicalgirl.com/?p=369 and/or "How I Almost Didn't Go Back" http://www.theclassicalgirl.com/?p=259.
Violinists and violin students might get a kick over the quaintly misguided assumptions I'd harbored as a new adult beginner in "First Encounter" http://www.theclassicalgirl.com/?p=15. Classical music enthusiasts might enjoy "The Curse of the Ninth" http://www.theclassicalgirl.com/?p=113 or "Saint Saens at 35,000 Feet" http://www.theclassicalgirl.com/?p=63
And to my fellow life-sojourners, consider taking a peek at "Silent Retreat" http://www.theclassicalgirl.com/?p=355 or "Tips for a Successful and Happy Lifelong Marriage" http://www.theclassicalgirl.com/?p=429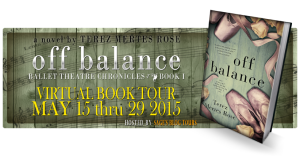 Be sure to check out my new novel, OFF BALANCE, now available on Amazon, at a promotional price discount until the end of May! http://www.amazon.com/Balance-Ballet-Theatre-Chronicles-Book-ebook/dp/B00WB224IQ/ref=sr_1_3?ie=UTF8&qid=1431374246&sr=8-3&keywords=Off+balance
On Monday, June 1st, stop in at LitChat (#litchat on Twitter), where I will be the featured author, discussing OFF BALANCE with host Carolyn Burns Bass and answering your questions from 4pm to 5pm, Eastern Time. (You can follow the #litchat conversation in Twitter, or login directly to the program's dedicated channel at www.nurph.com/litchat.)
And come join me on my blog tour, now through May 29th!
Take a look around, enjoy, cross-pollinate. Please don't hesitate to contact me if I can feature something performing arts related that you'd love to have more information on. Come visit me on Facebook, as well, and if you like my blog, I'd love you to like The Classical Girl there, too! https://www.facebook.com/TheClassicalGirl?ref=br_rs.  If you prefer Twitter, my handle is @classicalgrrl — give me a follow and I'll follow you back!
Thanks again for stopping by.
Regards,
The Classical Girl