Classical Girl Press' Published and Forthcoming Novels
Off Balance, Book 1 of the Ballet Theatre Chronicles –  May 2015
Outside the Limelight, Book 2 of the Ballet Theatre Chronicles – October 2016
A Dancer's Guide to Africa, a novel – Oct 2018
Ballet Orphans – a Ballet Theatre Chronicles prequel – Fall 2020
Little Understudies, Book 3 of the Ballet Theatre Chronicles – TBA
A Rebel's Guide to Africa, a novel – TBA
Outside the Limelight, Book 2 of the Ballet Theatre Chronicles, was named to Kirkus' Top Indie Books of 2017 list! Still haven't read Book 1, Off Balance? It's $0.99 HERE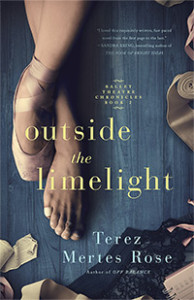 Rising ballet star Dena Lindgren's dream career is knocked off its axis when a puzzling onstage fall results in a crushing diagnosis: a brain tumor. Looming surgery and its long recovery period prompt the company's artistic director, Anders Gunst, to shift his attention to an overshadowed company dancer: Dena's older sister, Rebecca, with whom Anders once shared a special relationship.
Under the heady glow of Anders' attention, Rebecca thrives, even as her recuperating sister, hobbled and unnoticed, languishes on the sidelines of a world that demands beauty and perfection. Rebecca ultimately faces a painful choice: play by the artistic director's rules and profit, or take shocking action to help her sister.
Exposing the glamorous onstage world of professional ballet, as well as its shadowed wings and dark underbelly, OUTSIDE THE LIMELIGHT examines loyalty, beauty, artistic passion, and asks what might be worth losing in order to help the ones you love.
Print copy available at Amazon, Bookshop Santa Cruz and Ingram Book Company, as well as libraries and bookstores around the country. Ask your local librarian or bookseller to order a copy!
Praise for Outside the Limelight
"A lovely and engaging tale of sibling rivalry in the high-stakes dance world."
– Kirkus Reviews (Starred review; a Kirkus Indie Books of the Month Selection)
"Balanchine said dance is music made visible; Terez Mertes Rose's Outside the Limelight is dance made readable. She reveals both the beauty of ballet and its pain in a compelling, deftly written novel that unfolds like a series of perfectly executed chaîné turns. Not to be missed!"
— Tasha Alexander, NYT bestselling author of A Terrible Beauty
"Outside the Limelight sweeps us backstage, through the wings, past the dressing rooms, and into the lives of its dancers, where we see them up close, flawed and beautiful."
— Adrienne Sharp, bestselling author of The True Memoirs of Little K and White Swan, Black Swan
"From the theater's spotlights and shadows, Terez Mertes Rose spins a nuanced drama of pain and beauty without one false note. I didn't want it to end!"
— Kathryn Craft, award-winning author of The Far End of Happy and The Art of Falling
"Readers will relish this fresh, enlightened insider's look at two talented dancer sisters beset by professional rivalry & bound by love. This glowing novel is full of heart. Enchanting."
— Sari Wilson, author of Girl Through Glass
"In Outside the Limelight, Terez Mertes Rose once again manages to perfectly capture the ethereal beauty of the ballet.  It's a story as rich, heartbreaking and uplifting as any ballet masterwork, with characters who stay with you long after the final act."
— Lauren E. Rico, author of Reverie and Rhapsody
** Still haven't read OFF BALANCE, Book 1? It's on 99 cent special HERE. Check it out!  **
Alice thinks she's accepted the loss of her ballet career, injury having forced her to trade in pointe shoes onstage for spreadsheets upstairs. That is, until the day Alice's boss asks her to befriend Lana, a pretty new company member he's got his eye on. Lana represents all Alice has lost, not just as a ballet dancer, but as a motherless daughter. It's pain she's kept hidden, even from herself, as every good ballet dancer knows to do. Lana, lonely and unmoored, desperately needs some help, and her mother, back home, vows eternal support. But when Lana begins to profit from Alice's advice and help, her mother's constant attention curdles into something more sinister.  
Together, both women must embark on a journey of painful rediscoveries, not just about career opportunities won and lost, but the mothers they thought they knew.  
OFF BALANCE takes the reader beyond the glitter of the stage to expose the sweat and struggle, amid the mandate to sustain the illusion at all cost.
Praise for Off Balance
"Any readers who have ever grappled to find the courage to strengthen or to soften, to embrace a dream or to let go of one, will find themselves rooting for the two willful, yet wounded, protagonists in Terez Mertes Rose's edgy debut, OFF BALANCE. I loved this exquisitely written, fast-paced novel from the first page to the last."
— Sandra Kring, bestselling author of The Book of Bright Ideas
"A realistic and gripping account of the grittier side of ballet."
— Grier Cooper, author of Wish and Hope
"The demands of the stage—or memories of it—bring two lifelong dancers into an unlikely friendship that helps them face their respective breaking points. Powerfully rendered, sensuously artistic and hauntingly beautiful, OFF BALANCE is on track to become one of my favorite reads of the year."
— Tara Staley, author of Need to Breathe and Conditions are Favorable
"A refreshing and gritty story about friendships, dreams, and life. The reason why this story works on so many levels is the author's ability to create characters that ring true. Terez Mertes Rose delves deep into her characters' back story to show how they really are: human and flawed. While her characters are off balance, Rose has balanced her novel perfectly. It's well-written and constructed brilliantly. Off Balance will leave readers wanting more."
— Self-Publishing Review, 5 Stars
"Terez Mertes Rose writes with an urgency that keeps us reading long past our bedtimes."
— Dance Advantage
For an excerpt of Off Balance, click HERE.