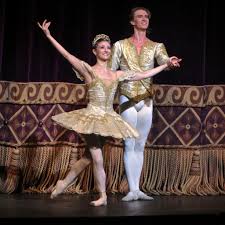 Alina Cojocaru, one of my favorite ballet dancers to watch, is a principal with the English National Ballet in London (as of fall 2013). She looks like she's fifteen, but she's looked that way for decades now. She's tiny, but she does so much with her size, you don't think "petite." Long limbs go a long way in helping her look just the right size onstage. (It's tough for ballet dancers under 5'5". If you're under 5'3", even harder. Cojocaru is 5'2".)
I love her because watching her makes me smile. It makes me forget myself. It makes the nagging, edgy, incessant voices in my head go quiet. There's no analysis of her technique as I watch. There's just the joy of watching her be joyful. She makes me believe in storybook fairy tale princesses and happily-ever-afters, even as my cynical side scoffs that there's no such thing. But an accomplished ballet dancer is also an illusionist: her performance allow you to suspend any disbelief. Believe again in magic. Feel it, all around you, seep into you.
Here's Alina Cojocaru, at age 25, as Aurora in the Rose Adagio from the ballet, The Sleeping Beauty. (This was during her Royal Ballet days.) Go check it out.
http://www.youtube.com/watch?v=uA5C-s4NjoQ
[Editor's note on March 19, 2014: heartbreakingly, they removed the gorgeous video clip. Sob! Here is a link to a pirated copy. She's sooooo good that her talent breaks through the icky nature of seeing someone's bootleg version. It's a "better than nothing" glimpse, in my mind: https://www.youtube.com/watch?v=LbQsqd3IC5M]
And here she is, in a different variation, but still as Aurora.
http://
Now allow me to share an article, by The Guardian's Luke Jennings, on what makes this rendition of Cojocaru's particularly impressive and astonishing.
http://www.guardian.co.uk/stage/2011/nov/24/alina-cojocaru-rose-adagio-sleeping-beauty
I have to say, there are many ballet dancers in the world who are so technically accomplished and talented that your eyes pop out, but there are far fewer who manage that along with projecting an organic innocent delight. Alina Cojocaru, as Aurora, seems to be discovering the beauty of ballet, of art, of movement, as if for the first time, and there's a delight and amazement not just on the face, but emanating from her, filling the stage, filling your heart as you watch.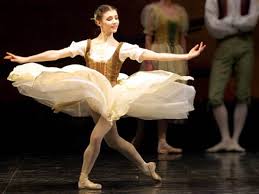 A few details: Cojocaru was born and raised in Bucharest, Romania. She started off in gymnastics first and was nine when she shifted to ballet. She was almost immediately singled out, chosen by the director of the Kiev Ballet to take part in a student exchange program, which meant leaving home, her native country and language behind, to focus on ballet. In 1997, she won the gold medal at the Prix de Lausanne, at the age of fifteen, and her future was launched. Here are a few interviews that share more of her story, one from 2011 http://www.telegraph.co.uk/culture/theatre/dance/8388579/World-of-Alina-Cojocaru-ballet-dancer.html and one from 2001 http://www.danceview.org/interviews/cojocaru.html
I'll close my swooning praise of her with a second YouTube clip that had me equally mesmerized, for different reasons, and a different role entirely. It's a Swan Lake pas de deux, out in the open air, in Denmark and it rains on her and her partner (fellow Royal Ballet principal and Cojocaru's offstage partner as well, Johan Kobborg, who also left the Royal Ballet in 2013). There's misty, bucolic scenery, like something out of a dream. As is her performance: exquisite in every way. A jaw-dropping partnered pirouette with nine rotations. Or more. I lost count. She did it a second time too. Oh, my. And the way she can hold her en pointe arabesques and extensions a la seconde. It seems to defy gravity. Her technique and artistry seem to defy the rules of being mortal.
In the end, isn't that why we all love our prima ballerinas? They make us believe in magic once again. And it's a beautiful, beautiful place to return to. http://www.youtube.com/watch?v=ozJfJM2Zfek
http://