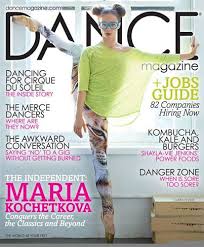 She showed up in London, an apprenticeship with the Royal Ballet secured after her win in the Prix de Lausanne. Bolshoi Ballet had said "no thanks" upon her graduation at their ultra-elite training school. Here in the West, she decided, she would build her career. Shockingly, though, her Royal Ballet contract wasn't renewed the next year. The English National Ballet picked her up, but went on to keep her in the corps de ballet through her four years there, her talent and skill as a soloist remaining largely hidden.
I read this about Maria Kochetkova, 29, principal dancer with the San Francisco Ballet, and my mind whirled. This extraordinary dancer, in the corps? A contract with a company not renewed? Were they at the Royal Ballet crazy?  Good thing San Francisco Ballet wasn't. When Kochetkova saw them perform in London, something must have whispered this is where you'd thrive, not here in London. She decided to send artistic director Helgi Tomasson a DVD of her work. Tomasson, he with the oh-so-keen eye in spotting extraordinary, world-class talent, invited her out to the West Coast to take class with the company, after which he offered her a contract. Not as a corps dancer, or even a soloist. As a principal.
Oh, how delicious to imagine how Masha took this news. Surely a dream come true after having been relegated to the corps, forced to fit into an ensemble look and "not stand out." At just over five feet, to boot, she had likely been told, time and time again, that she was too short for a ballet dancer. Her neck, as well, was too short. She simply didn't look like a prima ballerina. Here was someone, finally, giving her the chance she deserved.
In 2007 she  moved to San Francisco, stepped onto that stage at the War Memorial Opera House, and dazzled the hell out of audiences. Within a season, her name was on every SFB patron's lips. A mere seven years later, it's the whole dance world that can't stop talking about her. And with reason. She's extraordinary.
Here is a profile produced by the Anaheim Ballet in 2011, which is one of the most inspiring and interesting ones I've ever seen. Watch it and weep. With happiness, with powerfully good feelings.  https://www.youtube.com/watch?v=mmRpNwb0NZ0
http:// An interesting fact: Kochetkova, born in Moscow, initially had more interest in ice skating and gymnastics, but her mother nudged her in the direction of ballet. Winning a place at the Bolshoi Ballet Academy (also called the Moscow Ballet School or the Bolshoi Ballet School), she trained for eight years before making a foray into the international ballet scene. She used the competition circuit as a way of getting seen, helping to promote herself. For the Prix de Lausanne, she went alone, without a coach, much less a support team. If you've watched First Position (and please. Tell me you have. And if you haven't, well, um, GO DO IT), you know that these dance competitions are very, very support-driven. Coaches, ballet studio owners and/or teachers. Parents devoting their lives to supporting their child's passion. It takes a village for a young ballet dancer to successfully compete in one of these things. That Kochetkova did it on her own points to the kind of person she is. Extraordinarily driven. Extraordinarily talented. Oh, and by the way. She won.
Kochetkova has the most astonishing feet and extensions. You watch her effortlessly développé à la seconde, legs at a 180-degree split, and it steals your breath. She can switch from liquid classical elegance to razor-sharp contemporary angularity from one piece to the next, or even within the same piece. There is no role I have seen her perform that she hasn't mastered. Offstage, she's surprisingly unassuming, more sweetly cute than conventionally pretty. She's oh-so diminutive, with brown hair, brown eyes, neutral features. But here's what neutral gives you: the perfect backdrop for any persona you want to take on. She can be the most beautiful woman in the room if that's the look she's going for. She can look like someone's bookish little sister. She can become Giselle, Odette, Odile, Nikiya, Aurora, Juliet, Cinderella. She's also a total hipster, sporting a eclectic wardrobe, with giant goggle glasses that dominate her fine boned face. A fashion trendsetter, not a follower.  Case in point below.
Lucky for all of us, she loves sharing her world via social media. You can follow her on Twitter where her handle is @balletrusse, or check out her generous photo sharing via Instagram (http://web.stagram.com/n/balletrusse/).
You can find her on the cover of this month's Dance Magazine, along with a feature article inside entitled "Being Masha."  Great read. Here's the link: http://www.dancemagazine.com/issues/March-2014/Being-masha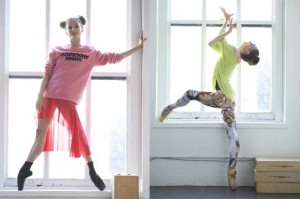 PS: If you still haven't gotten enough of her, here's a great article by San Francisco dance critic Allan Ulrich, from the December 2008 issue of Dance Magazine, which I found particularly interesting because at that time, she'd only been with the San Francisco Ballet for a little over a year. http://www.dancemagazine.com/issues/December-2008/Small-Wonder
And here's a link to San Francisco Ballet's own "Artist's Spotlight" featuring her (in truth, I liked the personal, candid nature of the Anaheim Ballet's clip more). https://www.youtube.com/watch?v=drcEqlAA4F4
© 2013 Terez Rose