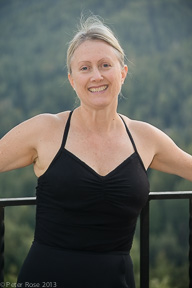 This is The Modern Classic, created by gwenyth. It's an activewear top and tunic that's great for ballet, yoga, summer attire, travel days, cocktail parties. All this in one garment. How cool is that? Founder and CEO Michele Cheowtirakul Braxton invited me to give one a test drive and, as I wear exercise clothes of all kinds (in addition to ballet, I do yoga, kickboxing, hiking, weight-lifting) and tend to stay in them for a good chunk of the day, my reply was a decisive, "ooh, yes!" Which, come to think of it, were my words when I first pulled the top out of its elegant little box, and later, when I tried it on. Soft. Luxurious feeling. Stretchy, but holding on firmly in the right places. And just like its name says: modern yet classic.
On gwenyth's Kickstart campaign site for this new creation of theirs, they feature a  video showing the garment's versatility on a gorgeous dancer, which is great fun to watch and enjoy. But some of us out there might observe it and think, "yes, excellent on this slim beauty, but how does it look on real people, with real bodies?" Well, folks, The Classical Girl is going to show you just that. Real, over-fifty, gave birth, big-chested me. Here I come; hope the images don't frighten you.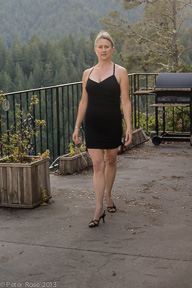 First, ballet. The drawstrings on the side of the garment allow you to shorten it into any length you like. For ballet, I kept it around hip level and tied my skirt  over it, so it looked and felt like the leotard experience. My big chest is always my greatest concern, and therefore the second image you'll see will be what I call the BG (big girl's) Challenge.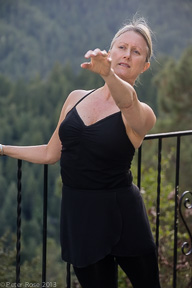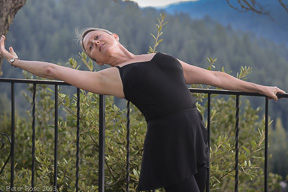 Yup, passed the BG Challenge. No adjustment required once I'd straightened up. Good. Very good. Next, onto yoga.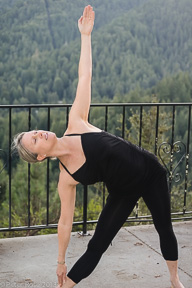 Once again, the BG Challenge…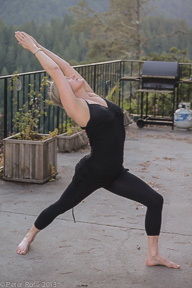 Absolutely no worries. As you might be able to tell by the photo, the material stretched with me and the jugs stayed well-covered. Even after a downward facing dog. Even a handstand.
And so, here's where it gets fun. Cocktail attire! Mom's night out attire! (Er, maybe not. How about "Mom's night out on the deck when no visitors are around" attire?)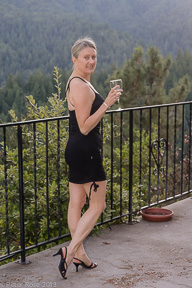 I was traveling last week, and wore The Modern Classic as a tunic over a black cotton skirt, with a gauzy jacket to finish the outfit off. I was in and out of airports and planes all long day, and the ensemble worked well. Nothing bit into my skin and/or constrained me (bye-bye underwire minimizer bra). I'll therefore add excellent travel-wear onto its utility list, especially when one is living out of a carry-on bag's worth of clothing for a week and needs items to serve dual purposes.
The Modern Classic was created  when founder Michele, herself an adult beginning dancer, couldn't find anything she liked for herself for dance class. "I drew my first pattern on some Crate & Barrel Tissue paper," she shared via email, "and hand-stitched the first (ugly) prototype." She describes herself as "a recovering Wharton MBA/management consultant, 'transformed' by the power of movement after starting dance lessons in my early 30's." Her business partner, with a Georgia Tech Masters in architecture, is behind a lot of the design innovation and implementation. Working together, I think they're on to something good.
Check out their Facebook page here (https://www.facebook.com/gwenythbrand?filter=1) and their Kickstarter campaign here: (http://kck.st/1acuujM) Their online shop is open for business now, and it doesn't hurt to mention that Christmas is just around the corner, for you AND the [other] dancer in your life. (The various colors they offer the top in, by the way, are delicious.)
And for the record, no, they didn't pay me to say any of this. I liked the Modern Classic enough to give it a shout-out based on its own merits. Give one a try and let me know what you think.
© 2014 Terez Rose
Photography © 2013 Peter Rose