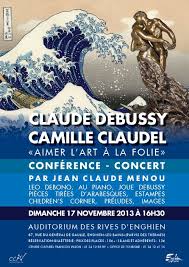 Debussy's String Quartet in G-minor is one of those pieces of music that I will listen to over and over, struck anew by the power that resides within it, its energy and originality and rich textures. The third movement, ever my favorite, seems to impart a secret message, one you must be very still and quiet to hear. It seems to encompass a story, one of love, pain and redemption that afterward haunts you. Go ahead and give it a listen while you continue to read.
http://
Back in 2012, I had the opportunity to hear this unforgettable quartet performed at San Francisco's Herbst Theater. Mezzo-soprano Joyce DiDonato had joined the Alexander String Quartet in the world premiere of composer Jake Heggie's Camille Claudel: Into the Fire. The evening's performance, satisfying on so many levels, produced two particular moments of haunting transcendence. The first, as I'd hoped and anticipated, was the Alexander String Quartet's rendition of the Debussy, and that oh-so-crucial-to-me third movement. The second, following intermission, was DiDonato's performance as Camille Claudel, in the song cycle's final piece, the Epilogue, where the once fiery, exuberant young sculptress had become a subdued, shadow image of her former self.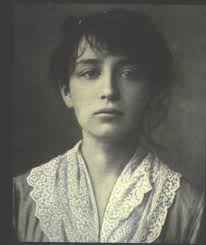 First, a bit of history on Camille Claudel. Born in 1864, she was an artist, a sculptress of considerable talent. She became August Rodin's student, protégée, lover, but was eventually betrayed by him, then by her family, by the dictates of a society that did not treat female genius sculptresses with favor. In the wake of increasingly unstable mental health, her family had her institutionalized. She never sculpted again, and spent the last 30 years of her life largely in solitude.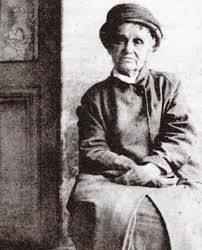 Heggie's composition contains seven pieces, each one revolving around one of Claudel's sculptures and her musings on the day she is to be committed. The exception is the Epilogue, which is based on a photograph taken decades later (seen above), Camille with a visitor at the asylum, her old art school friend, Jessie Lipscomb. The text, penned by librettist Gene Scheer, is thoughtful, powerful in its economy, particularly affecting here.
Do you remember our studio in Paris? Everything moving.
Two young women, so many ideas. Look at me now!
Oh, Jessie… Every dream I ever had was of movement.
Touching. Breathing. Reaching. Hovering.
Something always about to change…
A photograph? Just me and you. Yes. I understand. I must be very still. 
Thank you for remembering me.
And that's how it ends.
There stands Joyce DiDonato, as gifted an actress as she is a singer, having morphed into an aging Camille Claudel, left to languish. Spirit broken, bereft of illusions, there is nonetheless the youthful Camille still visible behind the eyes as she tells us in a small voice, "Thank you for remembering me."
Safe to say I was not the only one furtively wiping tears from my eyes after that.  Even DiDonato gave a quick, furious swipe to her face as she pivoted around to join Heggie for their bow. And how uncannily similar to the feelings the Debussy's third movement evoked in me, both with their mix of gravity, tenderness, using pauses and silence as effectively as if they were instruments. The final effect is devastating, unforgettable. It's what fine art is all about.
Claude Debussy ties in, in more delicious ways. He was a great admirer of Camille Claudel and her work. She'd presented him with a copy of her sculpture, "La Valse," that he kept on his mantel until his death. La Valse: "the waltz." One of the seven subjects of the song cycle, and the very feeling and image Heggie's composition conjures up and carries through.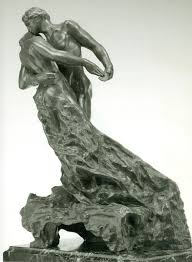 I loved the 1988 film Camille Claudel, actress Isabelle Adjani's performance and mesmerizing blue eyes, but I must say I'll remember Claudel even more clearly now, after having heard this composition, witnessed this performance. 
Thank you for remembering me.
Thank you, Jake and Gene and Joyce and Camille and Claude and members of the Alexander String Quartet, for reminding us of the art and artists worth remembering.
PS: My absolute favorite recording of Debussy's Quartet in G-major is by France's Quatuor Ébène. But for instant YouTube gratification, here's the first movement by the Tokyo String Quartet: https://www.youtube.com/watch?v=j4JQitix3Qk. It will also provide you links to the 2nd and 4th movements, and the third movement is embedded up above. But consider treating yourself to Quatuor Ébène's exceptional performance (17 of 18 customer reviews are 5-star). (http://www.amazon.com/Ravel-Debussy-Fauré-String-Quartets/dp/B001BWQWKS/ref=sr_1_2?ie=UTF8&qid=1409080975&sr=8-2&keywords=Quatuor+Ébène)