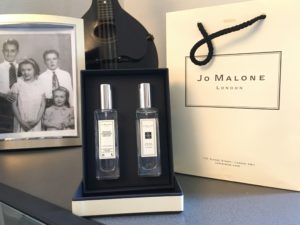 The funny thing is that by the time I called Nordstrom lost & found, I'd made peace with the fact that someone else had requisitioned my $142.00 purchase of Jo Malone perfume. I'd visualized them spraying it on, sighing in satisfaction at the delicate English Pear and Freesia, or the zesty, invigorating Grapefruit, or the brand-new-to-me Nutmeg and Ginger cologne. When the customer service person in Lost and Found asked me to describe the product I'd lost, four days earlier, I hardly felt like going there anymore.
But let's back up. Here's the story as I relayed it on Facebook the day before my last-ditch-effort phone call.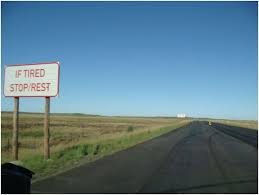 The stoned sense of exhaustion you feel after the sixth day of a road trip, 900 miles covered, friends, family, and one particularly unwell, beloved sister visited. The pleasure you get at spying a big mall when you have an hour to spare and want to do something special for yourself, because the next day, you have to do that 900 mile drive in reverse. The delight at seeing a Jo Malone counter at Nordstrom, because you've adored the sample of grapefruit cologne you just ran out of, and having a favorite cologne handy on a long drive at the end of a tiring trip is just perfect.
Adorably nice clerk named Christina + sampling a few new scents you'd never tried before = two bottles of perfume purchased to the tune of $142, which garnered you a complimentary Jo Malone gift bag (including a trio of three more scents – score!). Happy dance all the way out of the door.
The challenge of too much shopping mall stimulus 30 mn later and the relief of returning to a quiet car. The horror of realizing that the hand clutching the Jo Malone bag is empty. Racking fogged brain produces no clues. Retracing steps for the next 30 minutes to no avail. Bag is gone. Stupid, fogged, tired me, now minus my new treasure.
The child's tears that arise when I return to the Jo Malone counter empty-handed, and see the puzzled, concerned look on Christina's smiling face, which turns into pure compassion when I explain in a wobbly voice. I tell her I'm ready to just buy another bottle, to take the edge off a 900 mile fume and self-castigation punishment the next day.
"No, no," she said. "We don't want you spending more money today. Let me assemble you something.  That way you'll have something to hold you over until you get your original bag back."
"It might not happen," I sniffed, the tears still, annoyingly, a steady leak. "It probably won't."
"There are good people out there," she said.
"There's both kinds," I said, all pessimist and defeat.
Christina gave me a reassuring smile. "I have a good feeling about this," she said, and set off to do what she could do for me right then.
The deep, deep appreciation for people in the world like her, who manage to find a silver lining for your cloud. She gave me another beribboned Jo Malone bag, with a second complimentary gift (free with a purchase over $130, so she told me "easy to give you another one!") and two generous, oversized sample bottles of what I'd bought and lost.
In the end, back home, the reverse 900 miles traveled, and more accepting about my loss, calmness, amid a wry understanding that life is like this. Sometimes you lose and it just hurts. A bottle of perfume, a marriage, a house, a car, a life — you go through pain regardless of the loss's size. When you're tired and vulnerable, a small loss can feel huge. But, in return, life gifts you with surprises. Maybe the someone who'd found my unattended Jo Malone bag really, really needed it. They picked it up, took it home, and likely stared, agog at this unexpected bounty. Because that's the flip side. My mistake had gifted someone $142 of lovely perfume, just as Christina, my lovely Nordstrom clerk, had gifted me with something I very much needed at that particular moment.
Kindness. Compassion. Price: immesurable.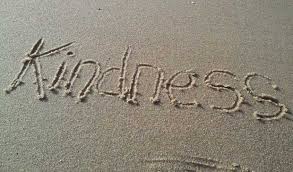 And now you know what followed this aha, dear reader, that I myself didn't while penning the above. That phone call to Nordstrom lost and found, a Hail Mary pass and catch combined.
I had indeed left the bag right there in Nordstrom (when?! where?!) and someone had turned it in. I waited, disbelieving, for the punch line, the "just kidding!" or "whoops, my mistake, wrong item, not yours!" from the customer service person speaking to me. None came. Instead, a cheery request for my mailing address, and would two-day shipping be okay? Free of charge, of course. A Nordstrom policy.
Nordstrom is a unique company, still family-run and owned since John W Nordstrom opened  his first shop, a shoe store, in 1901. This year marks the 20th year in a row Nordstrom has made the Fortune 100 "Best Companies to Work For" list —  just one of 12 firms to do so, and the only one in the fashion apparel segment. I'm not surprised; I've always noticed their quality customer service and you can almost feel it in the air, the culture of empowerment that they encourage among their employees. When I spoke with Christina over the phone, the day after my box arrived, sharing the good news, telling her what a difference her actions made that day, she agreed that Nordstrom is a great company. She shared that their new store manager told all the employees that one of his top goals was to keep employee turnover down. Think of it. What an affirming philosophy. What a nurturing work environment. I remember Christina's comments the day of my loss, her "Oh, we don't want you buying anything more today. Let me, instead, give you a gift."
Is that the coolest thing or what?
I told Christina that her kindness to me that day had been one of the most unforgettable gifts I'd received. Even superseding the return of the perfume and gift bag, back to me via mail. Her sympathy and compassion in my time of tearful vulnerability had been everything.
"Oh, you just made my day," she said, and my own heart swelled, all over again.
What a wonderful gift, kindness. It's something we can give away free, to boot. It doesn't require planning or analysis or foresight. It's just doing the right thing at the right time for the right person.
Thank you, Christina. Thank you, Nordstrom. Thank you, Jo Malone. I'll remember this gift for some time to come.