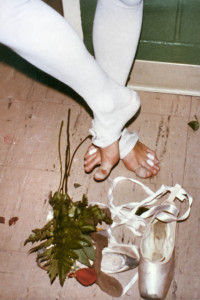 Night three of Nutcracker performances when I danced Sugar Plum Fairy, back in the day. Ow. Must confess to more than one bout of crying and "I'm not sure I can go up on pointe – it hurts too much!" rant. But of course I did. With a smile.
Oh, my. I do not miss dancing en pointe.
BTW, the little knee-high hose you see there was what I used to wrap around my toes as a sort of padding. Ironically, the best pads, those cushiony gel ones, might not be the best for your optimum performance, because it helps to "feel" the floor. The knee-high-hose was a compromise between nothing and padded. Second BTW, those are Freeds. Not so pretty when they're used up, now, are they? (I made my shoes last a loooooong time. Floor wax poured into the too-soft tip of the toe to prolong their life. Like the hose padding, better than nothing.)
Ever wonder how pointe shoes are made? Take a peek at the fun video clip below, created by the Royal Ballet, filmed at Freed of London.
http://