My father just celebrated his 88th birthday and my son and I flew out to Kansas City for the family gathering. Thirty of us sang "Happy Birthday" to him and consumed cake and ice cream, but the real highlight was when we sang "Ein Prosit" together. I suppose you could call singing this German drinking song a family tradition; certainly for my father's generation it was. We, his children, honor our German heritage in a casual, vaguely hedonistic fashion: drinking beer, eating bratwurst, singing songs together, particularly when generous amounts of the aforementioned beer have been imbibed. As the years have accrued, some of us have moved out of town, all have aged, and redefined our own family rituals and traditions. For this birthday, however, we returned to where it all started. My oldest sister Googled the song "Ein Prosit" and printed out the lyrics so that all thirty of us could sing it. Humorously, few family members beyond my dad's generation know the actual words following "Ein Prosit," and, over the years, have fudged it in the way you do in church when you know the tune but not the words and don't have a music book. (In this case the second line is roughly "Ghur ghur GHUR, ghick, ghite!" Just for the record. In case you, too, are caught, hapless, during an Oktoberfest celebration, forced to join the crowd in singing this celebrated drinking song.)
"Ein Prosit" (the "s" sound is sharp, like the z in Cheez-Its) means "a toast," here, to Gemütlichkeit, the meaning of which we'll get to later. The words to the song are easy. There are four.
Ein Prosit, ein Prosit
Der Gemütlichkeit
Ein Prosit, ein Prosit
Der Gemütlichkeit!
Then you say 1, 2, 3 [in German that's eins, zwei, drei or the older, more rustic oans, zwoa, drei], followed by the baffling "g'suffa!" And you raise your beer stein higher, and you drink. Below is a real-life example of how you need not have a beer stein in your hand in order to participate in the toast. (Note small children imitating holding a beer stein. Isn't that the sweetest? Or wait. Is that scary?)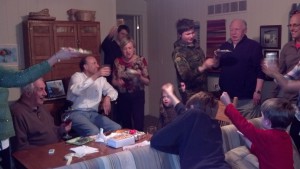 Thanks to YouTube and Videohostess and the band, Those Austrian Guys, you can hear what the song sounds like and even read along (thanks for super-imposing the words, guys!). Heck, go ahead and sing along. Go on. No one's watching. Go fetch yourself a beer, stein or not, and join in here. I'm with you all the way.
I love how the German language has in its lexicon these single words that describe what, in English, takes an entire sentence, words like Bildungsroman, Waldeinsamkeit, Schadenfreude, Weltanschauung and Gemütlichkeit. (Note that Germans always capitalize their nouns.) Here's how Wikipedia defines Gemütlichkeit: "a situation that induces a cheerful mood, peace of mind, with connotation of belonging and social acceptance, coziness and un-hurry."
Nice, huh? And there was Gemütlichkeit in heaps in that room, that night. All family. My dad, his children, and their own children. There were children's children's children, and one special young couple, engaged to be married this June. The husband-to-be is my nephew, Justin. Among his generation of the family, he is the lone carrier of the Mertes name. I am one of six females and two males, one of whom became a Catholic priest. So. One Mertes son produced (with a little help from his wife) one Mertes son. And that Mertes son, Justin, will marry in June and there you have it, the opportunity for my father to see that Mertes name carrying on, through this lovely young couple.
I don't think this was necessarily on his mind at that moment, though. Instead, he told us, his voice faltering, his eyes getting misty, that he was thinking of our mom, who died twenty-three years ago.
Oh, the ghosts that join you, the darker side of Gemütlichkeit. The poignancy in seeing my father tearful immediately tore at my own heart. And our Uncle Joe, from my dad's generation, there alone, because his wife, our beloved Aunt Lois, my father's sister, died two years earlier. My dad has lost his two other siblings and their spouses, as well. Now it was just him and Uncle Joe, and the spectral (and welcome) presence of those departed. And the haunting nature of my dad's next words.
He rose to his feet. "If I'm not here next year to celebrate like this again," he told us, "do this for me. This." He gestured to the table, the room, the copies of "Ein Prosit" some of us still clutched.
Because the reality is that he, too, might be gone. He's already beat the odds of his genetic legacy of bad hearts and early deaths. His mother lived the longest, to 83, outpacing the others by decades. Each year my father has remained alive since his 75th birthday has felt like a gift to me. He is my son's only surviving grandparent. He's a great guy. For so many reasons, I want him to stay with us longer. We all do. But a situation like this gently reminds you to embrace the moment, what you have right here, right now. Everything we had in that room that night.
Pure Gemütlichkeit.
Happy Birthday, Pop. I'm sure I speak for all of us when I say I look forward to joining you this time, next year, for another "Ein Prosit." Be there. We're counting on it.