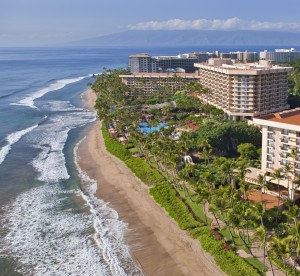 Folks who know The Classical Girl still might not be aware that, sandwiched between my ballet dancer cycles, and long before my writing career commenced, I worked for Hyatt Hotels for close to four years. It was after my stint in Africa with the Peace Corps, when returning to Kansas became quite the letdown after having traveled the world. But family was in Kansas, and a career with Hyatt Hotels proved a good solution. I spent my shift assisting travelers, first at the front desk and in ensuing months within the sales department, helping plan meetings and conferences. I worked in a luxurious, attractive property that strove to balance the whirlwind nature of travel with the comfort of a temporary home base. I fell in love with hotels and the industry as much as I'd done with travel, and fortunately, Hyatt Hotel's policy of twelve free stays in any domestic Hyatt Hotel gave me the opportunity to travel and explore the country in elegant style. Years (okay, decades) later, I don't miss the stress and demands of working in the hotel industry, but boy oh boy, do I miss those beautiful hotels and the sense of belonging I always felt in them.
Time for a return, in a big way.
Maui has been voted "Best Island in the World" by Condé Nast Traveler, and provides an excellent solution to visitors undecided about which island to settle on. The big island of Hawaii offers more physical activity, day trips, hikes and such, while Kauai is smaller, greener, more bucolic (read: duller for our teen son). Maui however, balances itself in the middle of the other two experiences. Maui, therefore, it was. We commenced our six-day vacation with three nights in Hana, accessible via a torturous, narrow winding road with eye-popping scenery and hairpin turns alike. You edge your car along the narrow road, the majestic Pacific Ocean murmuring just below on your left, lush tropical foliage, flowers and waterfalls pressed up against your right side, and you hope the other drivers don't hit you through the many one-lane roads and bridges. It's great to stay overnight in Hana to decompress from the drive, which truly is a must-do when you're on the island, but much better as a multi-day trip. And I loved sleepy, rural, rainy Hana, East Maui's beauty, soulfulness, brilliant greens and red/yellow/purple flowers, the banana trees, guava and passion fruit trees all within reach at the cottage where we were staying. The two days spent there were comfortably reminiscent, in fact, of my Africa experience, except that everyone spoke English, used dollars, and the nearby Hasegawa General Store (owned/operated by the same family since 1910) provided all the comfort food ingredients you could ask for.
But after three nights in Hana, the teen son was growing restless, and it was time to head over to the resort side of the island, West Maui's Ka'anapali Beach and the Hyatt Regency Maui Resort and Spa. It's a rather iconic property in my mind, not just because I used to dream over the pictures in my Hyatt days. Back in 1980, upon its completion, it was the first destination resort of its kind in the world, offering a "resort as concept" kind of property that would forever change how Americans (and the rest of the world) viewed resorts. (An odd fact I learned while living in England: there, the town is the resort, not its hotels. The word comes from the French re-sortir, as in, "a place frequently visited." Brighton is a resort, not a resort town, in England.)
Staying at the Hyatt Regency Maui Resort and Spa was, in truth, a big splurge. We didn't opt for the budget rooms (currently there's great rates on "obstructed view" rooms that face adjacent construction) either. I went for hedonism: partial ocean view, on the Regency Club level, and I have no regrets about the extra cost. The property is located on 40 acres of oceanfront property, has 806 rooms, a gorgeous open-air atrium lobby, and everything feels spacious, luxurious, courtesy of an extensive $15 million renovation completed in 2011.
At the Hyatt Regency Maui, a philosophy of "bring outside in, and inside out" is employed, which describes it perfectly. The lobby is atrium and open-air. Both here and throughout the grounds, artwork and antique sculptures add an elegant, tasteful touch. It imbues the place with spirit, a delicate, gracious ambiance. Within the lobby, the ponds hold not just the requisite orange and white koi, but house South African penguins (third generation, at that) and birds that can be persuaded to chat with you from their perch. Outside, more ponds, more wildlife, including swans, flamingos and ducks. The grounds, the Oriental garden in particular, are spacious, beautifully landscaped, inviting, serene, perfect for strolling.
A key facet of the Hyatt experience is their customer service. 2014 marks Hyatt Hotel's first year on the Fortune 500 "Top 100 companies to work for" list. A press release shares their secret: 
After two years of research that revealed consumers view the hotel industry as 'one size fits all,' Hyatt began re-examining its business to create a distinctive experience based on individual preferences. In order to deliver that experience to associates and create a more meaningful career experience, Hyatt is taking steps to transform its operations to unlock individual innovation within each employee."
Which, in layman's terms, means they respond quickly in addressing complaints, implementing solutions immediately, at both management and line employee level. Employees are encouraged and empowered to solve issues quickly, creatively, to maximum customer satisfaction. They don't just shrug and wait for things to get better. If people are saying on social media that something sucks, it's addressed and fixed fast. Employees care, they're proud of their brand, they're eager to help guests, and it shows.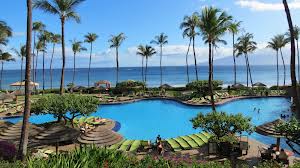 A resort's pool is a place where a lot of guests spend a lot of time. This one is as spectacular as you'd expect. Two free-forming pools are divided by waterfalls, a half-acre of swimmage amid a million gallons of water with a kids' section and a 150-foot lava tube water slide. My son loved swimming under the waterfalls and exploring the darkened grotto section of the pool that connects the two sides of the pool complex. It's lots of fun, although I must say I enjoyed the pools more in the morning and late afternoon, before and after the crowds. One negative is the way guests stake out a prime spot, in the shade or right in front of the pool, draping their towels over the lounge chair at 7am and claiming it for the day, even as they themselves wander off to eat breakfast, take long walks, etc. But that's the nature of the beast. It didn't matter so much to me; we were not sit-all-day-by-the-pool types, but I felt sorry for those arriving at 9:30am, looking around bewildered at the sea of empty lounge chairs claimed by a towel and a magazine. And serendipity favored us, opening shaded spots for my son and I just as we were strolling past both afternoons. (Tip: wait till the others burn out, literally and figuratively, and grab a prime seat at 2:30pm.)
It should be mentioned, as well, that the beach directly in front of the Hyatt is narrow, and once you're in the water it gets rocky fast. Coupled with a brisk undertow, swimming felt a little treacherous, but for the disadvantage of not having the best beach in front of you, you have the advantage of a quieter walk-on-the-beach experience. This property is on the end of Kana'apali Beach, with the Westin being more in the center of things. (Read: more noisy and hectic.) I don't need to be in the center of things all that much, and as we're talking a 10 minute beach stroll to get there, I rather appreciate the Hyatt's location.
Another caveat to be aware of: in addition to the room charges, there is a daily resort fee of $30 (like at most full-service resorts on the island) that doesn't include parking. Ouch. Like I said, this wasn't a cheap trip. I still argue, however, that it was worth it. For dance and fitness buffs, it's doubly worthy: the Hyatt Regency Maui's athletic center is extensive, full of up-to-date equipment, open 24 hours, and best of all, has a separate studio with wonderful fitness classes. I'd have gladly paid $15 elsewhere for the two yoga classes I took that my body craves, even (or especially) when on vacation. For those who'd rather have someone else perform the bodywork on them, the athletic center is connected to a full service spa, the recently rebranded Kamaha'o Marilyn Monroe Spa, which strives to imbue a sense of relaxed playfulness into the spa experience, a glorious "go ahead and spoil yourself" opportunity.
Have I mentioned food? Because of course I need to do that. The restaurant, Japengo, served up the best sushi/sashimi I've ever had, not to mention delivering the pleasure of eating outdoors at night, in their lounge, adjacent to the pool. And my favorite perk of staying on the Regency Club level was the food: generous breakfasts in the morning, hors d'oeuvres and drinks in the evening, and desserts and cordials two hours later. The 2000 square feet lounge on the 22nd floor divides up into three rooms, each with a lanai (Hawaiian for "patio") for an al fresco experience if it's too crowded inside. Breakfast was the most impressive spread, an excellent selection of fresh tropical fruits, espresso and other coffee drinks, cheese and meats tray, oatmeal, cereals, pastries, and one hot dish that alternated each day. Sipping a glass of wine in the evening, nibbling on snacks (again, always one hot dish to accompany the cheese and snack trays set up) felt utterly magical, and my son loved that we had two home bases during those times – both the room and the Regency Club, keeping the three of us from feeling too enclosed in just the one room.
Hyatt has been thoughtful about décor, how they fill their space, how they present their product. While the resort was a "one of a kind" experience back in the early 1980's, today it competes with a half-dozen other luxury, full-service properties in the area, including the Westin, Sheraton and Ritz Carlton. But I have to say, I'm still a fan of "the Hyatt touch." To me, even after all the time between my years of employment with them, Hyatt Hotels still feels like coming home.