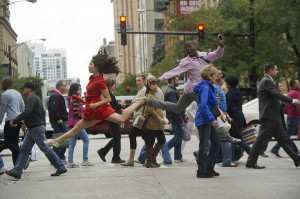 Ballet where you least expect it can be a very fun thing and bring scads of life and levity to an otherwise mundane Monday. Take a peek at these and have a ball.
1) You may be familiar with this first one, circling the Internet for a few months now, starring ABT principal Daniil Simkin, but every time I watch it, I'm as entertained as if it were my first. Directed & shot by Alexander Ekman. http://www.youtube.com/watch?v=nsKXoW3hLkQ
http://
2) "Modern Daydreams: Deere John," a wonderfully entertaining new find for me, by filmmaker Mitchell Rose, a former choreographer and performance artist. The music, Saint-Saens' "The Swan" or ballet's "Dying Swan" makes it all the more hilarious and perfect.
http://
3) And, glory be, Mitchell Rose has a second ballet-based one, "Modern Daydreams: Treadmill Softly". Both films are in collaboration with BodyVox dance company.
http://
Mitchell Rose, by the way, has got a collection of more short films on his website that are great fun and worth a peek: http://www.mitchellrose.com
4) Here's a charming commercial for Levi's Stretch Jeans presented by Korea's creative agency Tribal DDB. http://www.funnycommercialsworld.com/levis-commercial-ballet-5482.html
http://
5) Then there are the "ballet where you least expect it" photos, by the wondrously creative and talented Jordan Matter. (All the photos used on today's post are by him, and thank you, Mr. Matter and Jordan Matter Photography, for allowing me to use them!) Please reward him by dropping by his site (http://www.dancersamongus.com), where you can buy his bestselling photography book, Dancers Among Us, or a 2014 calendar, or various favorite prints. Now, I realize this last one isn't a YouTube clip, really, but the pictures are so delicious and whimsical and brought the same smile to my face that the others did. And there's a total of five of them. So I hope you're okay with that, readers.
http://www.dancersamongus.com/photos