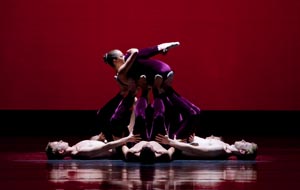 Confession time: I didn't know about the Smuin Ballet until just a few years ago. I knew Michael Smuin's name from San Francisco Ballet lore, where he'd been a principal dancer, a choreographer, a co-director from 1973 until Helgi Tomasson's arrival in July 1985.  Smuin founded his own company nine years later, by which time he'd also choreographed numerous Broadway shows and movies, winning an Emmy in 1984 and a Tony Award in 1988, while setting work on the Dance Theater of Harlem, the Washington Ballet, the Pacific Northwest Ballet and others, as well. For his own company, Smuin, never afraid to be eclectic, theatrical,  appeal to broad audiences, wanted a troupe that was small, innovative and crackling with energy. He succeeded. I can only imagine how his death in 2007, at age 68, was a blow to company members, audiences, and the dance world alike.
I'd heard that Smuin Ballet had a strong local following. Having finally seen them, in the October 5th performance of their latest, "XXtremes Dance Series," celebrating their 20th anniversary season, I now understand why. A troupe of only eighteen dancers, these guys rock.
I wrote a review of their Saturday matinee performance, part of a fun new gig for me as a dance reviewer for Bachtrack.com. I'd love it if you gave it a peek. http://www.bachtrack.com/reviews/view/3438
But since you showed up at this site looking for entertainment, I'll offer you pics and summaries. Sound fair? (Photo credits: Keith Sutter, David DaSilva)
Ballet #1: Dear Miss Cline, set to songs by 1950's country-pop legend, Patsy Cline. An energetic romp of a ballet, complete with crinoline-skirted costumes and flirtatious exchanges and some great partnering work.
Ballet #2: Jirí Kylián's irresistible Return to a Strange Land. All the hype about Kylián is right on. This ballet was created in 1974 and dedicated to the legacy and memory of his beloved mentor John Cranko, who'd just died. Love, loss, longing  are all rendered in soulful, sensuous fashion. His work is so renown in the dance world, so fascinating to me, that I think I'm going to have to save any further elaboration for a blog of its own.
Ballet #3: Michael Smuin's acclaimed Carmina Burana, featuring the über-dramatic music of 20th century composer Carl Orff, cinematic lighting, curlicues of fog billowing from the wings, vibrant unitard costumes, passionate, exuberant exchanges and movements in twenty-two vignettes. A hell of a show.
All the Smuin Ballet company members are strong, energetic, and wonderfully talented. Here are a few I particularly enjoyed watching: Jane Rehm, Terez Dean, Pauli Magierek, Erica Felsch, Jo-Ann Sundermeier (the latter three having stepped in, mid-performance, to replace an injured Nicole Haskins in the third ballet, an astonishing feat all the more impressive in its un-noticeability), Jonathan Dummar, Aidan DeYoung, Weston Krukow, Eduardo Permuy, Joshua Reynolds and Christian Squires.
Okay, that was a tease, and this is where you hurry on over to my full review at Bachtrack. (http://www.bachtrack.com/reviews/view/3438) Check it out and I'll send kisses your way. Post a comment there on how great the review is, and I'll make them chocolate kisses.
I'll end with just a nub of that review.
It seems to me that a lot of people go to the San Francisco Ballet because they enjoy the ritual of "going to the ballet." People go to the Smuin Ballet, I will venture to say, because they love dance. They love watching the art. They love the Smuin Ballet because the venue and the program are family-friendly, "come as you are" friendly. The dancers pour their heart, soul, craft and considerable talent into every movement. It's a thrill to discover this local treasure.
Move over, San Francisco Ballet. There's another pretty girl in town.
Things to know about Smuin Ballet's "XXtremes" Dance Series  
Where: Palace of Fine Arts Theatre, 3301 Lyon St., San Francisco.
When: now through Saturday, October 12, 2013.
Why: Because live Kylián performances are rare in the Bay Area and Return to a Strange Land is good enough to seek out, as is the Smuin Ballet's performance of it.
Tickets: $25 to $72
Contact: (415) 912-1899, www.smuinballet.org
And if you can't make these dates: the program repeats in March in Walnut Creek and Mountain View.