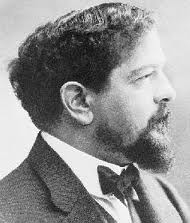 August 22nd  was Claude Debussy's 151st birthday. To mark this, a fellow Violinist.com member, Riz Ramadhan, shared a recording, his performance of Debussy's classic, "Beau Soir," (arr for piano and violin by Jascha Heifetz). Beau Soir translates as "beautiful night" and Claude Debussy composed this little piece while still a student, based on a poem by his friend, Paul Bourget. The original poem is in French, but here's a translation, courtesy of Wikipedia*.
When streams turn pink in the setting sun,

And a slight shudder rushes through the wheat fields,

A plea for happiness seems to rise out of all things

And it climbs up towards the troubled heart.

A plea to relish the charm of life

While there is youth and the evening is fair,

For we pass away, as the wave passes:

The wave to the sea, we to the grave.
This is one of my favorite classical music "small pieces" out there—it's romantic, sensual, memorable. It slips into my mind, my heart, and stays put all day long.
And now, regarding Riz Ramadhan's recording. What I find so extraordinary about his performance, his sensitive interpretation, is that Riz, who lives in Indonesia, included a caveat when he posted his recording at V.com, feeling unsure of calling himself a "real" violinist, due to the fact that he is self-taught and considers his playing, as a result, to be amateurish. "It's very sad that I must bury deeply my dream of becoming a professional musician," he laments.
Well. When I watched his performance on the recording, my jaw dropped. My heart soared. It was exquisitely rendered. Not without a flaw or two, but far more important than technical perfection was the heart, the intention of the music he captured. He closed his commentary with, "I just want to share my little recording, my never-noticed hard work & struggle as a self-taught. Hope you like it."
So, my dear readers. Give it a look—for me, for him, for yourself. Listen, and tell me afterward if this music didn't steal your heart. Read the poem again, and give the recording a second watch. I found it utterly hypnotizing, addictive.
I have a recording of violin virtuoso Kyung Wha Chung performing this piece, from her "Con Amore" CD. It gets played a whole lot. Here is a YouTube link to a later performance by her.
Indeed, it's lovely and assured, as you would expect. But, I have to say, having heard Ramadhan's personal story, the humble skill and sensitivity he applies to not just his performance but to the recording itself, makes it my favorite of the two. Further, in his short film—really it can be called that, so nicely done in black and white, professional titles and such—there were a few cuts to scenery of Paris-by-night. Well. You readers know my relationship with Paris, right? Only my favorite city in the world, and almost two months since my own visit there, I'm still missing it, dreaming of it. So. If there'd been any doubt, the Paris-by-night scenes clinched it for Ramadhan. Bravo, Riz Ramadhan and Claude Debussy. And thank you. Your music has touched my soul.
PS: here is a link to Riz Ramadhan's original Violinist.com posting, where I had the nerve to post, in comments, "No offense, but is this really you playing here?" and happily, no offense was taken and he assured me that yes, it was really him playing. http://www.violinist.com/blog/Rizky/20138/14923/
PPS: If you enjoyed "Beau Soir," check out my post on Debussy's "Clair de Lune" and give the piece a listen. The two music pieces  are deliciously similar yet intriguingly different. Both are unforgettable. http://www.theclassicalgirl.com/clair-de-lune-oceans-eleven/
* Wikipedia offers three translations from French to English; I opted for the one that best reflected the mood of the piece, which is not the literal translation of the French.