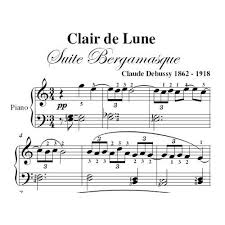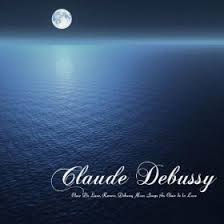 Claude Debussy's "Clair de Lune" is one of those pieces of music, like "Beau Soir" and "Girl With the Flaxen Hair" and "Afternoon of a Faun" (all Debussy compositions, BTW), that has condensed its flavors and sensuous textures into one delicious, snack-sized morsel. A brief five minutes, the music swirling around you, in and out of you, utterly transporting you, and it's over. I know I've talked about Debussy before, not just once but twice (see below), but I just have to rave about his music again. It is so unique, like the guy himself.  In 1885, the young Debussy wrote of his desire to follow his own way, saying, "I am sure the Institute would not approve, for, naturally it regards the path which it ordains as the only right one. But there is no help for it! I am too enamored of my freedom, too fond of my own ideas!"* He experimented, employing dissonance, unexpected intervals. Within his music you find parallel chords, ethereal harmonies, flowing passages that make you think of water rushing over pebbles in a brook. Luxurious pauses, quick-changing dynamics. You feel as if you've stepped into a secret garden and are far removed from the everyday world.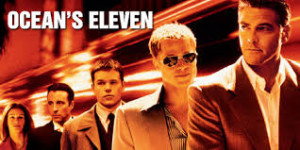 Now for the Ocean's Eleven connection.  Ocean's Eleven is one of my favorite "watch a movie for pure fun" movies. I'm referring to the 2001 remake of the1960 classic that features George Clooney, Brad Pitt and a dozen other super-talented, entertaining actors. The film is clever, funny, engrossing, pleasing to the eye and the mind. And what clinches Ocean's Eleven for me is its sublime closing music. I'm thinking you can guess what it is.
Here's a clip of that part of the film. It's the end and thus a spoiler alert, I guess. Too bad the opening dialogue bit couldn't be deleted, but hey. If you know the movie, great, it'll make sense. If you don't know the movie, I won't elaborate and don't worry if it doesn't make sense. It's all about the music, anyway. Well, and the Bellagio's fountains. Director Steven Soderbergh has gone for a thoughtful, subtle closer, instead of some screechy, high-octane getaway ending. It's one of the reasons I love this film so much. The tension throughout is more psychological than physical. Observe Andy Garcia's face in the clip, about 30 seconds in. It's saying a dozen things, while revealing nothing, including the fact that he just lost really, really big. A minute later Soderbergh cuts to the team members (all of whom are professional crooks, mind you), each over a million dollars richer, gazing at the Bellagio fountains from the rooftop of another building. Again, their expressions say so much.
Fun movie. Go watch the whole thing. [And if it's not embedding, go here:  https://youtu.be/Cfu9s89C-pc]
Back to the music angle. "Clair de Lune," part of Debussy's longer Suite Bergamasque, is based on a poem by Frenchman Paul Verlaine. It's fun to read while listening to the composition on its own, so click on the embed below, a gorgeously nuanced performance by pianist Thomas Labé. Sink into the music, and let it steal you away.
 Clair de Lune (translated from the original French)
Your soul is as a moonlit landscape fair
Peopled with maskers delicate and dim,
That play on lutes and dance and have an air
Of being sad in their fantastic trim.
The while they celebrate in minor strain
Triumphant love, effective enterprise,
They have an air of knowing all is vain,—
And through the quiet moonlight their songs rise,
The melancholy moonlight, sweet and lone,
That makes to dream the birds upon the tree,
And in their polished basins of white stone
The fountains tall to sob with ecstasy.
And lucky you if you can speak French and read the original…
Votre âme est un paysage choisi
Que vont charmant masques et bergamasques
Jouant du luth et dansant et quasi
Tristes sous leurs déguisements fantasques.
Tout en chantant sur le mode mineur
L'amour vainqueur et la vie opportune
Ils n'ont pas l'air de croire à leur bonheur
Et leur chanson se mêle au clair de lune,
Au calme clair de lune triste et beau,
Qui fait rêver les oiseaux dans les arbres
Et sangloter d'extase les jets d'eau,
Les grands jets d'eau sveltes parmi les marbres.
PS: Did you just watch the 2018 Olympic final free skate performance by 18-year-old Russian Evgenia Medvedev and think, "Hey, what's that music?" Congratulations! You found it right here.
PPS: And were you wondering what eerily familiar tune was, in the 2022 movie, Everything Everywhere at Once ? This is it!
PPS: More blogs featuring Debussy: "Beau Soir" https://www.theclassicalgirl.com/beau-soir/ and "Debussy's Quartet and Camille Claudel" https://www.theclassicalgirl.com/debussys-string-quartet-remembering-camille-claudel/
* Source: Wikipedia