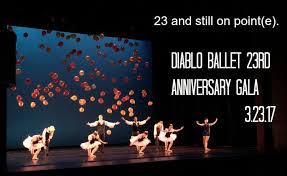 It was an evening of celebration and great dance as Diablo Ballet fêted its 23rd anniversary Thursday night at Walnut Creek's Lesher Center for the Arts. Adhering to Artistic Director Lauren Jonas' mission to offer diverse and relevant works that inspire and engage, the company presented Sally Streets' 1994 Three to Tango, excerpts from Petipa's Raymonda, and Robert Dekkers' Carnival of the Imagination. The celebration program included a short film, plus a slideshow that commemorated the company's PEEK outreach program, to live music performed by Minor F Jazz Quartet (comprised of students from the Oakland School for the Arts), all of which demonstrate the wonderful synergy between company and community. That Diablo Ballet thrives at twenty-three years is no small feat, and no coincidence.
The 23rd anniversary is referenced in a charming fashion through Three to Tango. In 1994, choreographer and Diablo Ballet artistic advisor, Sally Streets, set this work on Lauren Jonas in the company's inaugural season. On Thursday night, pianist Andrea Liguori (who performed it in 1994 too), was joined by by cellist Andres Vera for a lively rendition of Astor Piazzolla's alluring tango music. New company member Felipe Leon, replacing Jamar Goodman for the performance, dazzled with his clean, articulated movements and focus in this classical-based choreography with Argentine twists. Also new to the company is Oliver-Paul Adams who partnered the reliably excellent Rosselyn Ramirez in a pas de deux with proficiency if not particular ardor. Streets' stylized blend gave us partnered pirouettes with a knee in parallel passé, some ending in a tango step. Ramirez stretched into a beautiful 180 degree partnered arabesque, and the men's solo passages showcased their strong scissoring leaps.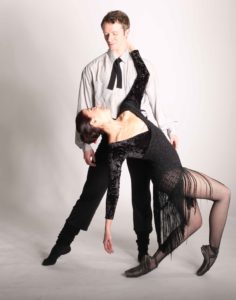 Marius Petipa's 1898 Raymonda, like his earlier creation, The Sleeping Beauty, seems to embody Russian Imperial courtliness and grace. Set to Glazunov, it's old school classicism at its finest. Thursday night's performance gave us the Pas de Deux and coda, staged by Joanna Berman, company régisseur and former San Francisco Ballet principal. Raymond Tilton and Jackie McConnell, as the pas de deux couple, mostly succeeded, although a few initial rushed poses kept McConnell from looking fluid, her movements fully inhabited, stately and deliberate. Otherwise, the two were a pleasure to watch on the Lesher Center stage. Costumes designed by Sandra Woodall (and Renee Rothmann, Rebecca Crowell Berke), courtesy of Marin Ballet, looked great. A partnered arabesque released from a challenging balance for McConnell, reminiscent of Aurora's "Rose Adagio" in The Sleeping Beauty, gave way to a confident, self-supported pose. Tilton, a former San Francisco Ballet dancer, is a perfect fit for classics like this. A solid final partnered pirouette ended the piece impressively for both dancers, and the coda that followed, which included three more couples, a flurry of tutus and brisk, well-rehearsed movement, was well executed.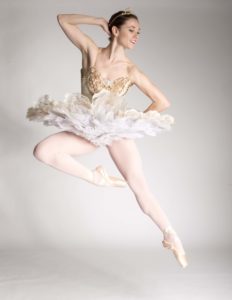 Robert Dekkers' Carnival of the Imagination, a 2016 world premiere, is set to Camille Saint-Saêns' Le Carnaval des Animaux, and conjures the rich, colorful inner world of a boy's imagination. Christian Squires reprised his role as "Seven," or "Our Protagonist" with the same engaging, theatrical flair as last year. Some roles seemed more refined this year, such as the buoyant gleefulness of Pippas (Jackie McConnell), Seven's imaginary playmate, which hit all the right buttons for me, without ever feeling over-the-top. I particularly enjoyed McConnell's red-sneakered, flex-footed leaps, their momentary suspension midair. Standouts this year included "Constellations" a dazzler with fiber optic costumes for the women that, along with Jack Carpenter's dimmed, dappled onstage lighting, simulated a midsummer's night. Partnered leaps and lifts (Amanda Farris, Larissa Kogut, Rosselyn Ramirez with Oliver-Paul Adams, Jamar Goodman and Raymond Tilton) looked nothing short of magical. "Colors of the Rainbow," too, offered visual appeal and strong dancing by Adams, Tilton and Felipe Leon. McConnell and Squires charmed in "The Shadow," and later were poignant in their depiction of a boy outgrowing his imaginary friend. Dekkers' choreography flows throughout, engaging and creative. An all-cast pillow fight at the end, everyone now clad in onesie pajamas (all costumes designed by Christian Squires), feathers flying, was just plain fun.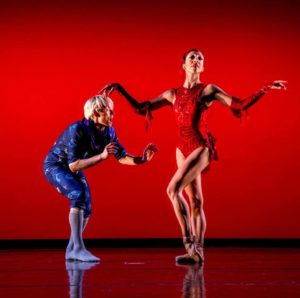 Twenty-three years as a successful dance company is indeed something to celebrate, and Artistic Director Lauren Jonas had every reason to be proud of this troupe and the full house and enthusiastic audience Thursday night brought. Really, it does the heart good in these times to see a vibrant local community supporting a vibrant dance company. While a trip to Walnut Creek might not prove possible for everyone (good news: they tour the region), Walter Yamazaki's short films featuring Diablo Ballet give all a chance to see these talented dancers. Thursday night marked the world premiere of Libera; gorgeously produced, with an original score by Justin Levitt, narrated by Jamar Goodman.  Here's one from 2015, AETERNA XXI created by Yamazaki for their 21st Anniversary celebration, with a gorgeous score by Brian Crutchfield. Enjoy.