The dazzling world of the imagination; an exploration of the mythic through movement; Shakespearean drama lushly interpreted – these are the worlds revealed in "Celebrated Masters," Diablo Ballet's final program in their 22nd season. Saturday afternoon's performance at Walnut Creek's Del Valle Theatre reminds me how worth the effort it is to catch one of this troupe's shows.
Gary Masters' Mythic Place conjures a sense of sacred ritual and community. Set to a percussion score by Carlos Chavez, arranged and performed onstage by Greg Sudmeier, it delivers its message in movement that's both primal and contemporary. Masters, founder and Co-Artistic Director of sjDANCEco, has long been associated with the Limón Dance Company, the foundation and its projects, which shows in the angular yet fluid choreography. There are turns with arms in square shapes, long, emotive reaches, leaps that lunge. The cast of five dancers connects in center, touching, before reeling outward in turns and jumps. Memorable was the way Tetyana Martyanova threw her whole body into a curve, and how Rosslyn Ramirez colored her movements with a powerful focus and gaze. Three newcomers to the company this season—Raymond Tilton, Jamar Goodman and Jackie McConnell completed the quintet. The men's strong presence, in particular, seems to have raised the bar on this boutique company's high standards. Saturday afternoon's performance wasn't flawless; unison movements sometimes fell short of synchronicity, but the live music and Renee Rothmann costumes—leotards in vivid colors of red, orange, yellow, green and blue—helped the dancers achieve a satisfying end result.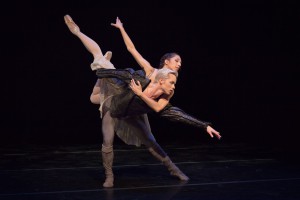 Val Caniparoli's dramatic Hamlet and Ophelia pas de deux provided a distinctly different flavor, right down to the dappled, dreamy lighting (Jack Carpenter after Dennis Hudson), and lush orchestral music by early 20th century composer Bohuslav Martinu. Sandra Woodall's elegant costumes completed the theatrical statement. Christian Squires and Amanda Farris executed it beautifully, under the guidance of stager Joanna Berman, on whom the 1985 San Francisco Ballet premiere was set. Both dancers were well suited to their roles, and gorgeous to watch. This is a dramatic, and highly athletic pas de deux. Caniparoli, former principal and resident choreographer of the San Francisco Ballet and in great demand worldwide since, keeps his choreography thoroughly classical, yet fresh, propulsive. The piece ends as it began, Ophelia bourréeing on Hamlet's long, long cape as he walks, which is, in and of itself, artful, imaginative, mesmerizing to watch. In the closing moments, the end of the cape becomes paler, more diaphanous fabric, like clouds, or the froth of churning water—the waters in which Ophelia will drown.
Here's a taste for you:
The program closed with resident choreographer Robert Dekkers' Carnival of the Imagination, set to Camille Saint-Saëns' "Le Carnaval des Animaux." Its opening moments feature Our Protagonist, a boy (Christian Squires), and the Imaginary Friend he has just dreamed up. Behind them, an open wooden treasure chest oozes fog and mystery, all against an orange lit backdrop. It promises exciting things ahead, and boy, it delivered. Raymond Tilton's Dragon was powerful, impressive. Tilton filled the stage with his dancing, his fine technique, his presence. Formerly from the San Francisco Ballet, his skill shows it. Aiden DeYoung's Panda grin felt a bit too slapstick, but boy, did the kids love his dance. Jackie McConnell's portrayal of the Imaginary Friend grew more nuanced as it went on, manic glee replaced by other emotions, such as her sorrowful withdrawal when the Protagonist began to ignore her. Squires, throughout, entertained as he cavorted, pranced, engaged, resisted, conjured up, and shrank from these vivid creatures borne of his imagination. It was darling. Even his dull pajama onesie costume worked, the other, splendid costumes outshining him, of course, because when doesn't imagination outshine reality? All the costumes—thirty in all—superbly designed by Squires himself, were full of color and imagination. Tetyana Martyanova stole the show not once but twice, as the Unicorn and later as the Butterfly. Gasps of delight could be heard from younger audience members, when Martyanova emerged as a gleaming, sparkling unicorn, in a sleek, opalescent unitard that made her look as though she'd been dipped in liquid pearl. And again, appearing as a butterfly, carried on and emerging from its chrysalis, to the unforgettable cello strains of "The Swan," she dazzled, with her clean, beautiful classical lines.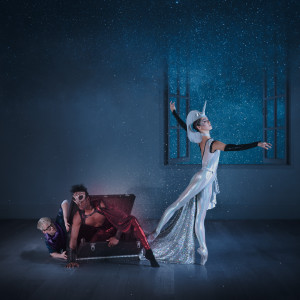 Rosselyn Ramirez charmed as the Tortoise, with wonderful attention to detail in moving precisely like a reptile, steps measured and exact. "Constellations" was gorgeous and inventive, the females sporting pale costumes topped with a web of tiny LED lights, glowing under Jack Carpenter's lighting. Jamar Goodman, Mayo Sugano and the aforementioned DeYoung, Tilton, Martyanova and Ramirez, made this piece pure magic. Amanda Farris danced a compelling "Phoenix" and In "Raindrop/Drip," Mayo Sugano and Jamar Goodman, a former American Ballet Theatre dancer, shone. The whole crew assembled for the finale, now clad in animal onesie pajamas, like kids at a sleepover, running in with pillows in hand. It was so gleeful, infectiously fun, it was impossible not to grin through it all. A pillow fight, feathers flying, pillows thrown in the air, timed to the millisecond as they landed on the ground in unison and eight heads followed. What a clever, fun ending to a clever, fun ballet.
I am doubly appreciative of companies like Diablo Ballet in the wake of Ballet San Jose's recent demise after thirty years in the South Bay. It's no surprise or stroke of luck that Diablo Ballet is going strong as they finish their 22nd year. Credit goes to Artistic Director Lauren Jonas, her dedication, intelligent programming, insight into what works and what won't, and the way the company reaches out and supports the community that, in turn, supports them. Their outreach program, PEEK, should serve as instruction and inspiration to arts organizations and businesses everywhere. The success of a recent expansion of the PEEK program into the juvenile hall system is so impressive and uplifting, I'm going to save that story for a blog of its own. (Which, in 2017, you can find HERE.)  In the meantime, hats' off to Jonas, Diablo Ballet's extraordinary dancers, and all who collaborate to keep this company thriving. Another performance, program and season done right!