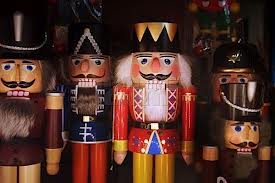 NUT·CRACK·ER
ˈnətˌkrakər/
Noun
A small aluminum device for cracking nuts.
A little painted wooden soldier with a dislocating jaw that performs aforementioned task.
An 1892 ballet originally choreographed by Marius Petipa (and Lev Ivanov), first performed in the U.S. by the San Francisco Ballet on Christmas Eve in 1944, now a holiday tradition throughout the  world, particularly in American ballet companies (not to mention a huge money-maker for every company that performs it).
The accompanying symphonic work in its full form. Not to be confused with "The Nutcracker Suite," which includes only excerpts from the full score. It really annoys dancers when you refer to the ballet as the Nutcracker Suite. It isn't. So don't.
I suggest you click on the embed below ( https://www.youtube.com/watch?v=7U_gpW1J4LM), an audio recording of the whole score (except where the orchestra cut out a handful of counts, around 21m, and don't ask me why) and listen to the music as you read. A cup of egg nog in your hand, or some hot mulled wine, might make it even more fun. Be my guest. Let's get this holiday party started.
Ready?
First let's talk about the ballet. You know the story, right? Certainly, if you're a ballet peep (in which case you might have gotten as eye-rolling tired of it as I have). But for the benefit of my readers who aren't ballet peeps, I'll summarize. In a nutshell, if you will. Set during a 1890's European family's celebration of Christmas Eve, with family, guests and gifts. For Clara, the daughter, a mysterious-looking nutcracker from everyone's favorite guest, the equally mysterious and, well, maybe a little whacked out, Herr Drosselmeyer. She's charmed with the nutcracker, little brother is jealous, a scuffle for it results in Nut getting broken. A real buzz-kill. Party ends shortly thereafter. Post-party, Clara hangs with the now bandaged Nut, falling asleep on the couch with it. Here, things get psychedelic. Family Christmas tree in the corner grows 20x its size, oversized mice scurry in. Nut comes to life, leaping up for battle. Calls out for his soldier minions to join him. Clara's family's living room has now become a battlefield. Just when the evil Mouse King is about to do in the Nut, Clara hurls a shoe, killing Mouse King. With that, an evil spell breaks, transforming Nut into a prince. In gratitude, he takes Clara to his kingdom in The Land of Sweets, where various candied characters come out and dance for them. It's vivid, colorful. The music is sprightly and all are happy.
Certainly that's what the audience is feeling, and since its U.S. 1944 inception, it's become a much-loved ballet and holiday ritual. But in 1892, audience members regarded each other afterward in a mix of bafflement and horror. WTF? they were probably asking. This was the venerable Tchaikovsky? He of Sleeping Beauty and Swan Lake? This sugar-coated musical concoction?
Poor Tchaikovsky. It hadn't been his choice to write it that way. He was part of a duo, and this was a commission by the Imperial Mariinsky Theatre. It was Marius Petipa and him, working together after their sweeping success with The Sleeping Beauty two years earlier. (They would go on to further collaborative success with a Swan Lake revival in 1895, which Tchaikovsky had first composed back in 1876). Petipa got first hand with the material after winning support over his choice of ETA Hoffman's fairy tale, The Nutcracker and the Mouse King, as the basis for the ballet. Petipa worked the material, set everything up just so, and handed to Tchaikovsky a bar-by-bar musical wish list. (Ironically, illness would require Pepita to bow out, leaving Ivanov to finish the choreography.)
A rough way to work. Tchaikovsky's first efforts bored even him. And made him sort of panic. Tchaikovsky had suffered from depression all his life, and this point was no exception. News of his beloved sister's death midway through his efforts on Nutcracker sent him tumbling deeper into melancholy and despair. But, as is so often the case of the creative artist, to the public's benefit, from that grief-stricken place, Tchaikovsky composed some of the score's most beautiful music, that made it so much more than a sugar-coated accompaniment to the dancing. You can hear it in the music, those ethereal places where so much nuance and intensity rise up, it gives you the chills. Listen from 19m to about 21m, the scene where the Christmas tree grows to gigantic proportion. Great dramatic intensity. Also at 24m, when Clara has killed the Mouse King, and she's traveling with the Nut Prince through the Land of Snow. Puts a lump in my throat. (Dancing the role of the Snow Queen, by the way, was my favorite role of my Nutcracker performances. Less stress than the previous year's Sugar Plum Fairy, and oh, that music. So beautiful. 25 years later, I'm still loving it.) Listen until to 27m30. Sigh… And listen to all of "Waltz of the Flowers," which commences at 56m. Will never tire of that one.
There are so many performance of the ballet on Youtube, I'll let you pick and choose. In the meantime, my friend sent me this version of "Dance of the Sugar Plum Fairy" that simply can't be beat. Thank you, Kodi the cat. You are a prima ballerina extraordinaire.