Nocturne: (noun) In music, a composition inspired by, or evocative of, the night, and cultivated in the 19th century primarily as a character piece for piano. 
Falling in love with French composer Gabriel Fauré's Nocturne No. 4 wasn't one of those thunderclap experiences. It crept up on me, gradually. I'd been listening to this Fauré Nocturne CD for almost a decade, mostly as I drove, and enjoying the music's understated elegance and beauty. Then, this past year, something clicked with No. 4. I loved the way the mood shifted midway and grew intense, imploring, almost ecstatic. Once these sentiments sank into me, I was hooked. I could play the No. 4 hourly and never grow tired of it. To think this gem almost slipped my notice.
Music critic and author Harold Schonberg, in his 1970 book, The Lives of the Great Composers, gave a brilliant description of Fauré and his understated power. "Fauré was a master whose delicately adjusted music lacks the grand gesture and excitement that could give it mass popularity," he wrote. "It is music that contains the essence of everything Gallic—form, grace, wit, logic, individuality, urbanity. It is music that has attracted a small but fanatic band of admirers; and those who love the music of Fauré love it as a private, cherished gift from one of the gentlest and most subtle of composers."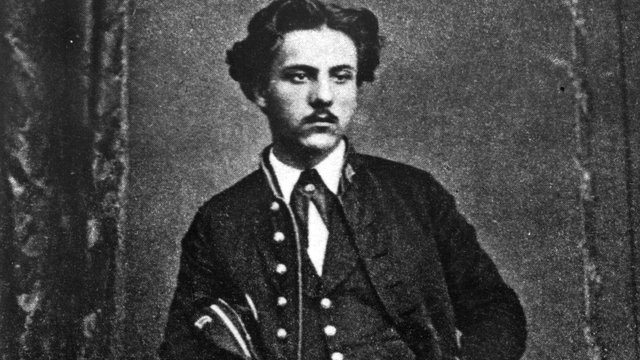 Well put. A few more details about Fauré. While he did not attend the Paris Conservatory like many great composers did, he nonetheless received an excellent education at the École Niedermeyer de Paris, where he was sent to board at the tender age of nine. Niedermeyer, whose goal was to produce qualified organists and choirmasters, focused on church music. When Niedermeyer died in 1861, Camille Saint-Saëns took charge of piano studies and introduced contemporary music, including that of Schumann, Liszt and Wagner. His students ate it up. Saint-Saëns proved to be a great teacher and even better source of support to/for Fauré, and the two remained close friends for life.
Garnering awards upon his graduation at age twenty, Fauré embarked upon a career as an organist and teacher, squeezing in composing when he could find the time. (Summer vacation!) He ultimately became one of the most influential of French composers, linking the end of Romanticism with the beginnings of the modern era. His body of works included songs, chamber music, orchestral pieces, and choral works. His major sets of piano works are thirteen barcarolles, six impromptus and thirteen nocturnes.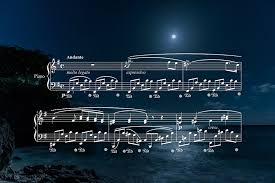 Like Beethoven, Fauré's compositions over the years displayed the change in his style from uncomplicated youthful charm to enigmatic, often fiery introspection, making it very easy to hear the difference between his early work and later work. Also like Beethoven, he went deaf, over the course of twenty years. Just as bad as the increasing deafness was the fact that his remaining hearing became distorted, with high frequencies sounding flat, low ones sounding sharp. What a lousy fate for a composer and lifelong music pedagogue, someone with such refined aural capabilities and tastes. And yet, as with Beethoven, this didn't deter him from composing. He continued to compose almost to the day he died. His String Quartet, Op. 121, was completed in 1924, two months before his death.
But let's return to the subject of nocturnes. As mentioned above, a musical nocturne is a composition inspired by, or evocative of, the night, created  and cultivated in the 19th century primarily as a character piece for piano. (That the original musical "nocturne" came a century earlier and is different in style and composition is something we'll save for another blog) Faure's Nocturne No. 4, the one I fell in love with, years after we first met, becomes very Chopin-esque halfway through. Give it a listen. Promise me you won't stop after the calm, tranquil, understated first two minutes. You need to shut your eyes and experience it all the way to the end.
What did you think? Great stuff, huh? But of course, that was only one of the many things Fauré did well. As you might have noticed, I like making "10 Facts" lists, or "10 Reasons" lists. In that vein, I offer you the following:
10 Recommended Fauré Compositions (click on their titles)
Violin Sonata No. 1 in A major Op. 13 (LOVE this one, especially the first movement.)
The Dolly Suite  Opus 56, for piano
Nocturne No. 4, Op. 36 (and No. 6. And, well, all of them. See the embed below)
Ballade for Piano and Orchestra Op. 19 (Brand new for me today!)
Sicilienne for Cello and Piano, Op. 78
Piano Quintet No. 1 in D, Op. 89 (An absolutely stunning opener.)
Requiem, "In paradisum" movement (which was featured in the film, The Thin Red Line)
Masques et Bergamasques Suite, Op 112
Piano Quartet No. 1 in C minor, Op. 15
And now that I hyped up the nocturnes. here they all are. Hope you enjoy as much as I do!