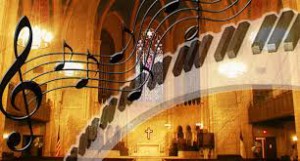 It's Halloween, and you're looking for that perfect spooky Halloween music that's a little more sophisticated than "The Monster Mash" and "Thriller" and "Werewolves of London." Look no further, friends. I've done my own hopping around over the past two days to see what others consider to be their Top 10 classical spooky faves. My list is a little different; some are deliciously spooky, or quirky, or even just in a minor key, but they all are still melodic and easy to listen to. What didn't make my list are the kind of pieces you might find in horror films, with jarring dissonances and icky, creepy, in the house alone at night, what-was-that-noise-and-don't-turn-around-right-now-whatever-you-do music. If you are looking for that, cool, go to the bottom of this blog and I will share others' suggestions and links to others' sites.
Here's my list, in no particular order. Click on the title to go to the link unless otherwise specified.
Paul Dukas, "The Sorcerer's Apprentice" (link below)
Camille Saint Saens, Danse Macabre 
Sergei Rachmaninov "The Isle of the Dead" 
Jean Sibelius, The Tempest, Act II, particularly "The Oak Tree" and "Caliban" (link below)
JS Bach, "Toccata and Fugue in D-minor" 
Saint Saens, Symphony no. 3, first movement 
Carl Orff, Carmina Burana "O Fortuna" 
Prokofiev, Romeo and Juliet "The Montagues and Capulets"  (or "The Dance of the Knights")
Modest Mussorgsky, Night on Bald Mountain  (Also known as Night on the Bare Mountain.)
Joseph Suk, "Scherzo Fantastique," op. 25 (link below)
Bonus one added in its own blog in 2019. Hector Berlioz, Symphonie Fantastique
A second bonus one because the blog's title is "Haunted by St. Saens' Organ Symphony"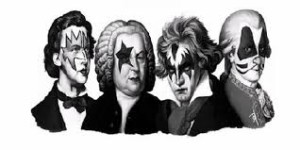 A few comments on some of these. I'll start with #10, Joseph Suk's "Scherzo Fantastique," op. 25, which is not tenth on the list because it's my 10th favorite. Far from it. Suk's piece isn't dark, really, but it's so delicious. There is both sweetness and sorrow in it. Classical music factoid: Suk was Dvorák's son-in-law. Story has it, however, that Suk's wife, Dvorák's daughter, died early in their happy marriage, and the grieving Suk (his father-in-law had recently died too) composed this in her memory, incorporating a folk tune she used to love. It's not a complicated piece, and the key melody repeats frequently, but it's such a infectiously delightful repetition. I just love it. So, if you like your spooky music to be on the cheerier side, check this one out. A lot of classical music fans, upon hearing this for the first time, are just agog that it's been around all this time and they'd never heard it.
Several pieces on my list you might have heard before, but not known by name. Orff's "O Fortuna" is in a lot of commercials; it's strikingly theatrical and intense, very Wagnerian. Night on Bald Mountain, too, has a distinctive, memorable motif it keeps returning to, which, in the end, makes it kind of a cliché for "scary moment" scenes over the years. Give it a listen for 20 seconds and you'll nod and say "got it."
Night on Bald Mountain is particularly famous, as is Dukas' The Sorcerer's Apprentice, for being part of Disney's Fantasia. I guess JS Bach's Toccata and Fugue in D-minor is also part of the movie, as well. What a great movie, really. Here's a trip down memory lane for many of us:  Mickey Mouse in The Sorcerer's Apprentice. (PS: the introduction is in Spanish; it's brief, don't fret. You don't have the wrong embed.)
I'm a big fan of Sibelius and Saint Saens and really, you can't go wrong with any of their music. Although the two composers don't sound anything alike, they both seem to imbue their music with a distinct character, flavor, personality. Like Grieg and Dvoràk, you hear their music and even if you're not familiar with that piece, you can guess the composer. Saint Saens delivers a flirtation with the otherworld (maybe even the occult) that is so deliciously Halloween-y. And Sibelius is a Finnish composer (Finland's pride and joy, for good reason), who lived in a region that is dark and cold much of the year. His music carries a brooding power that leaves room still for folkloric whimsy, and boy, do I love the melding of the two. Here's the link to Act II of The Tempest that I promised. https://www.youtube.com/watch?v=oLHtjlre01E  (It starts with "The Oak Tree," which is great, and so is "Miranda," at around 17 minutes. Be on the lookout for "Caliban," too. Gorgeous visuals on this YouTube.)
And of course, Sibelius' violin concerto just screams "October" and deliciously fragile, wintery nocturne. It's got its own blog you can find here: http://wp.me/p3k7ov-y3
All right. That's my list, and like I promised, here are "scarier" classical tunes for you, below, and a few links to other great articles and lists. Enjoy! And Happy Halloween to you. Hope you have a perfectly spooky evening at whatever level of pathos and evil you so desire.

Scarier Halloween Classics …
Bela Bartòk, Music for Strings, Percussion and Celesta
Franz List, Totentanz
Hector Berlioz, Symphonie Fantastique (This one has its own blog HERE)
Joseph Ligeti, Atmosphère
Here's a great list/blog for scary classical music by Limelight Magazine: http://www.limelightmagazine.com.au/features/13-scariest-pieces-classical-music-halloween
Here's Stephen Klugewicz' list from The Imaginative Conservative: http://www.theimaginativeconservative.org/2014/10/classical-music-pieces-for-halloween.html
Great article about horror in classical music: http://www.mfiles.co.uk/horror-in-music.htm
And in case you're in the mood to play the Halloween music yourself with instantly downloadable sheet music, check out Virtual Sheet Music's collection of classical Halloween tunes HERE. Best of all, it's FREE!