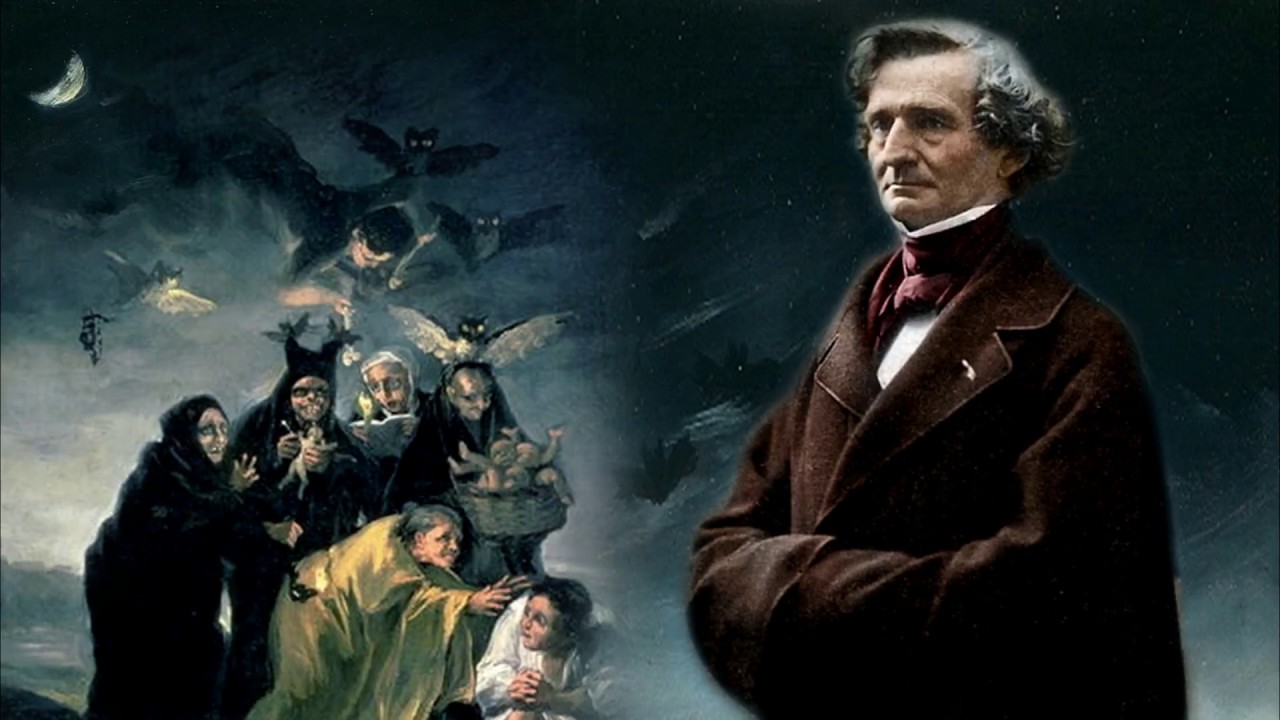 It's October, Halloween is here and I am obsessed with Berlioz's Symphonie fantastique. Blame it on the title and mood of the symphony's fifth movement: "Dream of a Witches' Sabbath." Could any title be more deliciously spooky? It's this movement, and this symphony, that make classical music people nod in recognition at the sound of Hector Berlioz's name. Asked to name another one of his works, they're more inclined to pause, scratch their chins. In spite of his achievements, his formidable status as "the father of the modern orchestra" and other accolades, Berlioz and his music aren't otherwise very well known. And, okay, a confession. I included his Symphonie Fantastique on my "Spooky Classical Music Favorites for Halloween" post five years ago, but in truth, I've never really slowed down to get to know the entire symphony.  Not until this October.
Oh, my. What I've missed. This "symphony in scenes" is downright cinematic. It pierces my heart, rouses my soul, inflames my imagination, activates my adrenaline and has me fixated in my seat, spellbound, through the final wild, cacophonous climax.
I consider the composition's originality, its extravagant colors and flavors, and it's a shock to consider this came well before the time one might hear such music. It came before Late Romantic, even Mainstream Romantic. We're talking Early Romantic, arguably the symphony that transformed 19th century music into the quintessential Romantic Era mood (although we must give Beethoven and his symphonies equal credit). At its premiere in Dec 1830, listeners found Symphonie fantastique so unexpected and shocking, that it immediately caused an uproar among critics and patrons alike. Some saw it as thrillingly new and exciting, and couldn't stop applauding, couldn't wait to shake Berlioz's hand afterwards. Others found his "autobiographical" treatment of music to be utterly distasteful. A good number of listeners were aghast at the way, in the fifth movement, he took the sacred "Dies irae" and turned it into something vulgar and bawdy. And yet the earlier fourth movement, "March to the Scaffold" was such a hit, the audience wouldn't stop applauding and clamored for Berlioz to have it played again, right there, on the spot (which he declined because, duh, there was still the fifth movement to play).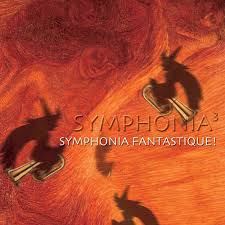 Berlioz was not a composer who followed traditional form in music, largely because he came by music and composing in the most organic of ways. Growing up, he didn't learn the piano, the violin; he didn't study composition. He was intensely curious and experimented with composition on his own. He was born in 1803 in the market town of La Côte St. André, France, near Grenoble, to an established family that could trace its roots 400 years back. His father was a well-regarded physician, his mother from a fine family, devoted and devout as wife, mother and Catholic. Hector's father taught him from home, giving him a solid education with an emphasis on the classics, but, ironically, not classical music. Not any music. No piano or violin lessons, no trips to hear orchestral music. But when Hector discovered a flageolet on the estate (perhaps belonging to his father in his own youth) and taught himself to play it, Dr. Berlioz bowed to pressure and bought him a flute, which he learned to play well and became quite accomplished at. But music-making could only be a hobby for the boy. The family lived in a large, prosperous country estate and, as the eldest son, Hector would be expected to follow his father's line of work and become a doctor and inherit the estate, keep up the good Berlioz name. But there was resistance. Hector had decided at a young age that music and composition needed to be at the forefront of his life. Hector's parents weren't about to allow this; their son had a family reputation to uphold. Back then, any work to do with the theatre was considered vulgar, against Church principles, even sacrilegious. When Hector was seventeen, his father sent him to Paris to study medicine, and that was that.
Or so his parents thought. Here's what they didn't consider: the accessibility of the arts. In Paris, two things forever changed young Hector's life. He heard a Beethoven symphony for the first time. And second, he got his first taste of live Shakespeare, in a production of Hamlet. Which was momentous on more than one level. There was an Irish actress playing Ophelia named Harriet Smithson. He fell in love with her on sight, utterly infatuated. For some time thereafter, he pined after Smithson but she did not return his feelings, nor even agree to a meet-up. (Apparently he sent her letters about his feelings for her, in language so strong and emotion-laden she thought "wow, I'm staying away from this nut job.")  He soon dropped out of medical school and took up studies at the Paris Conservatoire, in spite of his family's wishes. There at the Conservatoire, in the tumult of his high emotions, he poured his feelings into his work. Never mind that "autobiographical" material had never before factored into compositions, much less a symphony. He wasn't caught up in the classical rules of form and proper style. Ever.
Now we're getting into one of the reasons Berlioz is so distinct, so different from his fellow composers of the time. Almost all the composers of his time, indeed, of any time, had experience with playing music, particularly on the piano, and learning from a young age. Hector didn't approach composing from that mental space. He hadn't had the rules of music and composition drummed into his mind. What he had, though, was an incredible imagination, and an iron determination to learn to compose music. That and a considerable amount of genius. He worked and worked at composition–not without some comical bumps on the journey–and when the understanding of what Beethoven did with the symphony (reconfiguring it to accommodate emotional expression) met with the emotional upheaval induced by Harriet Smithson as Ophelia, everything came together for him in Symphonie fantastique.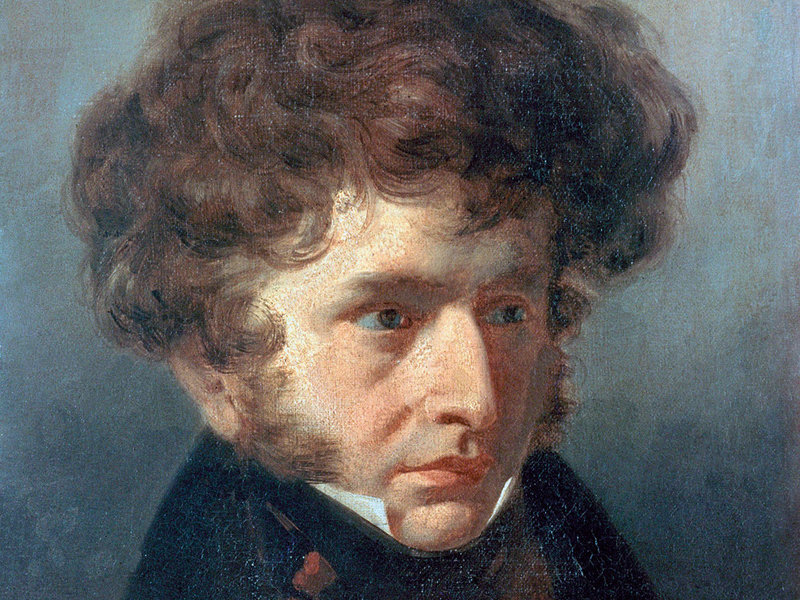 The symphony, in short, tells the [largely autobiographical] story of a young musician with a lively imagination, who sees a beautiful woman whom he can't forget. In the depths of lovesick despair, he overdoses on opium, and in the induced hallucinations, he kills his beloved, is tried and found guilty, is marched to the scaffold to have his head chopped off, and ultimately lands in a satanic dream, amid of a crowd of witches, monsters, all dancing and debauching.
How's THAT for a Halloween symphony?
I'm crazy about the first movement, in that "I can't believe I never noticed how gorgeous you were" way that comes about, when you hear a symphony (live, in fact) and enjoyed it but didn't really immerse yourself deep inside it. An utterly gorgeous, querying theme is introduced, a short passage that's short for a melody line, but most decidedly sets a mood. The more I listen to these opening two minutes – specifically from 14 seconds to 1m40—the more I crave the experience. It takes me somewhere rich and nuanced and laced with sorrow and intrigue and beauty and gravitas. I love the stunning graphic depicted here, as well. It's mysterious and magical. Go give the first movement a listen. It goes to 15:21.
Ready to talk about the second movement? When I hear "The Ball," at 15:21, I see an enormous ballroom in a mansion, couples whirling about, the women in their finest dresses, the men all dapper in black and white, servers circling the room offering champagne, this height of early 19th century elegance and refinement. It's glorious and infectiously festive.
"Scenes in the Country" at 21:28 is the third movement. It's pensive, with the clarinet posing questions and the horns in the background, some low rumbling from the strings hinting at ominous things to come.
"The March to the Scaffold" at 38:04 becomes an instantly familiar tune—it's got a catchy rhythm and melody that will stay in your head. One thing I don't get is that it doesn't sound grim. It sounds like everyone is having a good time. Obviously the audience at the premiere was; this was the one where they kept applauding and clamoring, "Again! Again!" For any of my readers who might have some knowledge of 19th century French guillotine etiquette, which this is intended to emulate, was it really so… happy? Yikes. The poor, crazed, soon-to-be-headless prisoner. A party at his/her expense.
And now the "Halloween" one, the "Dream of a Witches' Sabbath" at 44:32. We'll use Berlioz's own words, in his own program notes from 1845: "[The artist] sees himself at a witches' Sabbath, in the midst of a hideous gathering of shades, sorcerers and monsters of every kind who have come together for his funeral. Strange sounds, groans, outbursts of laughter; distant shouts which seem to be answered by more shouts. The beloved melody appears once more, but has now lost its noble and shy character; it is now no more than a vulgar dance tune, trivial and grotesque: it is she who is coming to the Sabbath… Roar of delight at her arrival… She joins the diabolical orgy… The funeral knell tolls, burlesque parody of the Dies irae, the dance of the witches. The dance of the witches combined with the Dies irae."
Interesting Facts about Hector and Harriet Smithson
I've learned a lot in researching Symphonie Fantastique and Berlioz. Happily, there's an abundance of writing out there, both biography and autobiography/memoir. As well as being a brilliant, wild, defiantly original composer, Berlioz was an excellent writer. Some facts I learned surprised me. Although the sight of Harriet Smithson as Ophelia sent him swooning into a fever of infatuation, and although he was candid about the fact that Symphonie Fantastique had autobiographical elements, the truth is, by the time the symphony's premiere came about, he was very much in love with someone else, whom he intended to marry. Her name was Camille Moke and their love was mutual (or so he thought) but Camille's mother had her eye on a richer suitor, a piano manufacturer by the name of Pleyel. Even though Hector jumped through the hoops Madame Moke planted, including winning the ultra-prestigious Prix de Rome, a letter came from Madame Moke while Hector was in Rome that informed him Camille had married Pleyel. He was devastated; Smithson was the last person on his mind.
Further, the story that he maintained his obsession, sent Smithson tickets to hear the symphony for herself in a second premiere in 1832, which she did, and they discovered love, and married, is charming but not precisely how it occurred. Yes, they eventually married—and divorced seven years later. But the real story is more intriguing. In 1832, Smithson's fortunes were falling as his were rising. After an unsuccessful season in England, she'd rashly decided to invest herself in creating and managing an English-speaking theater company in Paris. As a manager, she failed. Her lead role in a production was a last-ditch effort to maintain her star status as an actress. It, too, fell short. She was deeply in debt, losing her allure, and here was young Hector Berlioz (although now 29 instead of 22), rising in fame. Author David Cairns chronicles it in his biography, Berlioz, the Making of an Artist. The guy is SO detailed in his biography, tens of thousands of specific details, that I'm going to go with his version, which took place in December 1832 in Schlesinger's Paris music shop, two days before that important second premiere. Here's what it might have sounded like, with a little artistic license from The Classical Girl:
Schlesinger: So the second premiere of your Symphonie Fantastique is in two days! Excited?
Hector: I am! [Notices a stranger enter the shop, look around briefly, and leave]
H: Hey, Monsieur Schlesinger, any idea who that was?
S: An English journalist, I believe. A Mr. Schutter, of Galignani's Messenger.
H: Really? What a great coincidence. With my second premiere forthcoming, and all.
S: I know, right? He would be a great one to review your performance. And it turns out he knows that Miss Smithson of yours. Who happens to be in Paris right now, too.
H: I know. And she's not "mine." I am so over her.
S: Whatever you say. Still, press is press. What do you say I run out after him and offer him a pair of box seats to the performance? Have him bring Miss Smithson along.
H: Hmm. I just don't know.
S: Well, I do. And I'll tell you, it's a brilliant idea. I'm gonna go grab him!
[Hector, bemused, watches Schlesinger dash out the door, overtake the man, and press tickets into his hand. Schutter looks at them and gives Schlesinger a "sure, why not?" nod.
Schutter was game, but he had to do some persuading with Harriet, two night later, according to Cairns' biography. She was depressed, discouraged, disheartened, and well aware that the young, smitten Hector Berlioz she'd rebuffed two years earlier was really rising high in the Paris music scene, really doing well for himself. And, to be honest, how do you suppose she felt after the performance? Berlioz wore his emotions on his sleeve; she had to have known she was "the beloved" depicted, which meant she was a lascivious, salacious witch at the symphony's conclusion. But she went, and, well, we know the [sorta] happy ending.
Those Pesky Reviews
Even though Berlioz had a wide circle of composer friends and associates who attended this performance, it didn't mean they all fell in love with Symphonie Fantastique. Reviews were mixed. Case in point:
"His Symphonie fantastique was a veritable musical event, the importance of which may be gauged by the fanatic adherence of some and the violent opposition of others."
–Charles Gounod
"At the same time he hears the distorted cantus firmus of the "Dies Irae," to which the witches are dancing. How utterly loathsome all this is to me, I don't have to tell you. To see one's most cherished ideas debased and expressed in perverted caricatures would enrage anyone."
–Felix Mendelssohn
"He depicts his passion for an ideal woman, a ball where he meets her, a rural scene in which, to the murmur of distant thunder, the image of the dear one appears to him. Then, without our knowing why, he kills the well-beloved and is condemned to death. Finally we see him in Hell, where the adored woman is met again, dishonored and ludicrous, in the midst of a Sabbath. And from all this arises an admirable work, completely original in style, in sonority, in every constituent factor, and utterly different from anything that had been previously conceived and executed."
–Camille Saint-Saëns
"The fifth part, the Dream of a Witches' Sabbath, mingles the trivial, the grotesque, and the barbarous; it is a saturnalia of noise and not of music. The pen falls from my hand."
–François-Joseph Fétis
"How can one deny abundance and diversity of ideas to the composer who, in a single work, could depict equally well the vague des passions, the intoxication of a ball, the mysterious harmonies of nature, the terrors of an execution, and could then transport us into the midst of a Sabbath, where we find the dismal fantasy of Macbeth's witches conjoined with the satanic orgies of the Brocken?"
–Franz Liszt
Berlioz is such an important composer, not necessarily for what he composed (indeed, he conducted more than he composed, and most of his money was made through journalistic writing of music criticism, at which he excelled) but in the way he developed into the first French Romantic and, with his compositions, forever changed the rules governing European music. He shattered the classical rules of harmony to explore bold new (not to mention forbidden) chord progressions, resulting in an entirely new sound. His work had a tremendous impact on Wagner, Liszt, Mahler, Richard Strauss and others–anyone who hungered for the avant-garde. He was the first of the Young Turks, the wild men of music. He was the father of the modern orchestra, filling a stage with a hundred or more musicians (his "dream orchestra" was over 400 musicians, excluding the 300 choral voices and all sorts of other accompanists) whereas before it had been sixty musicians, tops. As author Harold C. Schonberg shares in The Lives of the Great Composers, "Berlioz loved the very idea of Romanticism: the urge for self-expression and the bizarre as opposed to the Classic ideals of order and restraint." I think it's safe to say that in Symphonie Fantastique, he found a voice, a form of musical expression, that will live on and on.
Happy Halloween!