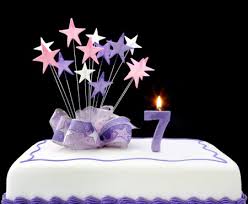 It's February 2020, and you know what that means? The Classical Girl has turned seven!
The Classical Girl, as longtime readers might know, was a concept I'd created on the eve of 2013. A New Year's resolution of sorts. My ballet novels were long completed, out being shopped (or already killed on the editorial-board table), and I missed researching and living inside the dance world terribly. I knew, as a writer, that it was good to enforce some assignment-like work into my writer's life. So I dove in, headfirst.
Yikes. What a journey. And now, here we are! I'd say this calls for a celebration. How about something bubbly and festive, alongside something sweet and decadent? And then sit back, relax, and enjoy the celebration with me.
As a seven-year recap, here are a few stats…
227 posts created and shared
422, 551 visitors
953,070 page views (Sometime in 2020, I will hit a million page views. WOO HOO!!)
1160 comments
13 pages (from the original 6) that include my Giving Program, my Dance Reviews with links from eight seasons of reviewing, and a nifty Africa Page to complement my 2018 novel, Dancer's Guide to Africa.
A gift for those of my readers who haven't yet read OFF BALANCE, Book 1 of the Ballet Theatre Chronicles. For the next five days (until Monday March 3rd) the novel is FREE! Click HERE or on the title above. At a 99-cent discounted price is my third novel, A DANCER'S GUIDE TO AFRICA, and check out the award-winning Book 2 of the Ballet Theatre Chronicles, OUTSIDE THE LIMELIGHT, named a "Best Book of 2017" by Kirkus Reviews. And for those of you who've read and enjoyed the Ballet Theatre Chronicles, look for a new addition coming in fall of 2020. BALLET ORPHANS, Book 3, is a prequel, set twenty years before Off Balance, and features a lot of familiar faces in familiar-but-not circumstances. I'm having a ball polishing it up, and can't wait to share cover art with you, likely in June.
And because my "10 Things" blogs are always a big hit, I am going to offer my personal "Favorite Blogs from the Classical Girl" list. Some on the list might not be the most popular blogs (you can find that Top 10 list on the home page, HERE) but they are ones I'll read and reread for the pleasure of it. Some are serious; some are seriously fun. Some of these blogs enjoyed great popularity for a long spell, until bigger bloggers took the idea and ran.
Check 'em out if you haven't read them. Or check 'em out a second time because you enjoyed reading them.
Thank you, dear reader, for joining me on my journey through ballet, classical music, the violin, and life, here at The Classical Girl. I am humbly aware that I could have never succeeded here, if you hadn't taken a chance on my humble blog (no commercials, though! Never will be! That is my gift to you). And if you're new, reading for the first time, welcome! I'm glad you're here.