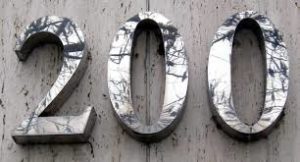 Well, there you have it, my 200th post. The irony being, of course, I can't think of anything profound to say. Guess I used up all my ceremonious profundity for my post earlier this year that celebrated 5 years of blogging. That, and my mind is in fiction-creation mode with — shhh, don't jinx it — a third Ballet Theatre Chronicles book. No worries, we'll just cut to the chase, because we all know why you showed up here…
A Giveaway!
To celebrate my 200th post, I am offering one lucky winner a $25.00 (USD) Amazon gift card and a print advance reader copy (US addresses only) of my forthcoming novel, A Dancer's Guide to Africa, out in stores on October 2nd. If the winner lives outside the US, they will receive an electronic copy (regrettably, postage for outside the U.S. runs a whopping $18.00 for a single print book, so, forget it!). To sweeten the deal for them, I'll offer the winner electronic copies of all three of my novels. Sound fair?
And for the rest of you — fret not, I will draw two more names as runner-up winners, and you will each receive an Amazon gift card for $5.00 and an electronic advance reader copy of A Dancer's Guide to Africa. If you're interested in putting your name in the drawing, you can either reply in "comments" below, or send me an email via my "contact me" tab above. I will print out all names, toss 'em in a big bowl and pluck out the winning names in two week's time. For anyone who subscribes to notifications during this time, I will put your name in twice.
I'll contact all winners via email at that time, but I'll post their names here, too, around July 1st. Feel free to use a nickname or pseudonym, if you'd rather keep your anonymity. Just don't use an anonymous email address because, well, that's not going to help me contact you, now, is it?
Here are some stats I created in February for my post, "The Classical Girl turns Five." I'm too lethargic to revise it now. You don't mind, do you?
196 posts created and shared (which has now become 200)
207,951 visitors (in the past 3 years because my Google Analytics data only covers that)
552,000 page views (in the past 3 years, because, see above)
819 comments (+ 80 via email)
10 pages (from the original 6)
Wondering what the top 10 blogs have been since 2013? Here you go — click on the title to get to the article.
I served up some great snacks and beverages at my five-year celebration, and the good news is that there were leftovers. Here you go! 
Something sweet, perhaps?
And now something savory?
Above all, I want to offer a heartfelt thanks to all of my readers. In the early, early days, there were few readers and it was a crappy feeling. But with each new post came new traffic, and every 20th post seemed to grow white-hot and bring in hundreds of readers (see above Top 10 list). What a great feeling. Special thanks to the site, The Imaginative Conservative, which has been republishing many of my music essays of late, and we've agreed happily that it's a win-win situation. They get new material, I get new readers, there's been more dialogue and comments here at The Classical Girl, about art-related things, creative, beautiful things. I don't know about you, but for me, it's a breath of clean, fresh air for the senses after a day oversaturated with media, conflict, bad news, polarity, and such. I love that the arts can connect us all. And it's my goal to keep forging on for another 200 posts, to do my little bit to make that happen. I hope you'll keep reading and commenting.