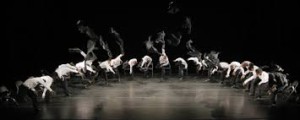 Back in 2014, I attended Ballet San Jose's "Neoclassical to Now," the opening program of their dance season. Balanchine's Serenade and Jorma Elo's Glow-Stop were recognizable and memorable, but I knew nothing about the evening's third piece, Israeli choreographer's Ohad Naharin's Minus 16. During the intermission just prior, someone dressed in a dark suit jacket and dress slacks, meandered onto the semi-lit stage and began to do his own little groove. Initially, it entailed a few desultory turns, more meandering, a few impromptu dance movements. The house lights were on; a good portion of the audience was distracted with conversation and/or out of the auditorium. Because, this wasn't part of the performance, what was taking place onstage. Right? Or was it? Music was playing over the speakers, an irresistible cha-cha, but it had commenced at intermission, so no clues there. Thumbing through my playbill to consult the company roster, I was able to confirm that no, the person onstage dancing was not a confused and/or dangerously self-absorbed audience member. It was corps de ballet dancer James Kopecky. Which meant this was part of the performance. Or was it?
"No way," I said to my husband, sitting next to me. "He's just goofing around."
"I think this might be the performance starting," he said.
"But that's impossible—half the audience isn't paying attention."
"I think that's part of the performance too."
It was funny as hell to watch; you never knew whether Kopecky was going to produce serious, "real" dance or clown around. One bit was a parody on Serenade, which had been the first ballet on the night's program, where seventeen corps females stand solemnly, feet parallel, and on cue, all turn their feet out to first position, in perfect synchronicity. Very iconic. Kopecky's Balanchine-esque echo segued, improbably, into Elvis-like hip gyrations. More craziness ended with a solemn, elegant, classical prep for chaîné turns. Which segued into more abstracted hilarity.
Ten minutes later, as other audience members returned to their seats, puzzled at the performance that seemed to have started without them, other dancers joined Kopecky onstage, attired in the same dark suits, each one slipping into his/her own dance groove. The house lights dimmed and there all of them were, dancing wildly, each one markedly different, like a something out of a Harlem Shake video clip.
Mr. Classical Girl had been right. The performance had begun.
It helps to make sense out of this madness if you know about Ohad Naharin and Gaga. (No relation to Lady Gaga. Please.) Naharin, choreographer of Minus 16, is the artistic director of the Israeli-based Batsheva Dance Company and the creator of a dance movement language he calls Gaga. It is a philosophy, a style of dance movement, that's more about listening to our bodies than telling them what to do. It encourages dancers to liberate themselves from fixed notions about dance, stepping beyond training and discipline to connect with the soul, with inner creativity, with passion. It apparently encourages the audience, as well, to liberate themselves from notions of when the performance should begin. And as for how it will end, well, we'll get to that later.
Minus 16, premiering in 1999, is a collection of vignettes culled from Naharin's previous works. The music, too, is a startling amalgam, including the traditional "Echad Mi Yodea," arranged and performed by rock group The Tractor's Revenge, Vivaldi's "Stabat Mater," the lone tick-tick of a metronome, and a techno-rendition of "Over The Rainbow," to name but a few. I reviewed the evening's program over at Bachtrack, which you can read HERE. Because I am lazy and don't want to re-describe the same thing, here's a nub of it.
"In the first vignette, the dancers are sitting in a wide semi-circle on metal fold-up chairs, dressed in suits, hunched over, weary-looking, elbows on knees. To the lively, effervescent 'Echad Mi Yodea' arrangement, the dancers throw their bodies and heads back against their chairs, one by one, eyes and arms to the sky, before returning to their hunch, creating a ripple effect. The exercise repeats itself, adding more exuberant synchronized movements each time, including pulling off clothing items and throwing them into a communal heap in the center."

It's hard to explain why this is so irresistible and works so well, but it does. It was astonishing, mesmerizing. Ballet San Jose dancers performed it with perfect synchronicity, all of them literally hurling themselves into the performance. Here's a link to Batsheva Dance Company performing it. They are the originals, but I have to say, I thought the Ballet San Jose performance was better, as good as it gets. The piece is a staple of the Alvin Ailey repertoire now, and you can find links to clips of their performance, as well, but I will still argue that their excellent performance didn't surpass Ballet San Jose's.
https://www.youtube.com/watch?v=ktlzJ9IDjwE
Sandwiched between the mad energy and electricity of the work's opener and closer is a sensuous, thoughtful pas de deux, performed wonderfully on Friday night by corps dancers Lahna Vanderbush and Kendall Teague. To the music of Vivaldi's "Stabat Mater," they move and sway, Teague approaching Vanderbush in an uneasy duet, his wiggling clasped hands before him, like a male preening in an elaborate courtship ritual in the animal world. Vanderbush both wary and intrigued, alternates between reaching for him, clinging, and moving abruptly away. Theirs is a mysterious, gorgeous pas de deux, with balances and holds like something out of Cirque du Soleil.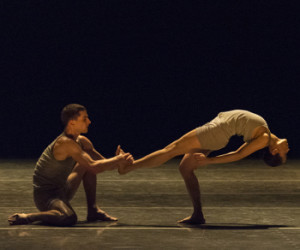 The final part of Minus 16 really brings audience members to their feet. Um, literally. I won't issue a spoiler here, but suffice to say, it's one hell of a memorable finish to a memorable ballet/work. Go read my review if you want to know more. Or, better yet, go see a performance for yourself. Alvin Ailey Dance Theater will be performing this in the San Francisco Bay Area in April. And I have a hunch Ballet San Jose will be doing this one again.
Soon, we hope.
© 2014 Terez Rose
**
Here's an interview with Naharin about Gaga, and some of his dancers demonstrating its use. Good stuff:  https://www.youtube.com/watch?v=OGPG1QL1vJc
Nichelle at Dance Advantage has a great informative article on Gaga and Naharin that is considerably less wordy than mine (how does she do it?). http://www.danceadvantage.net/questions-about-gaga/