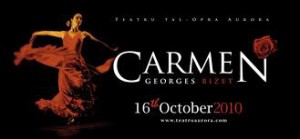 I fell in love with Bizet's opera Carmen, early in my college days. At first it was only the orchestral score, via cassette. The music was imbued with such story on its own, so delicious that I could sit on the frayed couch in my ratty apartment, eyes shut, and listen to the recording nightly, visualizing the drama unfold. In 1984, the release of Francesco Rosi's movie version of the opera allowed me to see it all on the big screen. I fell in love in a new way, with the story, the music, the noble but fatally flawed Don Jose, played by Placido Domingo. Oh, his voice! Oh, his good looks! The tragedy of his and Carmen's fate.
Bizet's own story, post Carmen creation, is tragic, too. The production of the opera was delayed because of concerns that its themes of betrayal, murder, its overt sexuality would offend audiences. It did; at its March 1875 premiere, the critics blasted it. The 37 year old Bizet, convinced that the work was a failure, died three months later, forever unaware of what a colossal and long-running success it would become.
Now on to the one-act ballet, Carmen, still set to Bizet's music (the story varies slightly and hews closer to the original 1845 Prosper Mérimeé novella). Choreographer Roland Petit was born in France in 1924, which meant that World War II and its politics dominated his youth, his psyche. He created Carmen post-war, in 1949; it was his second ballet after the critically acclaimed Le Jeune Homme et La Mort, and would be the ticket to international fame for both himself and his wife Zizi Jeanmarie, whose Carmen would go on to forever define the role, its style. Even now, the ballerina portraying Carmen sports a dark, close-cropped haircut or wig and strives to emulate the masterful blend of femme fatale, gamine, woman and girl that Jeanmarie depicted so effortlessly. Oh, and those dazzling multiple pirouettes of hers. Those long, long legs. The sensuality she brought to the articulated footwork, the occasional shimmy or gyration of the hips. This is one sexy ballet.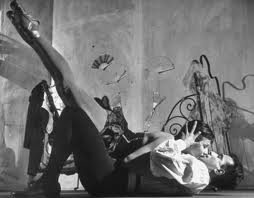 What is so noteworthy about that—because plenty of performing arts pieces are provocative and sensual these days—is that this was presented to audiences in 1949. These costumes (mere corsets and tights at times) that reveal so much leg, choreography that is frank about sex. At times it feels equal parts cabaret and classical ballet, and yet it is very much classical ballet. Petit trained at the Paris Opera Ballet School, was accepted into the company at sixteen and danced with them for four years before muttering "screw this" (actually, it would have been more like"putain de bordel, je m'en fou de tout ce connerie"). At twenty, he began to create his own collaborations and, eventually, his own company. His choreography explores dark places, unabashedly reflecting the grimmer, stark side of postwar France. Deaths, suicide, descents into madness factor into the themes. Dancers have voices and strong personalities in Petit ballets. They sing, call out, they smoke onstage, even while doing pirouettes. What fascinates me further about Petit's choreography is the way he managed to pack so much theater and nuance into the smallest of gestures and steps. His ballets are chock-full of  such moments. You watch Carmen and immediately upon its conclusion, you want to watch it again, to catch all the great stuff you might have missed.
Ballet San Jose performed Carmen this season. Lucky, lucky us, here in the Bay Area, for having had the opportunity to see it. Currently Ballet San Jose is the only U.S. ballet company with the licensing rights to perform this ballet. And oh, my, was it good. You can find my review of the ballet, along with the rest of the night's performance here (http://us.bachtrack.com/review-ballet-san-jose-carmen-may-2014). I won't repeat myself except to say this. It helps when Don Jose, the noble but flawed man who falls under Carmen's spell, is played by a peerless dancer, and Ballet San Jose provided an astonishing treat for the night. Artistic director Jose Manuel Carreño, longtime American Ballet Theatre principal who retired in 2012 and took the helm at Ballet San Jose in 2013, returned to the stage for this production. And, oh, watching his Don Jose was a thrill. Ballet San Jose principal Alexsandra Meijer, as Carmen, delivered a scintillating, wholly believable performance. I've always appreciated her dancing and fine technique, but never so much as during this performance. Her spirit and bold insouciance, his alternating bouts of  vulnerability and Spaniard strength and pride—so well done. The tender-yet-not-always pas de deux between the two of them, once he's taken her to his room, was electric, mesmerizing, sensuous. Such a scene on the ballet stage, back in 1949, must have blown audiences away.
Here's an excerpt of the Paris Opera Ballet's production, with Clairemarie Osta and Nicolas Le Riche as Carmen and Don Jose. Great stuff; check it out.
PS: on a final note. It's hard to squeeze every thought and accolade into an 800 word review, so here are a few more shout-outs from Ballet San Jose's Saturday, May 10th performance of their "Masterworks of Movement and Theatre" program. As the three bandit chiefs, Ramon Moreno, Amy Marie Briones and Maykel Solis did a wonderful job, both as a trio and separately. Moreno will be retiring this season after fifteen years, as will soloist Beth Ann Namey, with the company for sixteen years. To the two of them, I offer a rousing "well done!" and best wishes for the future.
And to all thirteen of the dancers who performed in Twyla Tharp's In the Upper Room, well, bravissimi. There was not one underperformer among the lot of you. You all tore through Tharp's famously challenging 39-minute, increasingly energetic romp and burned up the stage. Kudos to the "stompers," the sneaker-clad group of Lahna Vanderbush, Sarah Stein, Amy Marie Briones, James Kopecky, Jeremy Kovitch and Kendall Teague. To the "bomb squad" en pointe dancers, Alison Stroming and Cindy Huang, to the "ballerina" Alexsandra Meijer. To the male team on the "ballet" side: Akira Takahashi, Maykel Solas, Ihosvany Rodriguez, and to Jing Zhang, the "crossover" dancer who switched from the "stomper" side to the ballet side. The standing ovation the audience gave you was well-deserved.
PPS: okay, so this one is the final note. I promise. But I just had to share this Youtube link. Click to see Roland Petit and Zizi Jeanmarie dance that wonderfully sensuous pas de deux that takes place in Don Jose's room. Such great stuff, and an original performance from the originals. How cool is that? https://www.youtube.com/watch?v=M5JFfSQ9hM4
PPPS: See? I really meant it. That was the last one.
PPPPS: Well, unless you count that message. Because it kind of was one, too.