Silicon Valley Ballet (formerly Ballet San Jose) did something really fun this winter: they flew to Spain and took their "Director's Choice" program on tour. Twelve performances in eight cities, to sold out crowds and great acclaim, fulfilling a three-year goal of artistic director José Manuel Carreño to get these dancers onstage more. Last Monday's return gave them just enough time to recover from jet lag and prep for this past weekend's performance at San Jose's Center for the Performing Arts. On Saturday night, they sizzled. They should go tour Spain more often. (**Editor's note on 3/1/16: less cheerful news has arisen, that you can read at the bottom of this review. I suggest you simply enjoy the review of this excellent production and not scroll down early.)
The "Director's Choice" program features an appealing mix of classical, contemporary and the eclectic. Commencing Saturday night's program was classicism: Carreño's Cuban-infused restaging of Marius Petipa's Le Corsaire pas de deux. Veteran principal Alexsandra Meijer partnered with newcomer corps de ballet dancer Yuto Ideno. I always enjoy seeing younger, newer dancers being given a chance at such heady fare. In the midst of a knockout performance with stunning leaps, tours and strong partnering skills, Ideno took a tumble, which is one of the painful realities of live performance. But it's how you rebound from a fall that the audience is going to judge the performance by, and Ideno rebounded (in this case, literally) admirably. He's a great dancer with a solid stage presence. Meijer danced beautifully, with her strong classical lines, pirouettes and arabesques, seeming tireless on the coda's fouetté series. During curtain call, she gave her partner a single rose from her bouquet and curtseyed deeply, to one knee, this ultimate sign of respect, from the company's most accomplished artist, to the newest kid on the block. This grace and generosity of spirit is yet another reason fans love her and this company. It's more about the larger group effort than the individual.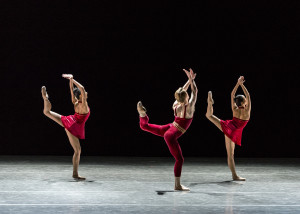 Acclaimed Finnish choreographer Jorma Elo's 2006 Glow-Stop shifted the program into the neoclassical. Here, dancers fly through Elo's signature movements in quartets, trios, pairs: lightning quick passages, interacting, retracting, arms pinwheeling, stopping at abrupt right angles, head swivels. Mozart's airy Symphony No. 28 gave way to Philip Glass' gorgeous, evocative "Tirol Concerto for Piano" in the second section. Glass' composition, in particular, lends depth, drawing out a sweet poignancy to the otherwise unemotional work. An occasional lapse of synchronicity sometimes made the ensemble pieces seem uneven. Which could be blamed on the choreography: Elo likes having multiple dancers performing the same four-count passage, staggered, seconds apart. With the ballet's super-quick movements, sometimes I couldn't tell if unison was off or it was intended to look that way. Trios and duets seemed to fare better. Alex Kramer seemed to be having a particularly good night, buoyant with energy, shooting off rock-solid pirouettes. A pas de trois with Ommi Pipit-Suksun and Jing Zhang looked great. So much of the dancing looked great, it seems unfair to single out individuals. The women, in particular, seem to all be getting better and better with each season. Then again, it could be argued that they look that way from the support of their male partners. Great job, Junna Ige, Annali Rose, Alexsandra Meijer, Lana Vanderbush, Rudy Candia, Ryan DeAlexandro, Francisco Preciado, Akira Takahashi, Kendall Teague. Six of you flew out onstage, paired up, in partnered leaps, so fleet and impressive, the women in near-splits midway. It was a delight to watch, and so well done.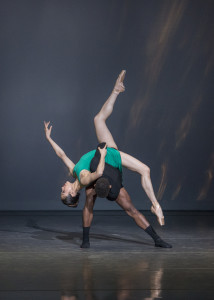 Columbian-Belgian choreographer Annabelle Lopez Ochoa set her 2014 ballet, Prism, to the jazzy, improvisational piano music of Keith Jarrett's legendary "Concert in Köln." Lopez Ochoa is European trained and Netherlands-based, which finds its way, no surprise, into the choreography, which, like Elo's work, is both classical-infused and abstract. The choreography here mirrors Jarrett's music, which is a thoughtful, inspired improvisational masterpiece that seems to have its own emotional ebb and flow. The dancers' moves alternately speed up and linger, stretching luxuriantly into arabesques, slides, duet interactions. Lighting design (Clifton Taylor/David K H Elliot) and an ever-shifting backdrop projection of hues and colors contributed much to the final effect. Costumes, designed by Lopez Ochoa, alternated black with vivid splashes of primary colors–the women's dresses and the men's tees. In the middle of the ballet, a change: black leotard to the waist, nude top with black branch-like design that made you think of winter and bare tree limbs. And later, a return to color, lots of it, particularly effective in the women's simple yet elegant tunic-like costumes. Noteworthy in this ballet was Lahna Vanderbush in a pas de deux with Ihosvany Rodriguez; the former seems to have taken a quantum leap in her maturation as a dancer. Amy Marie Briones' vivid smile and dancing brought great energy, and Ommi Pipit-Suksun's gorgeous extensions were mesmerizing to behold. Again, here, the entire cast of ten dancers shone. This was a beautiful ballet, and one I look forward to seeing again.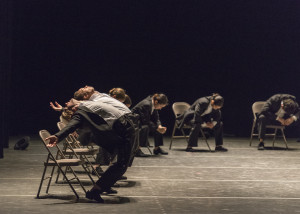 As for Ohad Naharin's Minus 16, I'd been looking forward to a revival since seeing it in 2014, and it did not disappoint. Contemporary, eclectic, thought-provoking, it's set to music from disparate sources: cha-cha, traditional Hebrew Passover song, Vivaldi's "Stabat Mater," the lone tick-tick of a metronome, and a techno-rendition of "Over The Rainbow," to name a few. I raved about the company's 2014 performance here at The Classical Girl; I won't duplicate my words except to add how much I enjoyed Francisco Preciado's clever intermission improvisational solo on Saturday night, which subtly morphed into the actual performance. His deadpan delivery, hip gyrations, mimics of the night's earlier ballet movements, all set to cha-cha music, was highly entertaining. This ballet is so satisfying to watch, a real crowd pleaser. Kudos, as well, to Kendall Teague and Lahna Vanderbush for their tender, affecting pas de deux in the ballet's middle section, taking their 2014 performance up a notch. And in the final, raucous, "interactive" section, kudos to the retiree in red sweater and khakis. I loved watching your enthusiasm and great dance skills. (Reader, if you still don't know what I'm talking about, you really want to go read the other blog about right now.)
This is Carreño's third year as artistic director, on a three-year contract. The risks are real: this is still a struggling company, always one step away from falling too short of funding to continue. One can only hope he'll choose to stay on and continue to take this company in the successful direction he's doing thus far. It's thrilling to watch.
**Editor's note, added on Tues March 8th: Sadly, the announcement none of us wanted to see was made official today. Sob! http://www.mercurynews.com/entertainment/ci_29610629/silicon-valley-ballet-shuts-down