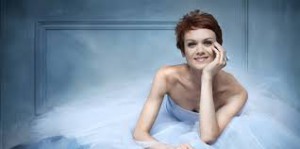 I discovered prima ballerina Ulyana Lopatkina two years ago through Ballerina, a 2006 documentary that is a must-see for any ballet student or enthusiast. It follows the careers of five extraordinary Mariinsky* ballerinas and the teaching institution that produced them, the prestigious Vaganova Academy, which auditions 3000 children annually for sixty places. The audition process is strict, exacting. One by one, bare chested ten year olds (boys and girls alike) in their underwear execute a few steps along a red carpet, before a seated panel of Vaganova administrators and teachers. The prospective dancer is pushed, prodded, yanked, contorted. There's a stark reality to it: bodies for sale, for the pursuit of what, in Russia, is deemed the highest of the arts. Ballet at this level is so much about having the right body type: slender, long legs and arms, long neck, short waist, tremendous flexibility and turnout. You either have it or you don't. Every young girl prays to be chosen. The Vaganova Academy is the most prestigious school for ballet in the most prestigious country for ballet (Russian prima ballerinas are afforded the kind of worship and adulation we in the U.S. offer to Hollywood stars).
Ulyana Lopatkina had it. And how.
Of the five dancers whose stories are chronicled in Ballerina, Ulyana Lopatkina's stands out in my mind. In 1999, amid rising stardom, she sustained an injury that wouldn't heal, which finally necessitated surgery. It took her off the stage for two years. During that slow recuperation time, she pondered a thorny choice all female ballet dancers face: to risk a successful career to have a child, or not? Ballet is a jealous, controlling mistress. There's not much room in a Mariinsky prima ballerina's life for such a luxurious indulgence as a personal life. Marriage? A baby? But Lopatkina took both those risks, putting her time away from the stage to efficient use. In the documentary, we meet up with her just as she is commencing her return to the stage. It's fascinating to watch. Thrilling. I am rooting for her, as likely many were. She is one of Russia's most highly regarded ballet dancers.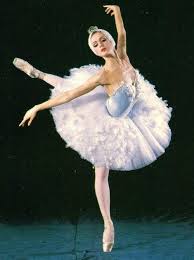 What is also so interesting to me about Lopatkina is how, even though she has the typical Mariinsky/Vaganova body, those long, long arms and legs, the regal slimness, the elegant carriage and port de bras, she stands out physically as different. There's her height: 5'9" (not to mention her size 10 feet). There is her cropped, copper-colored hair style whereas most ballet dancers sport long, flowing tresses. There is a squareness to her jaw, an angularity, that hints at stubbornness, a steely determination to be her own person, to be true to the kind of dance that makes her unique. (She is peerless in the dramatic roles.) Big, wide grey eyes, solemn, observant. In the documentary, she is grave, unsmiling, regal. An artist serious about her craft, devoting her all to it. When she dances, she emotes with her entire body, not just her face and hands, yet with subtle finesse. I watch her in Swan Lake excerpts and it is as if I'm discovering the art of ballet, its power, for the first time.
Because Lopatkina now has a family, she's reluctant to set off on long, extended tours with the company. Nor is she interested in guest-performing around the world, prestigious as that might be. She has her own prestige in Russia, heaps of it, and within the Mariinsky as well. She is a national treasure, and they know it and treat her accordingly.
There is, at least YouTube, and thank goodness for that. Here she is, as Odette in Swan Lake.
And here she is as Odile, the sly, evil Black Swan incarnation, now a well-known character in the mainstream, courtesy of the psychotic Nina in the blockbuster film Black Swan. (And we'll save commenting further on that one for another blog.)
I'll offer you one more ultra-impressive swan performance to watch, the legendary "Dying Swan." Some people think "Dying Swan" is from the ballet Swan Lake. It's not, nor is the music composed by Tchaikovsky. The music is taken from Camille Saint-Saens Carnival of the Animals, the gorgeous cello solo, "The Swan." Choreographed in 1905 by Mikhail Fokine, it featured ballet legend Anna Pavlova, who went on to perform it 4000 times more. To get a taste of it, here's a link to a performance of it by ballet legend Maya Plisetskaya (who is fifty years old in the clip, but you wouldn't believe it, watching her move): http://www.youtube.com/watch?v=Wpk7Kx4dt-U
And here is Ulyana Lopatkina's Dying Swan
* The Mariinsky was, for a time, known as the Kirov (from 1935 to 1991). It is the name of the theater where the dancers perform, not necessarily the dance company itself. Confused? Further elaboration can be found in my Ballet Q&A section.
PS: unfathomably, you can watch the whole Ballerina documentary on YouTube now. Here's that link, as well: http://www.youtube.com/watch?v=AXSqObTHvEs
© 2013 Terez Rose