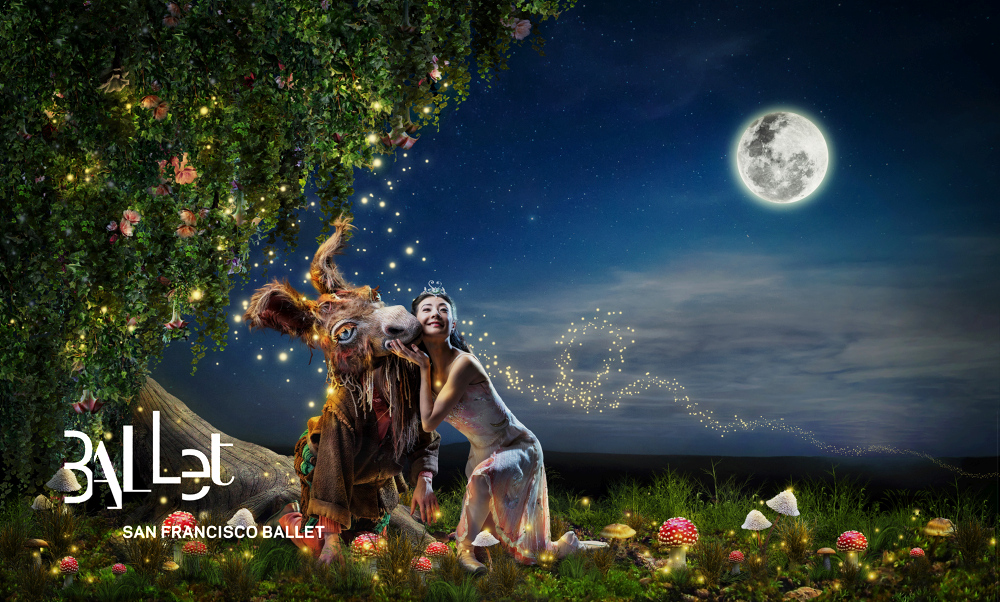 We are living in a time rife with uncertainty, upheaval and high tension, for which, I've decided, Balanchine's  A Midsummer Night's Dream is the perfect antidote. Created in 1962 to music by Felix Mendelssohn, it was George Balanchine's first original full-length ballet, and quickly hailed as a masterpiece. San Francisco Ballet audiences haven't seen it since 1986, and to that, I say, no better time than now to escape into the charms of this classical romp. This Friday, March 6th, the production will open on the War Memorial Opera House stage, with ten performances running through Sunday, March 15th.
Based on Shakespeare's 16th century comedy about love's delusions and mishaps, it's a delight, with its adventures and comic misadventures, mischief and magic, woodland creatures and fairyland foibles. Beautiful costume and set designs by the late Martin Pakledinaz enhance choreography that is, at once, elegant, engaging and witty, producing a ballet that's a delight for all ages. "I think Balanchine did such a superb job with Midsummer," says Artistic Director and Principal Choreographer Helgi Tomasson, who danced as Oberon, King of the Fairies, with New York City Ballet in the late '70s and early '80s. "It has humor. It has suspense. It has love. And even if you are not a ballet aficionado, you immediately understand what's going on."
The story 
Oberon and Titania, King and Queen of the Fairies, quarrel over the changeling child they both want, a boy who serves as Titania's page. When she refuses to give him up, Oberon enlists Puck to stir up some magical mischief. Parallel to the fairy realm squabbling are two couples caught in the  throes of love—or not. Lysander and Hermia are deeply, cloyingly, in love, with eyes only for each other. Demetrius and Helena, meanwhile are not quite so much in love. She is lovesick and desperate for his affections, while he pines only for the unavailable Hermia. Oberon, observing Helena's distress, instructs Puck to touch the slumbering Demetrius' eyes with a flower pierced by Cupid's arrow, causing him to fall in love with the first person he sees upon awakening. Only Puck gets it wrong, and comic mishaps ensue.
Balanchine distilled the original play's five acts into two, with his trademark efficiency and economy. Act I introduces characters, conflict and resolution at a lively clip, and Act II delivers a triple wedding as the setting for sublime dancing, including solos, a divertissement pas de deux and plenty of lively ensemble work. Intrigued? Want more? The SF Ballet blog has got a great article, including a synopsis and what to watch for, entitled "The Ultimate Guide to A Midsummer Night's Dream," which you can find HERE.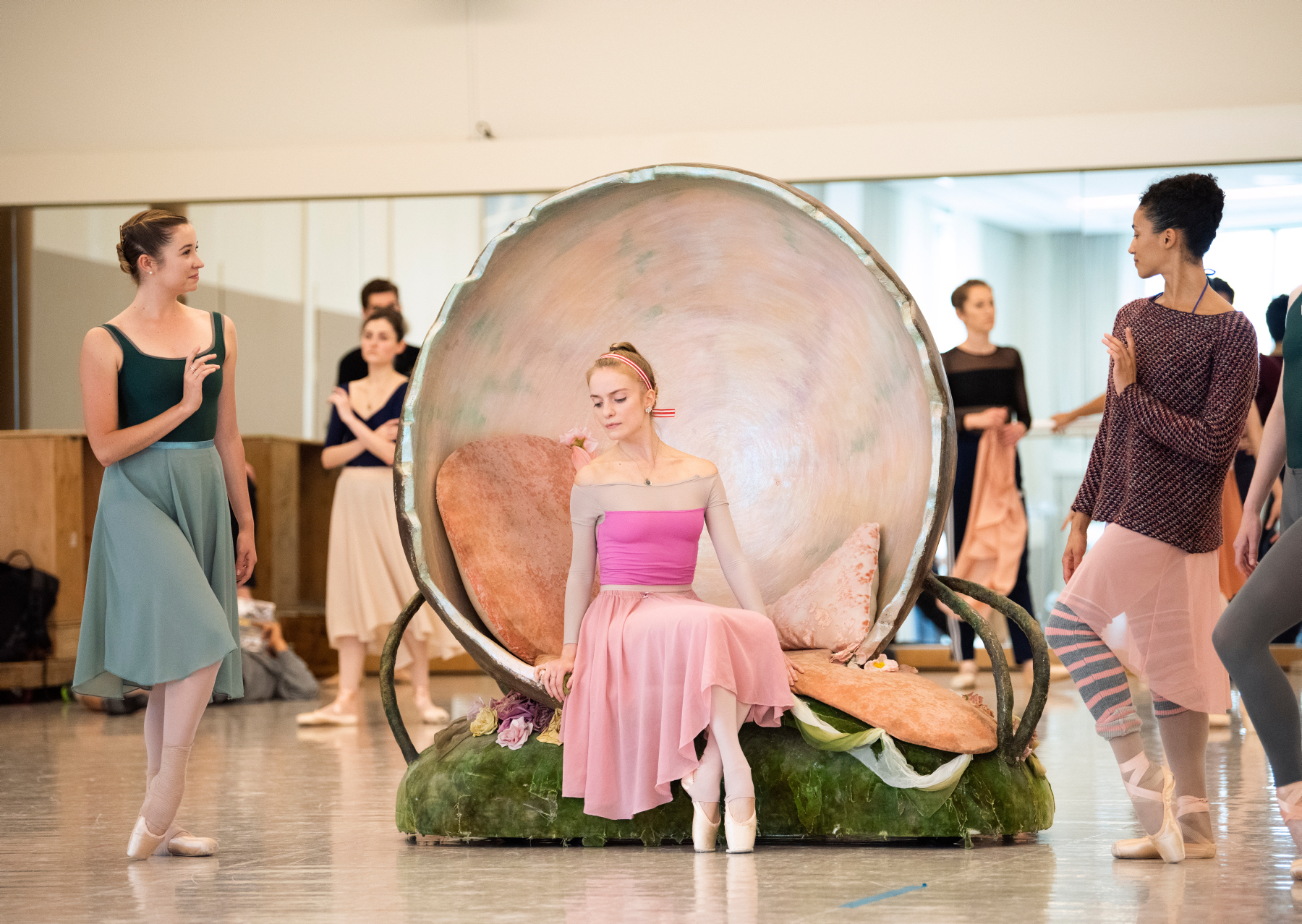 In rehearsal
Last week I swung by the San Francisco Ballet studios to catch a rehearsal, a run-through of Act I by the opening-night cast. Sandra Jennings, a full-time répétiteur with The George Balanchine Trust, was there, having staged Midsummer at SF Ballet this past summer, now returned to oversee the final touches. In the main studio, curtains were pulled over the mirrors, turning the space from workshop to performing. The Butterflies commenced the rehearsal, where lead Butterfly Wona Park was joined by an ensemble that included Ellen Rose Hummel, Leili Rackow, Norika Matsuyama and Lauren Parrott. It was a luxury to watch these dancers up close; their loveliness and refinement were that much more apparent. Yuan Yuan Tan's commanding presence and movements as Titania, Queen of the Fairies, assured a polished opening night performance. Tiit Helimets, as her consort, supported her deftly in a pas de deux that held unmistakable Balanchine touches —  quick movements interspersed with long, elegant arabesque lines and some nifty body shifts and twists. Benjamin Freemantle and Dores André oozed young love and infatuation as Lysander and Hermia, while Mathilde Froustey as Helena, pined to no avail after Demetrius, a compelling Ulrich Birkkjaer, who only had eyes for Hermia. Froustey and Birkkjaer delivered the drama; they have a great chemistry, calling to mind their searing performance in Cathy Marston's 2018 Snowblind.
Oberon, King of the Fairies, has a big, demanding solo, and Joseph Walsh, as Oberon, has a giant talent to cover it all. Tricky jumps, countless brisés volé, relentless batterie and soaring leaps, which he delivered with a seemingly effortless grace. They say this is one of the hardest solos Balanchine ever choreographed for the male, and I believe it. Esteban Hernandez, as the mischievous sprite, Puck, was funny, engaging and effervescent. (The young, endlessly energetic Hernandez will dance Puck on opening night and Oberon on Saturday night.)
Curious about casting?
Got tickets and want to know who you'll be seeing in the lead roles? You'll find those answers  HERE. I myself will be attending Saturday night and Sunday matinee, where I'll have the opportunity to check out the production's other two casts—lucky me!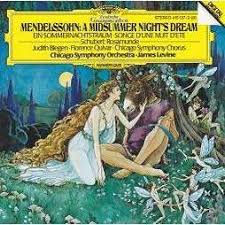 A little bit about the music for my classical music readers
Balanchine loved Mendelssohn's overture and incidental music for A Midsummer Night's Dream. A fun fact: the overture was composed when the composer was a tender 17 years old, and the incidental music 17 years later. It was this complete score, Balanchine has said, that inspired his choreography. Mendelssohn's score, written for the play, only amounted to roughly an hour's worth of music, too short for the evening-length ballet Balanchine was envisioning. He himself was a conservatory-trained musician, and studied the composer's other works at great length (story has it, for a full twenty years), ultimately selecting a number of additional overtures, a nocturne, an intermezzo (scroll further down for specifics) and a portion of Symphony #9 to weave into the ballet's score. There's a live chorus involved, and San Francisco Ballet's performances will feature the choral group Volti, performing with the SF Ballet Orchestra throughout the run.
Planning on going? Here are dates and times
Friday, March 6, 2020 at 8:00 pm
Saturday, March 7, 2020 at 2:00 pm
Saturday, March 7, 2020 at 8:00 pm
Sunday, March 8, 2020 at 2:00 pm
Tuesday, March 10, 2020 at 7:30 pm
Wednesday, March 11, 2020 at 7:30 pm
Thursday, March 12, 2020 at 7:30 pm
Saturday, March 14, 2020 at 2:00 pm
Saturday, March 14, 2020 at 8:00 pm
Sunday, March 15, 2020 at 2:00 pm
Other events in conjunction with the ballet
A pre-performance fundraising dinner will take place on opening night, Friday, March 6 at the Conservatory of Flowers. Meet the Artist interviews will take place March 6 at 7pm; March 8 at 1 pm; March 12 immediately following the performance; March 14 immediately following the matinee; and March 15 at 1 pm. On Wednesday, March 11, Helgi Tomasson will be featured in a free and open to the public Pointes of View lecture from 6:00-6:45 pm in the War Memorial Opera House.
Tickets are available as single tickets or within a subscription package. All tickets may be purchased via the Ticket Services Office at 415-865-2000, Monday through Friday from 10 am to 4 pm, or online at www.sfballet.org. Discounts are available for groups of 10 or more.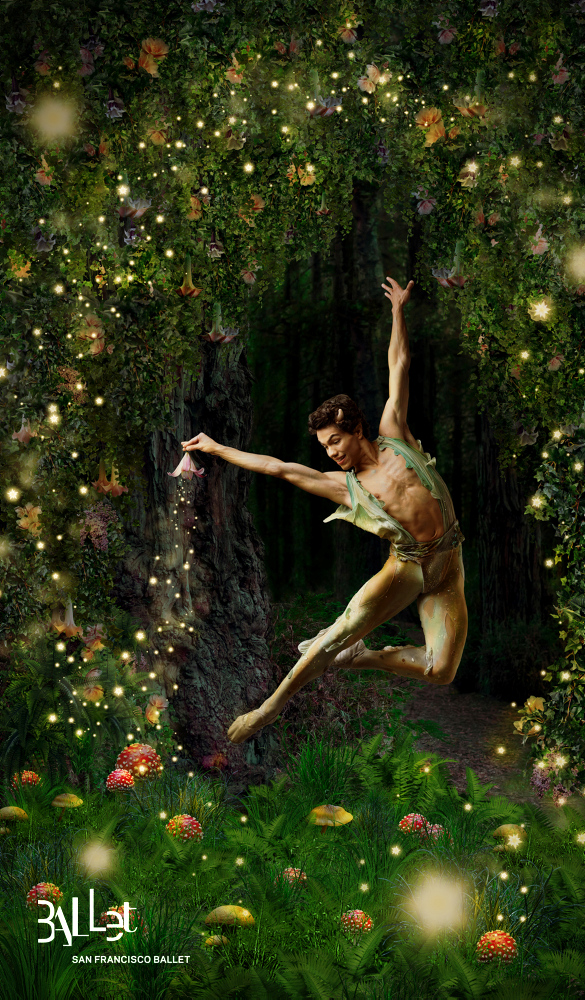 A Midsummer Night's Dream
Ballet in Two Acts and Six Scenes
Composer: Felix Mendelssohn
Choreography: George Balanchine
Staged by: Sandra Jennings
Scenic & Costume Design: Martin Pakledinaz
Lighting Design: Randall G. Chiarelli
World Premiere: January 17, 1962—New York City Ballet, City Center of Music and Drama; New York, New York
San Francisco Ballet Premiere: March 12, 1985—War Memorial Opera House; San Francisco, California
© The George Balanchine Trust
Music: A Midsummer Night's Dream Overture, Op. 21; selections from A Midsummer Night's Dream Incidental Music, Op. 61; Overture to Athalie, Op. 74; The Fair Melusine Overture, Op. 32; Overture to The First Walpurgis Night, Op. 60; Allegro and Andante from Symphony No. 9 for Strings; Son and Stranger Overture, Op. 89. This performance of A Midsummer Night's Dream, a Balanchine© Ballet, is presented by arrangement with the George Balanchine Trust and has been produced in accordance with the Balanchine Style© and Balanchine Technique© service standards established and provided by the Trust. Scenery, Properties, and Costumes Courtesy of PACIFIC NORTHWEST BALLET, Peter Boal, Artistic Director.