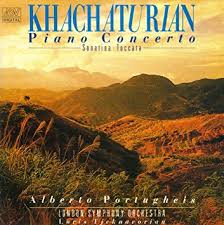 Nothing in the classical music repertoire says "summertime" more to me than Aram Khachaturian's Piano Concerto. I discovered this Soviet era gem three summers ago and my first thought, (after "WOW!") was, How did this elude me up to now? Blame it on the fact that it's rarely performed in concert halls these days. But make no doubt, it's a sizzler. It's decisive, flamboyant, arrives and departs in a pyrotechnic dazzle. Its first and third movements are a textured, color-filled feast for the ears. Its second movement melts your heart. Does the concerto lack a certain nuance found in other composers' piano concertos, as some will argue? I'll throw my analogy back at you: does the height of summer lack nuance? Hell, yeah! Nuance belongs to fresh, early May mornings and golden, late September afternoons. Khachaturian's Piano Concerto belongs right here, with the heat, the direct, can't-escape-it sunlight, the sultry evenings luring you outdoors to regard the massive, star-studded sky, where you think, "Wow."
Khachaturian was born in 1903 to ethnic Armenian parents in Tbilisi, Republic of Georgia, where he was also raised. He was self-taught on the piano in his youth, and only later did he receive formal training, in Moscow. I've always grouped him in my mind with two other well-known Soviet era composers, Dmitri Shostakovich and Sergei Prokofiev. But a little background research on him revealed quite a different kind of Soviet. The other two composers frequently railed against the constraints of the Soviet regime, its stronghold on the arts. Khachaturian, on the other hand, embraced Communism and its ideology. Age fourteen at the start of the Russian Revolution, which soon established Soviet rule in Armenia (1920) and Georgia (1921), he took to it all with a teen boy's fervor, signing on to join the propaganda tours via trains that traveled up and down the newly created Soviet corridor and pounded out ideological speeches and songs. The powerful connection between music and message exploded within him and he decided to embark on a musical career. Although he'd enrolled in the study of biology at a Moscow university, he nonetheless applied to the Gnessin School of Music, where he was accepted as a student of the cello. Music and composition became all that mattered in his world, and when the Moscow university expelled him from the biology program, he likely only thought, "Whew." Thereafter, he moved on to the Moscow Conservatory, intent on creating music that "expressed the Soviet people's joy and pride in their great and mighty country."
"Wait," you're probably saying. "He's an Armenian composer. Or is he a Soviet composer? Or Georgian—wasn't he native to there?" Good point. Because, to complicate things further, although he is known as Armenia's greatest composer, and is one of that nation's greatest cultural heroes, he never set foot into Armenia until the period of the propaganda train tours, in his late teens. And he didn't make an official visit to Armenia until 1939, three years after he composed his Piano Concerto. But make no doubt about it—he saw himself as an Armenian composer first. See, this was during the Armenian diaspora, and he and his family were part of an Armenian enclave in Tbilisi. Actually, all of it was part of a region called Transcaucasia, that included Armenia, Georgia and Azerbaijan. In a 1952 article entitled "My Idea of the Folk Element in Music," Khachaturian wrote the following:
"I grew up in an atmosphere rich in folk music: popular festivities, rites, joyous and sad events in the life of the people always accompanied by music, the vivid tunes of Armenian, Azerbaijani and Georgian songs and dances performed by folk bards and musicians – such were the impressions that became deeply engraved on my memory, that determined my musical thinking."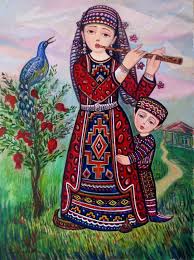 The Soviet regime adored Khachaturian, his work, his powerful commitment to his Armenian heritage and Communism both. In him they found the perfect vehicle to demonstrate how the Soviet nations outside Russia were equally valued, and delivered an equally strong message that matched theirs. Which was hugely important for a composer during this time. (just ask the less obliging Shostakovich.) In Joseph Stalin's own words, a composer in Soviet society had to be "an engineer of the human soul by writing music that communicates directly with the common man and instills in listeners loyalty to the ideals of Communism, love for the Soviet Union, and pride in the working class."
Khachaturian's piano concerto was composed in 1936, while he was a post-grad student at the Moscow Conservatory, under the tutelage of the great pedagogue, Nikolai Myaskovsky, who encouraged Khachaturian's use of folk music and ethnic flavors in his compositions. It premiered in 1937. With its driving rhythms, distinct flavors, accessibility and charm, it was an instant success. Khachaturian garnered high Soviet honors and his career instantly took off. He would continue in his highly successful, highly public career, to give the Soviet regime what they wanted, and they would continue to reward him for it. Between 1936 and 1946, Khachaturian wrote a set of three concerti for the piano trio of Lev Oborin (piano), David Oistrakh (violin), and Sviatoslav Knushevitsky (cello).
Give the first movement a listen, and we'll talk more afterwards. it features pianist Alicia de Larrocha with the London Philharmonic Orchestra, Rafael Frückbeck de Burgos conducting, who  all balance nicely the bombastic with the thoughtful. And there's a treat in store: this is one of the few recordings that, in the second movement, utilizes the flexatone, a strange little steel instrument invented in Britain in 1922, which produces a sound like what you'd get if you mixed a musical saw with a poorly-tuned (and played) glockenspiel. (Stop scratching your head in confusion and just go LISTEN. And if you can explain it better, in the comments section below, I will give you a prize. Pinky swear.)

What did you think? Even though I'm a strings person and would normally gravitate first to the violin concerto, or its cello counterpart, it's this Piano Concerto that has stolen my heart. I'm so intrigued by to those delicious, slightly dissonant chords — Khachaturian loved incorporating intervals of the second. He also embraced the Oriental music idiom, which surely pairs well with Armenian folk music.
And that second movement — oh wow, it never fails to cast a spell on me. It creates such a vivid inner state, the way the full moon on a warm summer's night makes you feel like you've stumbled into another realm. Lying in the grass, looking up at the stars, everything tight in you eases and the world of imagination and possibility unfurls before you like a grand, endless, magic carpet. Story has it, it's based on a Transcaucasus melody. A bass clarinet introduces and ends the movement. A new instrument for me; I'd been so sure it was a double bassoon, so deep and gorgeously brooding, but nope. Here, the bass clarinet is utilizing its full range—an octave below the more common soprano clarinet. It lends the movement its unique sound (the bass clarinet is more common in concert bands than in classical orchestration), along with that flexatone. Most recordings don't use the flexatone, and instead let the violins carry the melody, which is a shame. Once you've heard a recording with the flexatone, without it, the strings seem to muddy what was mystical and wonderfully spooky. And the piano dialogues differently with a solo instrument. But, with or without flexatone, the movement is just stunning. Lush, spacious and so viscerally satisfying. And again, there's that dissonance in the chords that works so deliciously. Remember what I said above about Khachaturian's love of incorporating intervals of the second" ? That's what you're hearing.
Here is the second movement on its own. Very much worth a listen even though it doesn't have the flexatone. The soloist is Aram Avetyan, it's the Armenian Philharmonic Orchestra, conducted by Eduard Topchjan.
Khachaturian has got a rollicking good violin concerto too, and a cello concerto that doesn't strike me as mind-blowing as the piano concerto, but let me know if you disagree. Khachaturian was more prolific than a lot of people realize, probably because, as a Soviet composer, much of his work found a home only in the (former) USSR. He composed quite a few film scores, which I hadn't realized. In later years, he composed another set of three concertos — actually, concerto rhapsodies, which are a "single-movement, multi-sectioned concept balanced between cadenza and fantasy." My ballet readers will know and love more than one Khachaturian composition, maybe not even realizing who the composer was for the Bolshoi's ballet, Spartacus, and its gorgeous, romantic Adagio pas de deux. And the sweeping "Masquerade Suite." And the Soviet ballet, Gayaneh.
Here are links to some of the things he composed (some of which might surprise you):
The Sabre Dance. You've heard it. Trust me. Head's up: if Rimsky-Korsakov's "The Flight of the Bumblebee" kind of annoys you and/or gives you a headache, well, brace yourself. This one's worse. https://youtu.be/gqg3l3r_DRI
The 1942 ballet, Gayaneh https://youtu.be/_JlGS1m1PL4
From the above ballet, this stunning violin adagio: https://youtu.be/K6ZBSdjzKfk It's featured in Stanley Kubrik's 2001: A Space Odyssey and also heavily borrowed from by James Horner for his soundtrack to Aliens.
Violin Concerto (features violin legend David Oistrakh, and Khachaturian himself composing) https://youtu.be/TeKZAbFj83I
Cello Concerto https://youtu.be/HbkWS8wXqMg
Spartacus Ballet, the Bolshoi production, the Adagio pas de deux. (A MUST CLICK for any ballet dancer reader – the music plus movement will utterly transport you.) https://youtu.be/gVX0BoXc_Jk 
Adagio from Spartacus for music purists https://youtu.be/LZLMKkEGFRo This one is all sound, no ballet, and I think its sound says it all. A more nuanced listening experience than the above.
Here is my absolute fave, "Masquerade Suite." The ballet dancer in me was instantly smitten upon hearing this, decades ago. The love has never abated. In fact, let's embed so all can enjoy.