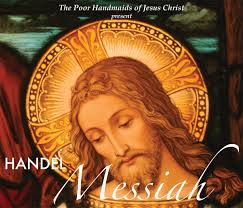 Handel's Messiah has "Easter" written all over it for me. It must have been a family thing growing up in a Catholic household, hearing the Hallelujah Chorus blaring from the speakers on Easter morning, a sound as embedded in my memory as the crinkle of the cellophane covering the Easter peeps (that I always admired but never ate – way too much marshmallow). This, amid the clamor of five sugar-energized kids, a baby and two teens, Mom's voice calling over the din to not eat too much chocolate before breakfast or church, which, of course, I proceeded to do.
Ahh, Easter. And the much-loved Messiah. The years pass, my relationship with the Catholic Church waxes and wanes, my appetite for handfuls of chocolate and marshmallow before 9:00am is gone. I now live 2000 miles from that home base. Listening to Messiah, however, never fails to put me right back in that powerful place, where high art meets spirituality, making life seem timeless, utterly rich, even miraculous, and never more so than on Easter morning.
Here's the whole shebang, or at least two hours and thirty-seven minutes of it. Give it a listen. Music starts at 3m40, following a BBC introduction.
 I know many people consider Handel's Messiah to be a Christmas-season classic. The San Francisco Symphony presents it as such, every December. And it's true that Part I is very Advent, prophesizing the arrival of a messiah, chronicling Jesus' birth, etcetera. It's Part II that's considered the Easter [and Lenten] portion. But here's a confession: aside from the Hallelujah Chorus, I never really listened to the rest of the work, certainly not the complete version. (Overhearing the "Hallelujah" side of the record set as a kid as I raced around on a sugar buzz doesn't count.) Even though I've sung in choirs for half my life. Seventeen years ago, however, my husband and I left the Bay Area for the Santa Cruz Mountains, and I began to commute annually back to the old neighborhood to sing Easter Sunday Mass with my old choir. The ride took an hour and ten minutes each way; perfect amount of time to listen to a CD. Of course it needed to be Handel's Messiah. 
For the next dozen years, that was my tradition. My husband and young son stayed at home and I'd leave the house early, as the world was just waking up. It was sleepy and pristine, gorgeous scenery of redwoods, coastal mountains, with the Pacific Ocean glinting in the distance to the west. Listening to Messiah was nothing short of sublime. And just as I pulled up to the church parking lot, there it was: the Hallelujah Chorus. Perfect.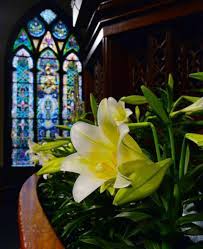 Messiah is an oratorio, which is sort of like an opera without the acting, grand pantomiming and expensive sets, and tells a sacred story, not a racy one. Handel composed over twenty oratorios. He'd composed plenty of operas (final tally: forty), but they were more expensive to produce and the popularity of his opera works had begun fading. In 1741 he decided to take a break from it all, and leave his London base for a sabbatical in Ireland. It was here that he composed Messiah, in just twenty-four days. It premiered in Dublin on April 13, 1742, during Easter season. (Aha! Even he considered it more an Easter work than an Advent one.)
Want to learn more interesting tidbits about Handel and Messiah? Stay tuned; I'm working on that blog as we speak, and will post the link ASAP.
I love this list on Amazon, created by "Zendok the Priest," which offers a brief description of thirty-four top Messiah recording selections, among the many, many options available. Check 'em out. http://www.amazon.com/survey-Handels-Messiah-recordings/lm/RSMEWTU9ZPIQM