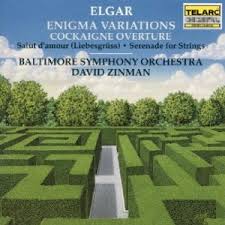 While my first choice for classical music on Easter will always be Handel's Messiah, which I elaborated on HERE last year, there are a few other wondrous, utterly memorable pieces that conjure up the same rush of powerful spirituality, a sense of Easter Sunday grandeur. There's the Gustav Holst choral piece I've sung in choirs, a gorgeous SATB arrangement of "Three Days," but let's save that for next year. Because Elgar's Enigma Variations contains a piece ("Nimrod") that is is so stirring, so spine-tingling in its glorious climaxing moment, you can feel the power of the divine surging through you, all around you. Most decidedly "death has been conquered; arise and go forth" music.
I remember falling in love with this piece of music, years back. The thunderbolt of it struck me as I sat in my car in a parking lot that was situated on a hill and looked out onto the gently rolling green foothills. Beyond them, a slightly bluish-green, were the craggy, redwood-studded Santa Cruz Mountains, not yet our home at that time, but beckoning, even then. It was springtime, approaching Easter. I'd turned off the car engine but was reluctant to leave the beautiful music, that I'd listened to several time prior, but never with this kind of attention, the way it seemed to be in synch with the beautiful scenery.  And as the music built in intensity, such a rush of emotion swept over me, it would have tipped me over if I hadn't been sitting. You know how it is, when a piece of music stirs your soul so much it hurts? It brings tears flowing up and out, only it's a good pain, an absolutely beautiful kind. Even the tears feel mystical, other-worldly, like self-generated baptismal waters. I listened to that piece through, tears streaming out of me, and at its conclusion, I sat back, dazed, spent, filled with both gravity and joy. Wow, was all I could think. That's some music.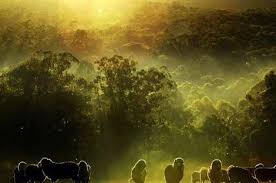 Easter likely hadn't been on Elgar's mind when he wrote his Enigma Variations. It was more of a game, of sorts, these fourteen variations on a theme, with each variation representing one of his friends or a situation in some way. "Nimrod" is Variation no. 9. Its inspiration, Augustus Jaeger, was a music editor and a good friend of Elgar's. He was the best sort of friend a composer could have: he advised Elgar and wasn't afraid to severely criticize him, if necessary. Elgar appreciated and respected the man and his words. Jaeger is German for "hunter," and Nimrod is a Biblical character (great-grandson of Noah) referred to as "a mighty hunter before the Lord." This, if you ask me, is a bit of a stretch in having a piece named after you, but I guess that's the enigma part of the equation. Anyway, here's the part that's so powerful to me, and actually, I only learned this bit recently. Jaeger became the one to encourage him as an artist when he was at his lowest, helping him rise above setbacks, bouts of depression, discouragement. The deliverer of the stern criticism was precisely the person who could pull Elgar up from the depths of artistic despair.
Wow. No wonder the piece sounds like it does. It's packed with the intensity of being on the teetering edge of despair, of hope. And then this powerful thing rises up, and up, and up, and the music grows in volume and the brass section ramps it up, and wow. It's like God is speaking. Tell me what you think, dear reader.
Now, the Easter comparison. Okay, so I'm a Catholic, and Holy Week is always a big deal, starting with Palm Sunday, which recounts both Jesus' triumphant arrival in Jerusalem, disciples in tow, beaming from ear to ear, because Jesus' three-year ministry of healing and preaching and performing miracles is SO ramping up, going gangbusters, and here was what they'd been waiting for—the reward, the praise, the adulation, this rock-star-concert adoration of Jesus and his group. Anyway. Jesus is much more humble, of course, and starting to get a bad, bad feeling that the week is not going to end well. And sure enough, it ends horribly, with the crowd turning against him, cowed by the high priests and the mucky-mucks of the community.  Jesus is arrested, questioned, tortured, and the disciples scatter in horror, incapable of comprehending what went wrong. Three years of so much good, leading to this. Less than nothing. Watching from the distance as their hero, their Lord, their idolized teacher was crucified, right up there with a pair of common criminals.
So. That's the somber place where the music starts. It's a Good Friday sort of piece of music. Beautiful but decidedly elegiac. And yet, there's a comfort within the music that starts to grow, and grow, and grow.
Because Easter Sunday happens. Because death does not conquer all, there. Because what is good, pure, powerful, eternal, will rise again to life.
Whether you are Christian or atheist, Catholic, Quaker or Buddhist (in truth I consider myself to be a hybrid of the last three), whether music is your religion or maybe science is what defines you and your relationship to the world, I challenge you to listen to this and tell me it doesn't stir you in some deep, ultra-powerful way. And to sneak in a little of the theological vibe, here it is on the organ, played beautifully by Diane Meredith Belcher.
Happy Easter season (don't forget, it's 50 days, not just one day) to all of you, and I hope you enjoy this piece of spiritually inspiring music, in whichever way that spirit manifests itself in you.