Breaking news on May 23, 2016: Promotions announced! See addendum (and my own personal promotion wish list) below!

How quickly the time flies, over at the San Francisco Ballet, at least when you're sitting in the audience, savoring the programs as they roll onto the War Memorial Opera House stage, entertain, enlighten, and roll right off, in anticipation of the next one. And now, the season is waning. This past weekend I had the luxury of taking in not just one program but two. In reverse order, which felt bewildering but fun, with a Saturday night performance of Program 7 and a Sunday matinee follow up of Program 6. It was a hell of a great weekend.
Saturday night's opener, Balanchine's "Themes and Variations," is pure delight. Set to the final movement of Tchaikovsky's Suite No. 3 in G, it pays homage to Imperial Russian classicism. Twin chandeliers dangle before an elegant blue backdrop. Women are clad in white tutus with blue satin bodices, the men in white tights and elegant, Imperial style teal jackets. When that stage fills with the ensemble–at one point there are twenty-four dancers moving about–it's a glorious sight to behold. Balanchine is a genius at arranging dancers, moving them on and off fast, making the most of both ensemble and pas de deux parts. Demi-soloists Norika Matsuyama, Koto Ishihara, Lauren Strongin and Isabella DeVivo had a loveliness and precision that reminded me of music box ballerinas. Lead couple Maria Kochetkova and Gennadi Nedvigin excelled as well. She makes the simplest step, here an opening tendu, seem elaborate, and the most elaborate, taxing sequence seem effortless. Nedvigin, who will be leaving the company at the end of the season to head the Atlanta Ballet as its artistic director, gave us with high jumps and double tours, impressive beats, pirouettes and cat-like soft landings.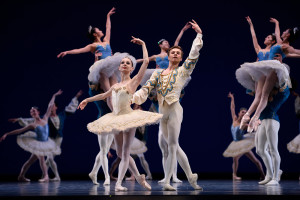 I wasn't crazy about Christopher Wheeldon's 2002 minimalist "Continuum©," set to a often-thorny keyboard score by György Ligeti, in spite of stellar performances from all of its eight dancers (corps dancer Steven Morse joining a cast of seven principals with impressive results), and pianists Mungunchimeg Buriad and Natal'ya Feygina. At 41 minutes, the ballet felt overlong, too austere, even grating. I have nice things to say about Sunday's dose of Wheeldon, however, so let's just jump on ahead to Justin Peck's highly anticipated "In the Countenance of Kings."
Justin Peck is certainly Someone to Watch in the ballet world. At 28, a soloist with the New York City Ballet, he has already amassed 30 commissioned works, and in 2014, was named the company's choreographer-in-residence. "In the Countenance of Kings" is propulsive, packed with high octane movement, sound, swirling, running, leaping, that left me exhausted by the end. Here's a fun video-meets-short film that excerpts the ballet. If a picture is worth a thousand words, this will cover me way beyond that.

Great dancing abounded. Joseph Walsh, in particularly, really produced the "wow!" factor for me that I've been waiting to see in him. As The Protagonist, he made great use of his solo time onstage. He tackles contemporary ballet with an appealing classicism that doesn't restrain him from spells of exuberant abandon, flinging body, arms, head back in a way that's clean, energetic and fun to watch. He shared the lead with Taras Domitro in Possokhov's splendid "Swimmer" (my review HERE) last month, and now I can appreciate how up to the task he was. Dores André, too, shines in this ballet. It's enjoyable to watch her assume a distinct identity in this, her first season as a principal. All the leads gave great performances. In the playbill, they are assigned names, which pose more questions than they answer (such as: am I supposed to glean a reference to something or someone? Quantus? Botanica? The Foil? Was there a story happening that I missed?) Regardless, Luke Ingham and Jennifer Stahl paired splendidly; Frances Chung was in her power-packed element, sharing a charming duet with André and another one with Nedvigin.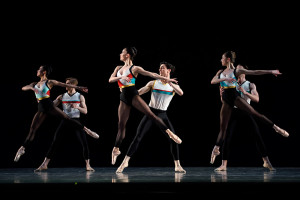 Music came from indie artist/composer Sufjan Stevens' "The BQE" (the Brooklyn Queens Expressway), orchestrated by classical horn player Michael P. Atkinson. The music is boisterous, fast moving and very Broadway in scope. Really, at times I felt like I was watching a Broadway show, particularly when stage lights, as part of the backdrop, flashed on, facing the audience. Coupled with a whole lot of horns, snares and drums, it felt like too much. I loved the energy of this ballet and the phenomenal dancing from the well-rehearsed ensemble cast. I'm just not sure I loved the whole, over-caffeinated shebang. I will get to find out next season, when the ballet returns (at which time I'll be sure and skip my own post-dinner dose of caffeine just prior).
Program 6 and Sunday's matinee performance seemed to give me what Saturday's seemed lacking. A bit of an irony since I'd thought it might prove a little underwhelming after Program 7. Nope, it was great.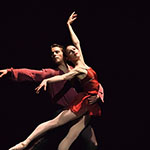 Just a few summarized thoughts on Program 6, since I've sort of gone over my word count for a review, but then again, I figure, there's the exit door, you can use it any time, bye bye, and meanwhile, maybe some of you who attended this performance, as well, or danced in it, would like to hear my thoughts on it. What a great program. Lovely music, costumes, dancing. Nothing grating or pushing or making me worry that I've become an old fuddy-duddy with too-conservative tastes. Just neoclassicism at its finest. Opening the program was artistic director Helgi Tomasson's "Prism," initially a 2000 New York City Ballet commission. It's set to Beethoven's Piano Concerto no. 1 in C Major (played with great finesse by Roy Bogas alongside the San Francisco Ballet Orchestra) and was beautiful to behold. Standouts included Mathilde Froustey in a tender pas de trois with Henry Sidford and Carlo Di Lanno, and a second movement pas de deux from Yuan Yuan Tan and Tiit Helimets, as an ensemble shadowed them quietly from behind. Great costumes (Martin Pakledinaz) and dreamy lighting design (Mark Stanley). The big ensemble passages worked well, showcasing Tomasson's ability to beautifully fill a stage and its space with the perfect amount of dancers and stimulus, reminding us that he trained under Balanchine. In the third movement, corps dancer Francisco Mungamba was given the role of the solo man. While still a young technician, Mungamba seems to have that crucial ability to fill a stage with his personality and theatrical presentation. It was an exciting performance to watch.*
Alexei Ratmansky's "Seven Sonatas," in its San Francisco Ballet premiere, was another satisfying ballet, set to the piano music of Domenico Scarlatti (performed by Mungunchimeg Buriad). I found its neoclassical elegance to be so appealing, with the dancing both controlled and joyous.  Like the previous night's "Continuum," this ballet retains a small cast and delivers as much a dialogue between the six dancers, as it does a performance for the audience. It's intimate, packed with fine, articulate dancing by Lorena Feijoo, Carlos Quenedit, Dores André, Vitor Luiz, Sofiane Sylve and Carlo di Lanno.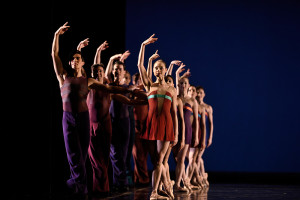 I found "Rush©", the weekend's other Wheeldon piece, to be so much more enjoyable than the previous day's. The choreography seemed more interesting to me, more varied, and the music, Bohuslav Martinů's "Sinfonietta La Jolla for Chamber Orchestra and Piano," was simply lovely, as were Jon Morrell's costumes. Standouts included Sasha de Sola, partnered with great sensitivity by Luke Ingham, as well as Lauren Strongin with Francisco Mungamba, and Koto Ishihara with Wei Wang. All of "Rush" worked for me, from beginning to end. All of Program 6 did.
Program 6 runs to April 16 and Program 7 runs to the 17th. In Program 8, John Cranko's acclaimed Onegin will complete the company's season. I'll be reviewing the April 30th opening night performance for Bachtrack; come back here for the link after that time. (And on May 3rd, HERE IT IS).
***
My own personal promotion wish list…
* One last aside. I've really been enjoying the way Tomasson's using corps dancers in soloist and lead roles, and over this weekend alone, I thoroughly enjoyed a half dozen such performances. Francisco Mungamba, Wei Wang, Steven Morse – I'm hoping to see at least one of these guys get a promotion to soloist some time soon. On the females' side, my promotion wish list would include Norika Matsuyama, Isabella DeVivo. WanTing Zhao. And, okay, Julia Rowe and Jahna Frantziskonis. And I've got my eye on Max Cauthorn. And okay, Henry Sidford. And Lonnie Weeks. And it goes without saying that soloist Carlo Di Lanno is ready for promotion to principal. And here's wishing all the best to the company's three retiring principal dancers: Joan Boada, Pascal Molat and Gennadi Nedvigin. Well done, gents. Your contributions have been enormous and unforgettable. Thank you.
Addendum on May 24th – promotions announced! Always exciting news. Congratulations to all the wonderful dancers – even the ones not promoted (yet…) 
Promotions/Level
Carlo Di Lanno                    Principal Dancer
Francisco Mungamba        Soloist
Julia Rowe                           Soloist
Wei Wang                            Soloist
WanTing Zhao                    Soloist
Blake Kessler                     Corps de Ballet
New Company Members/Level
Ludmila Bizalion                Corps de Ballet
Angelo Greco                      Soloist
Elizabeth Mateer                Corps de Ballet
Aaron Robison                    Principal Dancer
Natasha Sheehan              Corps de Ballet
New Apprentices/Training
Alexandre Cagnat             SF Ballet School
Shené Lazarus                   SF Ballet School
Davide Occhipinti             SF Ballet School
Nathaniel Remez               SF Ballet School
Isabella Walsh                    SF Ballet School