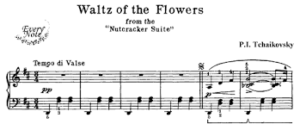 Tchaikovsky's "Waltz of the Flowers" is still looping through my mind, even as the curtain closed for the last time on San Francisco Ballet's Nutcracker last weekend. I'm crazy about this production; I've raved about it HERE and HERE. You can see my Bachtrack review of this year's opening night performance HERE. I like to attend the production a second time, later in the run, which gives me the opportunity to see different casts. The Dec 27th matinee performance was fantastic, as fresh as opening night, due in part to a sublime rendition by the San Francisco Ballet Orchestra, Martin West conducting. Standouts included Angelo Greco's Nutcracker Prince, Nathaniel Remez's King of the Mice, Frances Chung and Vitor Luiz as Queen and King of the Snow, Mathilde Froustey's Sugar Plum Fairy, all of Spanish Dance (Lauren Parrott, Natasha Sheehan, Davide Occhipinti, Mingxuan Wang, Adrian Zeisel – who, WOW, might still be a student with the ballet school). I could go on and on. In fact, I will; scroll down to the bottom of this blog for more mentions.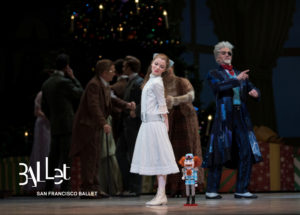 But the performance I found particularly unforgettable was Ana Sophia Scheller with Angelo Greco in the Grand Pas de Deux, which produced a visceral reaction of wow, this is a dazzler in me. Beautiful adage, fabulous solos, great onstage chemistry between the two dancers. Just before the adage ends, when the music turns tender, almost sorrowful, the way the two of them connected, with eye contact and something more elusive, gave me prickles. It made me feel like I was watching something extraordinary. Certainly they both have extraordinary talents. She is new, a principal, and he was promoted to principal last season. Thrilling, to watch a new partnership take hold. It's a very exciting time for the San Francisco Ballet, with so many promotions announced in 2017 (and, regrettably, departures of favored dancers). In fact, before we get on to what the company will be delivering through their repertory season, let's talk about its 2017-18 company roster. It incorporates ten promotions, eight new company members, and six apprentices. Here's the SFB's announcement:
"Soloist Jennifer Stahl has been promoted to principal dancer, and Isabella DeVivo, Jahna Frantziskonis, Esteban Hernandez, and Steven Morse have been promoted to soloist. In addition, SF Ballet Apprentices Alexandre Cagnat, Shené Lazarus, Davide Occhipinti, Nathaniel Remez, and Isabella Walsh have been promoted to the corps de ballet. Ulrik Birkkjaer and Ana Sophia Scheller join the Company as principal dancers and Solomon Golding, Gabriela Gonzalez, Blake Johnston, Madison Keesler, Wona Park, and Joseph Warton have joined SF Ballet as corps de ballet members. Ethan Chudnow, Anatalia Hordov, Carmela Mayo, Swane Messaoudi, Larisa Nugent, and Benjamin Pearson of San Francisco Ballet School have been promoted to the rank of apprentice."
A bit about the new principals. Copenhagen-born Ulrik Birkkjaer, is coming from The Royal Danish Ballet, where he'd been a principal dancer. Ana Sophia Scheller, born in Buenos Aires, Argentina, is coming from the New York City Ballet, where she'd been a principal dancer. While I haven't had the chance yet to see Birkkjaer perform, I can happily confirm that Scheller is marvelous.
And now on to what the 2017–18 season looks like. Following a Jan 18th gala, it begins on Jan 23rd with The Sleeping Beauty, and is followed by five programs (more details HERE) and finally, "Unbound: A Festival of New Works," for which a dozen international choreographers are creating inventive, daring works for the dancers. San Francisco Ballet says, "We're celebrating the San Francisco spirit of curiosity, experimentation, and invention with Unbound—a festival of 12 world premieres spanning 4 programs over 17 days."
In short, it's going to be a very exciting year for the San Francisco Ballet. But don't take my word for it – check out their website HERE.
PS: those other dancers from Wed 12/27 matinee performance that deserve mention? Here you go. Elizabeth Mateer in Arabian Dance, supported by Sean Orza and Henry Sidford. Act I Dancing Dolls Mingxuan Wang and Natasha Sheehan. Angela Watson as the adolescent Clara. Chinese dancer Steven Morse. French dancers Anatalia Hordov (kudos to her – she is an apprentice this year and fit right in), Blake Johnston, Isabella Walsh. Russian dancers Benjamin Fremantle, Sean Bennett, Alexander Reneff-Olson. The way they burst through those paper, life-sized Faberge eggs in perfect unison, the millisecond the music commences? Too much fun.