Want deets for the Oct 5, 2017 event? Click HERE!
Ballet fans around the world, mark the date: Wednesday October 1st. You are about to be blitzed. Never before has there been such a perfect opportunity for fans around the world to wholly immerse themselves in a day of ballet. Five companies, The Australian Ballet, The Bolshoi, London's Royal Ballet, the National Ballet of Canada and the San Francisco Ballet, will each live stream a four-hour segment of their working day. Not only can you watch, but you can also send them questions via Twitter that they'll try and answer through their four-hour segment.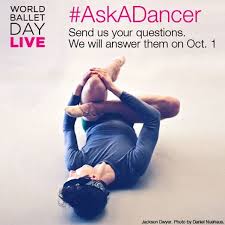 Credit for the idea goes to London's Royal Ballet who, in 2012, live-streamed a nine-hour day of behind-the-scenes footage, which drew 200,000 viewers, and, later 2.5 million viewers to the YouTube archive. But it takes five companies around the world to cooperate and make this one happen. (Don't you love that the ballet world is showing the "real" world how to collaborate and cooperate — with no guns or threats or nationalistic rhetoric? It's just "us" and "ballet." Neat. )
Each segment will commence with company class. After this, it's rehearsal time. Here's what you can expect to see from each of the five companies:
The Australian Ballet: (7pm Pacific Time on 9/30, 12 noon local time on 10/1) http://www.australianballet.com.au/worldballetday
Graeme Murphy's Swan Lake
Stanton Welch's La Bayadère
Peter Wright's The Nutcracker
Ostinato by resident choreographer Tim Harbour.
Artistic director David McAllister will be on hand to answer questions via Twitter.
Bolshoi Ballet: (11pm on 9/30 Pacific Time, 10am local time)
http://www.bolshoi.ru/en/persons/ballet/
The Taming of the Shrew by Jean-Christophe Maillot
Yuri Grigorovich's Legend of Love
The Royal Ballet (3am Pacific Time on 10/1, 11am local time)
http://www.roh.org.uk/about/world-ballet-day
Carlos Acosta coaching Vadim Muntagirov in Don Quixote.
Marianela Nunez and Federico Bonelli in Kenneth MacMillan's Manon.
Liam Scarlett working with Laura Morera and Steven McRae on his The Age of Anxiety.
Christopher Wheeldon's Aeternum
Frederick Ashton's Scènes de ballet.
Ludovic Ondiviela's Cassandra.
Wayne McGregor will be interviewed, as will artistic director Kevin O'Hare.
The National Ballet of Canada: (7am Pacific Time, 10am local time)
http://national.ballet.ca
Anthony Dowell rehearsing the company in Kenneth MacMillan's Manon.
John Neumeier's Nijinsky, coached by artist-in-residence Rex Harrington and senior ballet master Peter Ottmann.
Artistic director Karen Kain will be interviewed.
The cameras will also go inside the company's wardrobe department and show dancers in athletic therapy and preparing pointe shoes.
San Francisco Ballet (11am Pacific Time and, whaddya know – 11am local time!)
http://www.sfballet.org
Yuri Possikhov's RAkU
William Forsythe's The Vertiginous Thrill of Exactitude
Helgi Tomasson's Concerto Grosso and scenes from Tomasson/Possokhov's Don Quixote.
Interviews with artistic director Helgi Tomasson, principal dancers Maria Kochetkova, Yuan Yuan Tan and Taras Domitro.
If, alas, you have to miss it all, no worries, you'll get the chance to watch it on YouTube. In the meantime, you can click on any of the above links, at the appropriate time, and they'll either have the streaming on their site, or direct you where to go. Or heck, go straight to YouTube and see it all from there: https://www.youtube.com/watch?v=TZsvpCF9lr0
Enjoy! I certainly will.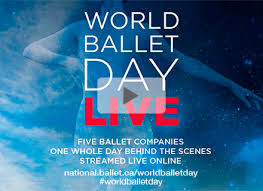 Still some footage of World Ballet Day as of Sun Oct 5th! Here's company class with the Royal Ballet. https://www.youtube.com/watch?v=HNQWyWuvz_U I just LOVED this; am delighted that this is some of the footage still out there. A highly recommended watch!
And, wow – THE BOLSHOI!! So excited about this one, as I missed the live streaming. Looks like it's all four hours, to boot. Enjoy! https://www.youtube.com/watch?v=lnQoLHybExk&feature=youtu.be&list=PL058E746BCF183278
And here's a fantastic article by the Toronto Star, summarizing World Ballet Day with some interesting statistics and details of the day (minus San Francisco coverage). http://www.thestar.com/entertainment/stage/2014/10/04/national_ballet_can_bask_in_world_ballet_days_success.html
And if you STILL can't get enough of the World Ballet Day chat, as clearly I can't, even five days later, here's a fun blog post (and some great Twitter pics!) by Pia Catton  of the Wall Street Journal: http://blogs.wsj.com/speakeasy/2014/10/01/i-could-watch-ballet-all-day-and-almost-did/