San Francisco Symphony's performance on Sunday, September 20th aimed for variety through the centuries. From J.S. Bach's 1721 Brandenburg Concerto No. 3, to Henry Brandt's wild and weird 21st century Ice Field: Spatial Narratives for Large and Small Orchestral Groups, culminating with one of the earliest symphonies I remember hearing and falling in love with, Tchaikovsky's Symphony No. 5 in E minor. You'd think that something that stirred you as an adolescent might be a little too sentimental or overwrought for the ears, nearly 40 years later. Surprise. I fell in love all over again. But first things first…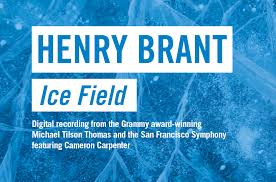 You're not going to ask for a review of Bach's Brandenberg Concerto No. 3 first, are you? It was nice. It's always nice. Very pleasing to the ear. There. Onto heartier fare, now. Henry Brandt's Ice Field: Spatial Narratives for Large and Small Orchestral Groups was commissioned for the San Francisco Symphony by Other Minds, a San Francisco-based organization devoted to the music of pathbreaking composers. It's worth mentioning, as well, that the piece won the Pulitzer Prize for music in 2002. Allow me to share a splendid (and witty) description of Brandt's work from San Francisco Symphony's program notes, written by James M. Keller.
"[Brandt's] orchestrations are somewhat daunting, the sort of combinations that can be assembled only on very special occasions. How often can we realistically hope to hear his Kingdom Coming, for orchestra, circus band and organ? Or Orbits, for soprano, organ, and eighty trombones? Or Meteor Farm, scored for Indonesian gamelan, jazz band, three south Indian soloists, two Western sopranos, and West African chorus with percussion? It would take some doing to revive the Stern Grove Grand Ceremonial Overtures, for two chamber orchestras, jazz drummer, and three karate martial artists, not to forget Fire on the Amstel, in which three mixed choruses, 100 flutes (four boatloads of twenty-five), three bands, four hurdy-gurdys, four drum-sets, and four carillons pealed out over Amsterdam's canals in 1984."
Need I say more? *
Likely, for this reason, the Tchaikovsky was so rich, so lush and romantic and nuanced. Some might argue it's too sentimental and overplayed. And, indeed, I think I've got the slow movement on two different "Romantic Music for That Romantic Night" and "Music to Fall Asleep By in the Dead of Winter" compilations CDs. The copy of the entire symphony I have from my youth is on an audio cassette (remember those?), taped from my dad's stereo and LP recording (remember those?). This has been my Tchaikovsky Symphony No. 5 listening source for the past thirty years. And I've enjoyed it. But you can imagine how hearing it live, and performed by the peerless San Francisco Symphony, was for me.
Oh, my. It's been two weeks and the memory still sends prickles down my spine. And while I can't share that particular performance with you, give this one a listen. It's gorgeous. (Russian State Symphony Orchestra, Vasily Petrenko conducting.)
After the performance, I scrawled out my overwrought, emotion-laden thoughts, and several days later, sat down to edit and dignify the writing a bit. In seeking more information on Tchaikovsky's 5th symphony, I came upon Wikipedia's page, which proved to be my own writing's polar opposite. Really, it's hilarious, the two side by side. And I'm all for hilarity here at The Classical Girl. So, at the risk of offending myself (and the Wikipedia authors), here are my unedited thoughts, in comparison to Wiki thoughts. You'll have to tell me which one you found more helpful (or entertaining).
Them, 1st movement: "In the exposition of the first movement, one can observe that the initial condition (e-minor) is relatively unstable. The D-major tonality slips in and out of the e-minor sonority, since it is only a V of relative major (G major), but not until mm.128-132 does one hear this as an antagonistic to e-minor. The exposition concludes in D-major, after integrating part of the PT1 into its cadential moment."
Classical Girl: Oh, the rush of pleasure in just hearing those first few opening notes. So gorgeously Russian, so instantly evocative, making every other thought and sound fade to insignificant periphery. Memories, wow. Symphony No. 5, I do believe, was the first symphony I really bonded with, back when I was a teen. Oh, this stuff flooding back. Like all the magic of adolescence (that teeny minority of emotions amid an otherwise exhausting, confused, depressing, dull time) sweeping over me while the music played. I don't know if this sounded particularly sweet because we'd just been subjected to the circus that is Ice Fields or what. I just know this was the sweetest music I've heard in a long time. No, wrong word. It connected deep inside me, so that it was both unutterably sweet, and painful, somehow. 
Them, 2nd movement: "The second movement begins with the continuation of the tragic sonority in b-minor, as if the movement will be in the minor dominant of the tonic of the symphony. Instead, a common tone modulation leads to a D-major theme first introduced by a solo horn. This movement is in a standard ternary form with A section in D-major, B section alluding to F♯ minor, then a restatement of A section with different orchestration. Compared to a stable A section, the B section exhibits instability in many ways. For example, the theme begins and remains in V7/F♯ minor, even though it could be easily resolved to F♯ minor. Moreover, the segmentation of a theme, fugato texture, and rapid shift of hyper meter contributes to the instability of this section."
Classical Girl: Oh, tears. What is it about Tchaikovsky that presses all my buttons? Are his sensibilities so perfectly suited to the ballet that it's inevitable? Is it because I'm so comfortable with his ballet music that this feels familiar? Possibly not. Although I was doing ballet in my early teens, classical music was, in truth, the greater passion, the world I slipped inside to escape. When I listen to stirring music like this, I feel all the drama and beauty and pathos of life as if I'm experiencing it firsthand. But I can be comfortably ensconsed in my room throughout. I'm not proud of this pathetically anti-social, slacker approach, but hey. Honesty. Besides, in my room, no one can see me double over and weep with the intensity of the listening experience. It is very tiring to cry through the entire second movement and not display any sign of it on my face aside from the tears that roll down my face like an irrigation sprinkler, tears I vow not to wipe away during the movement because that will surely give me away to the other audience members. Ah well. At least I didn't double over, there at the symphony on Sunday.
Them, 3rd movement: "The third movement is a relatively ordinary waltz. Some elements of absurdity can be observed, for example, hemiola and unbalanced phrase structure at the outset of the movement. These elements takes over the movement in the trio section, whose nature is that of scherzo. The scherzo theme initially played by the first violins can be seen as a superimposition of 4/4 over 3/4. Hemiola is used as a transitional technique (mm. 97-105). The return of the valse (waltz) is accompanied by the scherzo texture from the trio."
Classical Girl: The third movement is so light and fluffy, it's a bit of a jolt. Almost like someone gave Tchaikovsky a nudge and said, "Lighten it up, will ya?" Very, very ballet. It's no wonder so many ballet peeps name Tchaikovsky as their favorite classical composer. Even when he's doing symphonic work or chamber music, it is so danceable.
Okay, enough snickering over the Wiki. You get the idea. I do absolutely love this part of the Wiki entry, however: 
The Fifth was very popular during World War II. One of the most notable performances was by the Leningrad Radio Symphony Orchestra during the Siege of Leningrad. City leaders had ordered the orchestra to continue its performances to keep the spirits high in the city. On the night of October 20, 1941 they played Tchaikovsky's Symphony No. 5 at the city's Philharmonic Hall and it was broadcast live to London. As the second movement began, bombs started to fall nearby, but the orchestra continued playing until the final note.
Oh, I am so touched by that story. Give the Symphony No. 5 a listen again, knowing this story. It  makes it sound even better.
A heartfelt "thank you" to the San Francisco Symphony musicians and Michael Tilson Thomas for their spectacular rendition on Sunday, September 12th.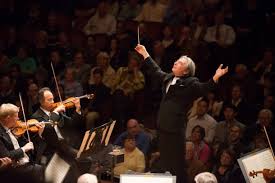 *If you want to know more about the performance of Ice Field: Spatial Narratives for Large and Small Orchestral Groups, here's a fine review of the performance by music critic Joshua Kosman: http://www.sfgate.com/music/article/Review-S-F-Symphony-skates-on-listless-Ice-5767568.php
PS: Thank you, Wikipedia! http://en.wikipedia.org/wiki/Symphony_No._5_(Tchaikovsky)