Untamed. Uncorked. Unlaced. The Smuin Ballet wins the prize for coming up with the cleverest titles for its season's dance series. Last year, the company's 20th anniversary season, they presented their audiences with XXtremes,  XXmas and XXcentric. (Get it? XX=20?) I particularly like this season's holiday performance series name, "Uncorked." Does that sound like a party or what? 
Last weekend the Smuin Ballet opened its 21st season at San Francisco's Palace of the Fine Arts Theatre with its "Untamed" Dance Series. The image above describes it perfectly: this beautiful, elegant ballet dancer in costume, hair corralled into a bun, executing a precise arabesque en pointe, while her shadow has morphed into a wild, untamed thing.
Welcome to Smuin Ballet, where the two find an equal fit.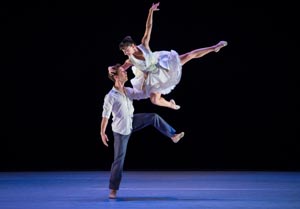 You can read my review of the Friday, Oct 3, 2014 performance at Bachtrack. (http://us.bachtrack.com/review-smuin-ballet-untemed-series-palace-of-fine-arts-san-francisco-october-2014) I tried to think about what highlights I could mention here, which of the three ballets offered I liked especially. Turns out I liked them all. Artistic director Celia Fushille programmed this series well. Here's what we saw:
 The West Coast premiere of "Serenade for Strings" choreographed by Garrett Ammon, artistic director of Colorado-based Wonderbound, set to Tchaikovsky's score of the same name.
"Objects of Curiosity," choreographed by Amy Seiwert (Smuin Ballet's choreographer-in-residence), set to collaborated music by Philip Glass and Foday Musa Suso.
 "Frankie & Johnny," choreographed by Michael Smuin, music featuring a compilation of Cuban and Latin American musicians. (NOTE: this ballet contains material that is intended for mature audiences. Which means, it's seriously untamed. Which I seriously enjoyed.)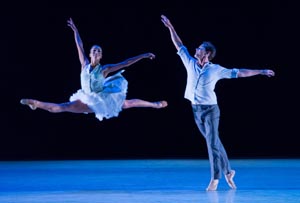 I love Tchaikovsky's music and loved that "Serenade for Strings" was vastly different from Balanchine's iconic Serenade, which uses the same music. And yet, the classicism at the core of the contemporary choreography was solid, and worked soooo well with the musical score. I greatly enjoyed "Objects of Curiosity" partly because I lived in Africa for two years and love African music, and much of this intelligent ballet featured music of the kora (an African harp) by Gambian kora master (and Griot and composer) Foday Musa Suso. I also liked that this ballet was performed en pointe, whereas "Serenade for Strings" had been off pointe (a "slipper" ballet). And as for "Frankie & Johnny," well, dang, that was enormous fun to watch. Great dancing, great Cuban music, great theatricality. Very Smuin. Loved it.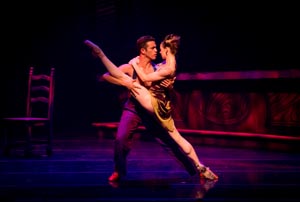 There are four newcomers to the company this year:  Sarah Nyfield, Dustin James, Kevin James (no relation) and Robert Moore. Great dancers. I didn't notice Rachel Furst on the roster last fall, but there she is now, and looking great as well. I especially enjoyed watching performances by Dustin James and Sarah Nyfield, and some nice pas de deux work between Nyfield and Robert Moore. While we're at it, I'll shout out "nice job" to Erica Felsch, Joshua Reynolds, Terez Dean, Jonathan Powell, Erin Yarbrough and Eduardo Permuy (the latter two just nailed their Frankie and Johnny characters) and Jo-Ann Sundermeier. Actually, every one of the dancers I saw Friday night was wonderful. There is not a weak Smuin Ballet dancer in the company, certainly not one during Friday's performance. Kudos to you all, and especially to artistic director, Celia Fushille. Well done, on every level of the game. Smuin Ballet seems to be growing stronger with each passing year – a real pleasure to observe.
The "Untamed" Dance Series plays tonight and tomorrow, October 11th, at San Francisco's Palace of Fine Arts Theatre. Tickets ($24-$67) are available at www.smuinballet.org or (415) 912-1899. If you can't make it, this program will also be presented in March 2015 in Walnut Creek,  Mountain View, and Carmel.
And if you're new to "the world of Smuin" and would like to know more, check out my review from last year, where I offer a little background on the late Michael Smuin and his company. https://www.theclassicalgirl.com/smuin-the-other-san-francisco-ballet/