So, I went to San Francisco's Davies Symphony Hall on Sunday afternoon, a warm, sunny, Indian-summer-that-just-won't-go-away kind of day that we here in Northern California seem to be experiencing without end. No coat, at least, to have to stow under my seat or by my feet during the concert. Which, by the way, nice weather aside, was a great concert. Clever programming with a good balance of flavors. Greens, even. Yes, indeed. Eating Greens.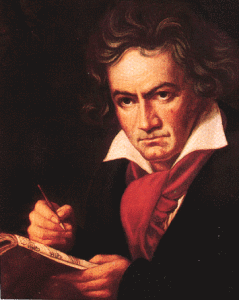 First on the program came Beethoven, his Leonore Overture No. 3. Beethoven only wrote one opera and he struggled terribly with it, as he did with much of his composing, which makes me feel better as a writer, because I struggle, too, and I, too, need several drafts for all of my work, and even then I'm still grumpy that I got it wrong. For this opera, Beethoven ended up composing a total of three overtures, and even though I've never heard the other two, I think it's safe to say the No. 3 is the best one. It reminded me of his Violin Concerto, breathtakingly rich and beautiful. Great start to the program.
On to Steven Mackey's  Eating Greens, composed as a commission for the Chicago Symphony Orchestra in 1994. You know you're in for something interesting when Michael Tilson Thomas comes to the podium with a microphone in his hand and goes on to discuss what they're about to perform, and the sounds you might expect to hear. Instruments, among the usual suspects, would include a percussion battery consisting of marimba, snare drum, bongo drums, bass drum, tam-tam, crash cymbals, sizzle cymbals, suspended cymbals, triangle, wind chimes, harmonica, vibraphone, xylophone, tambourine, cow bell, sand block, glockenspiel, nipple gong (I am afraid to ask…), temple block, log drum, mounted castanets, ratchet, bell tree, chimes, tom-tom, guiro, wood block, claves, maracas, flexatone, lion's roar, hi-hat cymbals, glass bottles, glass jars, prayer stones, referee's whistle, cardboard party horn, and boom box. The third flute and third oboe are asked to tune their instruments a quarter-tone flat, and the concertmaster is instructed to have an extra violin within easy reach, with its G string tuned down an octave.
I loved it. It was a cabaret, a carnival. Two carnivals, side by side. It was, in turns, melodic and dissonant, thoughtful and hilarious. The music swaggered. It strutted. It trumpeted its individualism. But it spoke, with  heart, about pathos, as well, and the jumble of chaos and hope and despair and too much and too little that defines the human condition. I sat there listening during one particularly tumultuous swell of sound and dissonance, and thought, "Well, there, that's my life right now. And how weirdly beautiful it is."
Following intermission, the program featured pianist Jeremy Denk and Mozart's Piano Concerto No. 25 in C Major, K. 503. Gorgeous, expansive, gold-tinted, in no small part due to  Denk's considerable talent and charisma. In September he was a  recipient of a MacArthur Foundation "genius" award, and I think most of Sunday's audience would agree with me that it's well-deserved. This is the third time I've seen him perform and each time, the synergy between artist,  music and accompanying orchestra is palpable.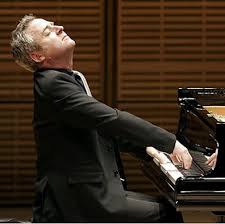 The final piece was Aaron Copland's Symphonic Ode, and its presence neatly completed the classical, contemporary, classical, contemporary programming. And yes, more dissonance, but Eating Greens prepped my palate well, and I found it, as I often find Copland, to be melodic, noble, western-sounding (I know, utterly lame description, but "cowboy-esque" or "wild-wild-west-esque" seemed even lamer).  Copland's considered Symphonic Ode to be one of his favorite works, the piece in which he announced that he had grown up. "The Ode resembles me at that time [of my thirtieth birthday]," he ruminated later, "full of ideas and ideals, introspective and serious, but still showing touches of youthful jazz days."
I would have been fine with the concert ending on that solid note, but aha, surprise: MTT (Michael Tilson Thomas to the non-conoscenti) had a gift for us: an encore, Copland's "Hoedown" from Rodeo which most people will recognize from the "Beef – it's What's For Dinner" campaign, and did it ever make for a delicious final flavor. In case the tune isn't coming to your mind, give it a listen: (http://www.youtube.com/watch?v=LsReWx9XdNs)
http://
Dear MTT and San Francisco Symphony musicians: Thank you. WE LOVED IT!!
The whole gang is off (AKA the Symphony, MTT and Jeremy Denk) and on the road, performing this program tonight at Carnegie Hall as part of their four-city U.S. tour. Wishing them the best, and hoping audiences everywhere enjoy the show as much as I did.