Tonight, American Ballet Theatre principal Misty Copeland will debut on Broadway in On the Town, as the aspiring Broadway dancer, Ivy Smith (AKA Miss Turnstiles). Broadway, eat your heart out. Here's a peek.
I love seeing ballet professionals show up in other venues, on unfamiliar stages. Misty Copeland is showing up everywhere these days, including on the library bookshelf, with her fascinating memoir, Life in Motion: An Unlikely Ballerina. (Read it. Loved it. Recommending it. Buy it here.) But here on Broadway, her role is not as ground-breaking as I'd imagined. Turns out that New York City Ballet principals Megan Fairchild and Tiler Peck have both performed this role. Then there's Robert Fairchild and Leanne Cope, from the New York City Ballet and the Royal Ballet respectively, in An American in Paris. Both were nominated for a Tony award for their performances. Great article about them, choreographer Christopher Wheeldon, and the production HERE.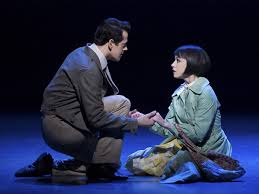 I say, all the more power to these ballet professionals. I love watch ballet peeps stretch out into the wider world of theater and acting. There's something deeply satisfying about it, too, after watching actor Natalie Portman portray a ballet dancer. (Okay, so I still haven't gotten over that one. My rant can be found HERE.)
I myself was smitten with acting through my adolescence, spending more time onstage through theater than dance, truth be told. I thought it was in my cards to be an actress; I entered university as a theater major. Now I'm wondering how many ballet dancers share that desire, that impulse. Dancing and acting aren't all that far apart, actually. The desire to be performing onstage, inhabit the dramatic, take on a different persona, is what propels the artist in both situations.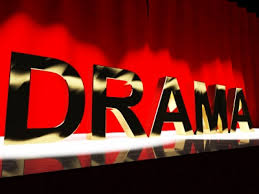 Best of luck to you tonight, Misty. For this one time only, I will be wishing a ballet dancer "break a leg" (and not the ballet world's "merde" because, why on earth would you want to tell a dancer to break a leg, and ah, there you have it, the superstition of the ballet and theater world).
*Editor's note on Wed Aug 26th: Woo hoo! She's getting great reviews of her performance! Read one such review from the New York Daily News HERE.
*More editor's noting. See what the New York Times thought of her, as well. HERE