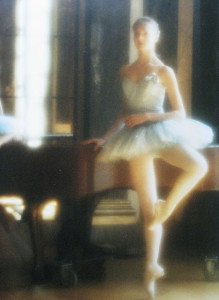 It is the deepest wish for countless young, aspiring ballet dancers: to become a professional ballet dancer, join a prestigious company, perform onstage throughout the world and get paid to dance, dance, dance.
Former professional ballet dancer Grier Cooper achieved that wish. Chosen at fourteen to train at the School of American Ballet, she went on to dance with not just one but three of the top ballet companies in the country (Pacific Northwest Ballet, San Francisco Ballet, Miami City Ballet). But ballet careers have a notoriously short shelf life. Cooper was only in her mid-twenties when the realization hit her that dance had become less nourishing, more exhausting, such very hard work. As a ballet professional, it has to be all about ballet. That alone is your world, to which you give 120 percent, day in, day out. And if you're not finding the satisfaction at a level that matches your considerable output and intense dedication, don't you owe it to yourself to invest that energy elsewhere?
Time for a different kind of wish.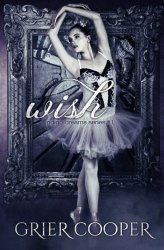 This week, dancer-turned-writer Cooper announces the release of her debut novel, WISH, book one of a contemporary young adult series that features Indigo Stevens, a talented teen ballet dancer who just might have what it takes to go all the way in the ballet world. But issues besides talent, ambition and persistence are lining her way. Mom's growing increasingly irrational, contentious, and it has to do with the number of cocktails she's had. Indigo's youngest brother is at risk of taking the brunt of it. Dad's in denial about it all. Then there's Jesse, the cute guy at school that Indigo's got a serious crush on, who might just be reciprocating the feelings. All these issues, topped by increasingly violent tensions at home, serve to cloud her dreams and ambitions of being a dancer. How Indigo works through this, fights for what she believes in, is at the core of WISH.
I gobbled down WISH in two page-turning sessions, finding Cooper's prose immensely satisfying. There are YA dancer-turned-writers whose ballet fiction profits from their experiences as professionals (authors Sophie Flack and Miriam Wenger-Landis, to name two), but you read their stories, knowing they are dancers first and writers second. Then there are dancer-turned-writers like Adrienne Sharp and Meg Howry, writing for the adult market, and boy are they powerful writers, but their prose, excellent as it is, presents such a dark side of being a dancer. WISH seems to have found that sweet spot: a gripping, well-written ballet story from a young insider's point of view that still contains sweetness, hope, a message of self-empowerment. That said, WISH taps into some painful, very real pathos: the agony of staying quiet as a family member battles alcoholism. Cooper mined this experience from own past (she lost her mother to alcoholism in 1996) to great effect, producing a family story that's haunting, memorable, fully fleshed out and compulsively readable, to which both teens and adults can relate.
I asked the author about her transition from dancer to writer.
"After I stopped dancing professionally I took some writing classes in college and started playing around with poetry and short stories," she shared. "I kept writing throughout the years but once I became a mom I started to think more about writing for kids. Eventually I began to transition into freelance writing, which eventually took off. I mostly wrote about dance and fitness and wrote a regular dance column where I interviewed top Bay Area dancers, choreographers and directors. I started writing WISH simultaneously. I also put a lot of time into educating myself about the craft and business of children's books by attending conferences, workshops and webinars. Learning to be a writer has definitely been a process; luckily it's a process I enjoy. I'm still learning now; there's always something I can improve."
And did her past experience as a professional dancer help the process?
Her answer was a decisive yes. "The things I've learned as a dancer – discipline, dedication and persistence– still serve me now. Without this foundation I couldn't do what I do. Writing is self-paced and self-driven. No one is telling me what to do or looking over my shoulder to make sure it gets done. It's all on me."
What has stuck with me, weeks after reading the book, is the intensity of Indigo's experience, the highs and lows of being a teen on the cusp of big changes.
Cooper agrees. "Young adulthood is a time of huge transition and change even when there are healthy family dynamics. It's a time to find your voice, to clarify who you are and who you want to be in the future. It's not an easy road to navigate. I wrote WISH to give readers hope, to show them a path to self-empowerment, and to help them understand they can create change in their lives."
WISH goes on sale on December 2nd, available at online retailers or through the author's website at http://www.griercooper.com. For a teaser, check out the delicious excerpt below.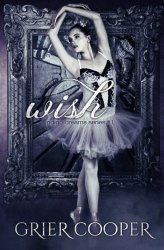 I wipe sweat from my face and neck while we take a quick break to switch into our pointe shoes for Variations at the end of class. I tie my ribbons slowly and carefully. My tired brain feels foggy; plus it keeps replaying little vignettes of Jesse.
"Are you still inhabiting this planet or are you visiting Swoon Lake again?" Monique whispers furtively. She widens her eyes, jerking her head toward the windows. I look over to find Miss Roberta staring at me intently.
If she notices my lack of focus I will never hear the end of it.
Miss Roberta claps sharply. "All right, girls. We will repeat the variation we learned last week, from the top." Oh man. Not that one again. "Indigo will demonstrate."
I take my place in the center of the room. The music starts and I'm already moving, my mind several seconds ahead of the music. I have to anticipate what comes next so I stay in time with the melody. Arabesque and hoooold. It feels like an eternity. I come out of the arabesque too early again. My tired body won't cooperate; my limbs feel like they're stuck in honey.
"Pull up, Indigo! Hold the arabesque!"
I move back across the floor, hit the arabesque again.
"Pull in the midsection! Breathe in!!" Miss Roberta is rabid.
My back muscles are screaming, legs all rubbery, the obvious and fatal signs of fatigue.
The music ends abruptly. "Indigo, this has got to stop. What is with you today? This is just sloppy and unacceptable. It won't cut it – here or anywhere else."
I stand crouched with hands braced on bent knees, catching my breath as her words rain down on my bowed head. I can't meet Miss Roberta's eyes. I know she's right. I place my hands on my thighs and bend over to catch my breath before responding.
"Marlene. Please come forward and show it from the top."
Marlene walks past me with her nose in the air. She takes her place in the center of the floor and the others back away to give her space. When our eyes meet in the mirror, she raises an eyebrow at me and smirks.
She performs the variation flawlessly.
Class ends and I scurry to the dressing room with my head still down. I throw my clothes on and root through my bag in search of my socks.
There's a loud thonk to my left as someone slams their dance bag on the chair next to me. I don't have to look at it to know it's metallic purple with a blingy heart charm.
"How does it feel?" Marlene leans in close to speak in a low tone.
"I don't know what you're talking about." I don't look at her.
"Simple. You take something from me, I take something from you."
"Like I said, I don't know what you're talking about."
"Don't think I don't see what you're up to. Jesse is mine," she snarls.
I look up at her and feel my eyes go buggy. "Are you kidding? People are not property. What is wrong with you?"
She snorts. "Today proves everything's right with me. Maybe you should be asking yourself what's wrong with you." She leans in so our faces are inches apart. "Back off while you still can or I'll take it all."
I jam my feet into my boots. "As if," I toss back at her on my way out.
During the ride home, Mom is eerily quiet. I sneak a glance at her, trying to get a read on her mood. Her face is puffy, the lines around her eyes more pronounced. I shift my gaze back to the road ahead of us, counting the minutes until I can get out of the car and put more space between us.
"Dad stopped by for a visit today."
I look at her face to see if she's joking, but she isn't. My grandfather abandoned my mother when she was five and she's spent much of her adult life trying to reconnect with him.
"How did that happen?"
"You know, it was just the oddest thing." Her face lights up. "He showed up out of the blue."
"I can't believe it," I say. I really can't. He has never been to our house.
"I couldn't either. I heard all this noise out front and saw this helicopter landing on the lawn. You can imagine how surprised I was when your grandfather hopped out."
She chatters on but I don't hear the rest because my mind is too busy doing the math, working out the probability of several equally disturbing scenarios: A) Mom fell asleep and dreamed all of this, B) Mom saw this on TV last night while she was wasted and thinks it really happened, or C) Mom is certifiably insane because she has permanently damaged her brain with alcohol.
Whichever version it is, she's completely delusional. Or a liar. Or both.
I close my eyes against the stream of lies pouring out of her lips.
"He said he's going to come back again in a couple of weeks. Isn't that wonderful?" She's so gleeful I almost expect her to start clapping her hands like a kindergartner. I stare at her incredulously.
"Great, Mom. Just great."
We cross Myer's Bridge and then we are home. I cannot get out of the car soon enough. I run to my room and shower under the hottest water I can stand and realize I have a pounding headache.
After, my body is sagging with fatigue so I lay down. My head throbs with each beat of my pulse. Then my phone rings.
"Hey, how are you?" Jesse's voice purrs at me.
"Okay, I guess." Part of me yearns to tell him about my crazy mother, but where would I even start?
"Cool, cool. Just wanted to hear your voice."
"That's a good thing."
He chuckles and then I hear a rumble of male voices behind him. "Hey, I'll call you later. We're going to catch the sunset. It should be epic."
Right then I hate him. For his easy life, his pack of friends, and his dimples. Also he definitely sleeps better than I do at night. He's half the reason I'm exhausted today.
"Right," I say. "Later."
***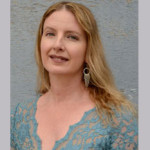 Grier began ballet lessons at age five and left home at fourteen to study at the School of American Ballet in New York. She has performed on three out of seven continents with companies such as San Francisco Ballet, Miami City Ballet, and Pacific Northwest Ballet, totaling more than thirty years of experience as a dancer, teacher and performer. Her work has been praised as "poignant and honest" with "emotional hooks that penetrate deeply." She writes and blogs about dance in the San Francisco Bay Area and has interviewed and photographed a diverse collection dancers and performers including Clive Owen, Nicole Kidman, Glen Allen Sims and Jessica Sutta. She is the author of Build a Ballerina Body and The Daily Book of Photography.