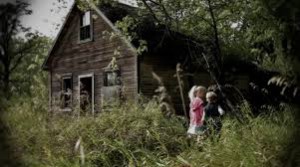 Hansel and Gretel waited deep in the forest for their father. When noon came, each ate a little piece of bread. It grew late, but still the woodcutter did not return. As they had been sitting such a long time, their eyes closed with fatigue, and they fell fast asleep. When at last they awoke, it was already dark night. Gretel began to cry and said: "How are we to get out of the forest now?" But Hansel comforted her and said: "Just wait a little, until the moon has risen, and then we will soon find the way."
In the second act of Engelbert Humperdinck's opera, Hänsel und Gretel, composed in 1892 and first performed on December 23, 1893, there is a treasure that will live forever in the hearts of countless listeners. Called "Abendsegen" in its original German and "Evening Prayer" in English, it's also known as "The Children's Prayer." In the opera, it is what Hansel and Gretel sing before they go to sleep, alone and lost in the woods. The song conjures so many powerful emotions and nuances: the bravery of two scared kids; the comfort of a ritual song or prayer; their faith and hope, and the beauty of all these things (not to mention the stunning music) that arises, like a mystical force, to blanket and protect the two lost children. Humperdinck and his sister, Adelheid Wette, who wrote the libretto, have made it more than "a mystical force." Fourteen angels take the stage in the opera, in the scene following the children's song, where they gather round and protect the children, a prayer come to life.
I've loved this piece of music for decades, always listening to it in the late autumn months, but I must confess that I've never looked closely at the words, or the English translation. I never even knew about the fourteen angels; I just knew that this was one of the most beautiful songs I've ever heard, and that the female singers (Hansel tends to be played by a female, a mezzo-soprano, alongside Gretel's soprano voice) always sound like angels themselves.
The performance below took place in Dresden's Sächsische Staatskapelle in 2012 and features Juliane Banse, soprano and Elisabeth Kulman, mezzo-soprano. Heavenly. Following "Abendsegen" is Scene Three's "Traumpantomime." Beautiful music, beautiful camera work, like a kaleidoscope at times. Check it out.
Here are the words, in German:
Abends, will ich schlafen gehn,
vierzehn Engel um mich stehn:
zwei zu meinen Häupten,
zwei zu meinen Füßen,
zwei zu meiner Rechten,
zwei zu meiner Linken,
zwei, die mich decken,
zwei, die mich wecken,
zwei, die mich weisen
zu Himmels Paradeisen!
And now the English translation:
When at night I go to sleep,
Fourteen angels watch do keep,
Two my head are guarding,
Two my feet are guiding;
Two upon my right hand,
Two upon my left hand.
Two who warmly cover
Two who o'er me hover,
Two to whom 'tis given
To guide my steps to heaven.
The fourteen angels, as it turns out, are a group of collectively venerated saints in Roman Catholicism (news to this lifelong Catholic, but then again, I'm not a very good Catholic). Their intercession is believed to be particularly effective, especially against certain diseases. I love the image of them protecting children. I especially love the following image, which hit me with a jolt when I saw it the other day. I KNOW I saw a copy of this, many times, as a young child, but the where/when eludes me even as it haunts me. It's so touching; it fills me with warmth and comfort, as if an angel were watching not just over those lost children, but over me, and over the lost child in all of us. Precisely the feeling I get when listening to this music.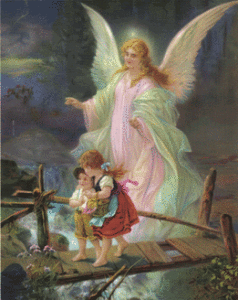 Another recent surprise was discovering that this song is a longtime Advent favorite for many. I'm going to guess it's more a European (particularly German?) thing than American. Although the second version of it, below, seems to be geared more toward an American audience, the sort of thing you might find on PBS holiday specials or pledge drive weeks. Not to mention that Kathleen Battle's red evening dress has the most comically extravagant (read: goofy) sleeves I've ever seen on a classical music stage. (Not to be confused with Yuja Wang's equally eyebrow-raising Little Red Dress. http://wp.me/p3k7ov-iU) But Battle's voice is so beautiful, as is Frederika von Stade's, that it trumps the dress choice. Now, for some quirky American reason, they have the women sing the duet twice, same words and all. Probably because the song alone, minus "Traumpantomime" is less than two minutes. So, what the hell. It sounds equally beautiful both times. And as I tend to listen to beloved songs over and over, it allowed me to click on "replay" less times.
This week in the U.S., Thanksgiving commences the holiday season. I guess it's close enough to Advent to call this a holiday offering to my readers. So, enjoy, dear readers. And if you're curious to hear the piece performed in English (featuring David Wigram, boy soprano) well, here you go: https://www.youtube.com/watch?v=zg9NBMR4sT8 It's got a lovely slideshow, to boot.
And here's one that's the actual scene from the opera, and you see the singers as scared, lost kids. https://www.youtube.com/watch?v=NQbe9cGgC2Y