Diablo Ballet has done it again, and the company has never looked better. Wait. Didn't I say that last year? But it's true—last Thursday's anniversary gala performance seemed to be presenting Diablo Ballet at its strongest, its most versatile. The roster currently features ten dancers; in past years it's been nine, and the addition of one allowed for this very cool quintet of couples ending the night's performance in the Swan Lake Suite. But that's jumping ahead. Let me back up.
Walnut Creek's Lesher Center for the Performing Arts was the venue for the company's 24th Anniversary Performance last week. An annual tradition, it's like ballet's version of a small-plate dining experience. No intermissions, instead a few minutes' pause between every work. The dance pieces themselves are never overlong and leave one hungering for more, which soon follows. A welcome speech from artistic director Lauren Jonas, a charming slideshow chronicling the company's community outreach PEEK program, accompanied by live music (Minor F Quartet from Oakland School for the Arts), and the audience was then treated to five works and one short film. Satisfying fare, indeed.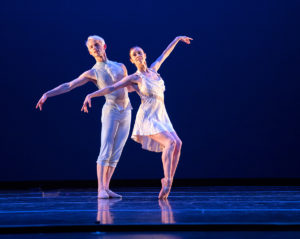 Trey McIntyre's "The Blue Boy," is set to the second movement of Beethoven's Piano Concerto No. 1, which is so elegant and beautiful, it adds a velvet veneer to the sharp, articulated passages in this classically-based work. The title refers to the famous 18th century Gainsborough portrait (you've seen it before, trust me). Christian Squires met every challenge McIntyre's fast-moving choreography flung his way. Amanda Farris joined him, lyrical and with lovely soft landings. Jackie McConnell was a strong player, too, as the trio danced their way through partnered lifts, turns and playful quirks.
After Rosselyn Ramirez' impassioned solo in Salvador Aiello's Solas, a piece that spoke of loss, rage, sorrow, aided by Jack Carpenter's moody lighting, Sonya Delwaide's Trait d'union took to the stage. Set to Gabriel Fauré's "Élégie," the choreography is inventive and distinctive, with elegant lines. In the opener, Felipe Leon's tilt, nearly falling into Alex McCleery, commenced the piece with great, creative energy. Arms were flung out, movements expansive. At one point, Leon leapt, caught midair by McCleery. Very impressive, as was the duo's chemistry, their absorbed interaction. Here, too, Jackie McConnell was a strong third member to this pas de trois. Andres Vera's cello and Robert Mollicone's piano added a nuanced depth to the equation. Delwaide's choreography finds that sweet spot I so love, of classical-meets-contemporary. (I blogged about her 2015 Serenade Pour Cords de Corps HERE.)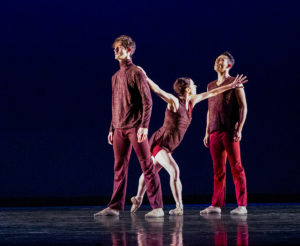 Resident choreographer and Post:Ballet artistic director Robert Dekkers' work always fascinates, and "Sixes and Seven" is no exception. It's set to Philip Glass's music—a choral piece with overlapping speech—and featured solo work by Christian Squires, who impresses me more each time I watch him dance. His total commitment to the role, the perfect timing of pauses, taps, spins, were fascinating to watch. The idiomatic term, "at sixes and sevens" can be translated as "in a state of disarray and confusion." Was this Dekkers' intent? (Certainly the music, with the quirky voice overlay, contributed.) You be the judge. Following is an excerpt from an earlier performance that features Squires and a second dancer, Jessica Collado. Susan Roemer's costume (yes, they are wearing something) makes its own stunning statement (which would be: wow, what beautiful bodies – and ditto for Squires in his performance last week).
Sixes and Seven (excerpts, 2014) from Post:Ballet on Vimeo.
The night's performance ended on a high note with selections from Swan Lake — the White Swan pas de deux; the Black Swan pas de deux and variations, staged by company régisseur, Joanna Berman. Larissa Kogut and Michael Wells impressively performed the White Swan pas de deux, no easy feat. It's amazing, the breadth of talent and versatility this company has. Partnered pirouettes were solid, lifts were assured. Kogut provided all the appropriate Odette nuances, the demure expression, the arm flutters, the tiny head quirks, the foot beating sur le cou de pied during a partnered promenade. Wells was there for her through every step and lift.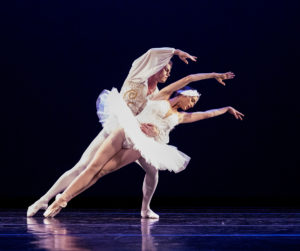 Jordan Nicole Tilton (San Francisco Ballet fans will remember her as Jordan Hammond) is a welcome addition to the Diablo roster this season, and paired beautifully with another former San Francisco Ballet dancer, Raymond Tilton. The couple (offstage, too; they are married) danced the role with the strength and theatricality it required. This is a deceptively challenging pas de deux, ramped up a notch from its White Swan equivalent, with its more aggressive pirouettes, leaps, lifts, and sometimes the couple struggled. But as if to right an earlier mistimed passage, they finished the pas de deux strongly, nailing the last iconic pose of the adagio, which thrilled the audience.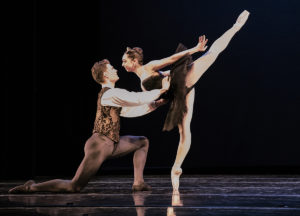 Berman's adapted staging turns the Black Swan pas de deux coda into an ensemble variation, which worked great and brought all ten company dancers onstage. Christian Squires knocked out a set of turns à la seconde, whipping around expertly, filling that craving anyone in the audience might have had for the thirty-two-fouetté series. Individual dancers and couples shot onstage, spun, leapt, and dashed off to Tchaikovsky's propulsive score. The closing tableau, five sets of dance couples in matching black tutu and costumes, felt so charming, so right for this talented, versatile boutique company.
In an era characterized by struggling arts organizations, Diablo Ballet has continued to deliver for twenty-four years. Credit for this goes to artistic director Lauren Jonas, not just for her hard work and dedication, but her ability to motivate others: not just the dancers but the administrative and executive staff; the Board of Directors; the community, which includes people of all ages. (The company has a teen board – how smart and cool is that?) It's a fine example of what works in the arts these days, and I hope other companies, small and large, take note.
**
*About that short film, a now-annual treat. This year's world premiere is called Spiritus. Produced and directed by Walter Yamazaki, as in previous years, and likewise, a commissioned score by Justin Levitt. Last year's was the award-winning Libera. Check out this stunning trailer.