Breaking news! Outside the Limelight has been named a Kirkus Indie Books of the Month Selection for January 2017!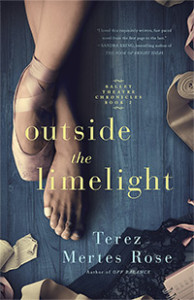 Classical Girl Press is proud to announce the release of Outside the Limelight, Book 2 of the Ballet Theatre Chronicles! You can find it in print and electronic formats HERE or distributed  through Ingram Book Company and Bookshop Santa Cruz.
WHAT THE NOVEL'S ABOUT…
Rising ballet star Dena Lindgren's dream career is knocked off its axis when a puzzling onstage fall results in a crushing diagnosis: an acoustic neuroma, a benign brain tumor. Looming surgery and its long recovery period prompt the company's artistic director, Anders Gunst, to shift his attention to an overshadowed company dancer: Dena's older sister, Rebecca, with whom Anders once shared a special relationship.
Under the heady glow of Anders' attention, Rebecca thrives, even as her recuperating sister, hobbled and unnoticed, languishes on the sidelines of a world that demands beauty and perfection. Rebecca ultimately faces a painful choice: play by the artistic director's rules and profit, or take shocking action to help her sister.
Exposing the glamorous onstage world of professional ballet, as well as its shadowed wings and dark underbelly, Outside the Limelight examines loyalty, beauty, artistic passion, and asks what might be worth losing in order to help the ones you love.
WHAT PEOPLE ARE SAYING…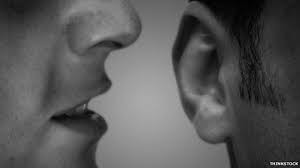 "A lovely and engaging tale of sibling rivalry in the high-stakes dance world."
— Kirkus Review (Starred review; read in its entirety HERE)
"Balanchine said dance is music made visible; Terez Mertes Rose's Outside the Limelight is dance made readable. She reveals both the beauty of ballet and its pain in a compelling, deftly written novel that unfolds like a series of perfectly executed chaîné turns. Not to be missed!"
— Tasha Alexander, NYT bestselling author of A Terrible Beauty
"Outside the Limelight sweeps us backstage, through the wings, past the dressing rooms, and into the lives of its dancers, where we see them up close, flawed and beautiful."
— Adrienne Sharp, bestselling author of The True Memoirs of Little K and White Swan, Black Swan: Stories
"From the theater's spotlights and shadows comes a nuanced drama of pain and beauty without one false note. I didn't want it to end!"
— Kathryn Craft, award-winning author of The Art of Falling and The Far End of Happy
"Outside the Limelight pulls readers into the lives of two sisters, both professional ballerinas. Through their challenges, obstacles and triumphs we are reminded that life is a complicated yet wondrous journey, and that love–artistic, romantic and familial–is one of the strongest forces of all."
— Zippora Karz, former soloist, New York City Ballet, author of The Sugarless Plum and Ballerina Dreams
"Readers will relish this fresh, enlightened insider's look at two talented dancer sisters beset by professional rivalry & bound by love. This glowing novel is full of heart. Enchanting."
–Sari Wilson, author of Girl Through Glass
"In Outside the Limelight, Terez Mertes Rose once again manages to perfectly capture the ethereal beauty of the ballet.  It's a story as rich, heartbreaking and uplifting as any ballet masterwork, with characters who stay with you long after the final act."
— Lauren E. Rico, author of Reverie and Rhapsody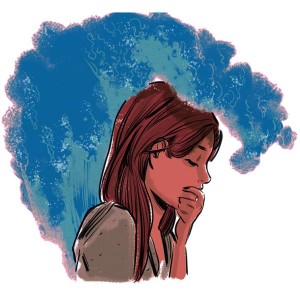 WHERE THE STORY CAME FROM…
A decade ago, in the spring of 2006, my sister was diagnosed with an acoustic neuroma and two months later underwent a craniotomy and translab procedure to have it removed. I hadn't started writing my Ballet Theatre Chronicles series yet, immersed as I was in a different, "sure thing" second novel. We were both to be disappointed by our respective end results. While the craniotomy and tumor removal was deemed a success, resulting facial paralysis on one side, brain fog, single-sided deafness and worsening tinnitus became my sister's fate. My own "sure to be a winner" novel went over like a lead balloon with my agent. The silver lining: her belief in my writing and suggestion that I try my hand at something ballet-based, a subject I'd touched on in my first, unpublished novel. So as my sister struggled with the aftereffects of her acoustic neuroma, immersing herself in therapies and surgeries and strategies, I set to work on a new novel. But it would only be in February of 2011, after the first ballet novel didn't sell, and my fourth novel didn't sell, and my agent and I were once again musing about ballet in fiction for adults, its absence in the current marketplace, that I said to her, "what do you think about a ballet novel featuring two sisters, dancers in the same elite company, and one of them, the younger, more talented one, gets felled by an acoustic neuroma diagnosis and a host of post-op problems? Do you think something like that would interest readers?"
Black Swan had just come out. Something in the air seemed to be whispering ballet to the world at large. "I do," she said without hesitation, and so Outside the Limelight was born.
At first things seemed great. The words flowed onto paper, and my sister's warrior, can-do attitude toward her difficult recovery continued, through more surgeries, more therapies. But life can get the best of us and our best intentions. A month away from completion, my novel hit a snag. A competing ballet novel—about sisters, dancers in the same elite company, the younger, more talented one gets sidelined with injury (seriously, how was this possible for two books so similar to be produced in the same year after decades of nothing?)—came out, to strong acclaim. I was screwed. And so was my sister. Surgery after surgery had not eradicated her facial paralysis. Nor had her brain fog or tinnitus dissipated. Depression and anxiety swept over her like a tsunami, drowning her. My novel, hastily revised so it didn't seem quite so copycat, stagnated in the hinterlands of the Big 5 Publishing world as my agent shopped it that fall and through the next twelve months. It was a year of staggering disappointment and discouragement, for both myself and my sister. And still life went on. Because it always does.
My sister couldn't fight back, but I could. Time for Plan B. In May 2015, as an independent publisher (Classical Girl Press), I published my first ballet novel, Off Balance. A twelve-week revision of Book 2 turned into twelve months. As a result of everything, this 2016 revision is both the same story and a very different one. They say adversity reshapes you, and I concur. My own reshaping stuff aside, I watched my sister continue to struggle with her load. Nothing went away for her—not the brain fog, the shrill scream of permanent tinnitus, the facial paralysis, the resulting depression and anxiety. While I could do little to help my sister's plight, I could pour my concern and love for her into my story. Powered by this, and a long year of backtracking, slowing down, rerouting and re-re-revising, the story has emerged all the stronger for it.
This is Outside the Limelight. This story is dedicated to my sister Maureen, with love, from all her sisters (below, L to R, clockwise: Orange Classical Girl, Annette, Kathleen, Laura, MarySue, with Maureen in the middle.) It's a story dedicated to sisters everywhere. And to acoustic neuroma survivors. And to professional ballet dancer survivors. You are all warriors. Never forget it.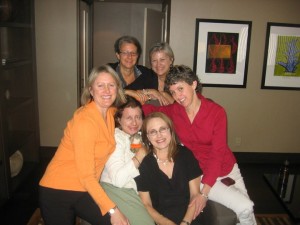 PS: I want to publicly thank the Acoustic Neuroma Association and its wonderful discussion forum, a source of great comfort, peer information and support for my sister, and a community I quietly followed on the sidelines as I worked on my novel. Ten percent of the profits of Outside the Limelight will be donated to the Acoustic Neuroma Association. If you know of anyone who has suffered from an acoustic neuroma or just been diagnosed with one, direct them to the association and discussion forum HERE. And please allow me to gift them a copy of Outside the Limelight. It would be an honor, a privilege, and a chance to pay it forward. This goes for loved ones of an acoustic neuroma patient/survivor as well. Sometimes sitting on the sidelines, watching a loved one struggle, feels just as hard.