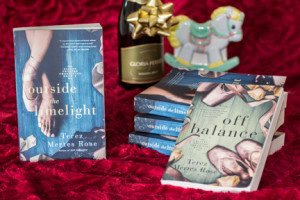 OFF BALANCE is thrilled to announce the arrival of its sister novel in the Ballet Theatre Chronicles series. Welcome to the world, OUTSIDE THE LIMELIGHT!
So, the baby got a lovely write-up in Kirkus Reviews, which summarizes OUTSIDE THE LIMELIGHT as "a lovely and engaging tale of sibling rivalry in the high-stakes dance world." And remember my recent post on "Ballet Terms Made Simple?" Happy to report that Kirkus liked it, saying, "the glossary of dance terms at the end of the book proves a marvelous resource for the uninitiated," and announcing, "this is a novel both for ballet lovers and those new to the art." Cool! You can read the whole review HERE. (Editor's note on Nov 15: woo hoo, an award! See below for the press release!)
I'm thinking this calls for a glass bubbly tonight. Care to join me? Come join me, as well, on my virtual book tour this week, where I'll be interviewed or reviewed by the following bloggers, courtesy of Sage's Blog Tours.
October 30th Freda Hansburg ~ INTERVIEW
October 31st Eskiemama Reads ~ INTERVIEW
November 1st Jessica and Gracie's Tree ~ REVIEW
November 4th Comfy Reading ~ REVIEW
November 5th Reecaspieces ~ REVIEW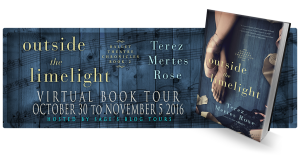 Visit Sage's Blog Tours to enter a giveaway for a print copy of OUTSIDE THE LIMELIGHT, matching tote bag and $10 Amazon gift card. Or cut to the chase and buy your own copy right now, HERE.
And by the way, Happy Halloween, San Francisco style! Below is a very cool photo, not retouched or photoshopped, which I saw in the San Francisco Chronicle a few years back, and now feels like the perfect time to use it. Spooky, elegant, and as I was in San Francisco last night, at the symphony (look for a blog on that later this week), it just felt right. The Civic Center was animated, beautifully lit, crowded, crazy, a little weird and unsettling — everything you could hope for in a pre-Halloween Saturday night in San Francisco. And if you'd like a soundtrack to your Halloween, remember to check out my Top 10 Halloween Classical Faves HERE.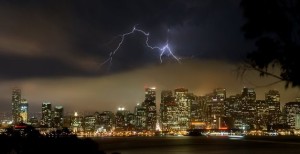 And that award I was talking about, from Kirkus Reviews?