On June 12th, forty-nine people were killed in a gay night club in Orlando, with fifty-three more wounded, in a terrorist attack/hate crime that shook the world. Hours later, James Conlon, guest conducting Sunday afternoon at the San Francisco Symphony, took the mic at the start of the performance. He told us they would be dedicating the performance of Britten's Sinfonia da Requiem to the victims and families of the massacre. He spoke about Britten, a passionate and dedicated pacifist, and then asked the audience to stand and observe a moment of silence.
We did. There are few things more powerful than pure silence in a crowded concert hall.
Benjamin Britten's Sinfonia da Requiem couldn't have been more appropriate for the occasion. Britten dedicated this 1940 composition to the memory of his parents, both of whom he'd lost in the six years previous. It was composed, as well, on the eve of World War II (ironically, initially a commission by the Japanese). There are three movements, the "Lacrymosa," "Dies irae" and "Requiem aeternam." In twenty short minutes, we experience a mournful funeral dirge, a rapid, harsh "dance of death" and the wrenching, emotional release of the requiem. On a good day it would stir your soul. Yesterday, it reached out, grabbed my heart and squeezed and squeezed. Particularly during moments in the second movement when the percussion sounded like gun shots. And the intention of the piece was so pure—surely from Britten as he composed it; from Conlon at the podium and the musicians playing; from those of us in the audience listening and thinking about the massacre. It wasn't just music we were listening to; it rose higher and became bigger than the notes. It transported all of us into the spirit of what had happened. The drama, the sorrow, the chaos, the loss. The final movement, more gentle now, and amid unspeakable loss is both grief and—is it too soon to call it healing?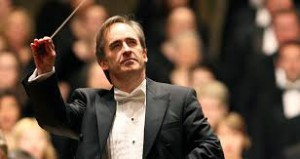 People all around me were wiping their eyes. The music subsided, coming to a quiet close. The silence at the end, once again, was absolute, as powerful as the music had been. Conlon left the stage before the trickles of applause (we'd been asked to hold our applause) could morph into full-on clapping. And that, too, seemed so powerful to me. As a guest conductor, he'd earned the right to bask in applause for a job beautifully done. He chose not to take it. The musicians, too. As they rose for the pause between pieces, breaking the spell, I saw a musician wipe his eye, one more poignant, powerful thing atop another.
The Britten was a difficult act to follow, as you might imagine. But life moves on, doesn't it? And it was time for a young artist debut, Canadian pianist Jan Lisiecki performing Mozart's Piano Concerto No. 22 in E-Flat. It was great. It soothed and entertained. Lisiecki provided an elegant, nuanced touch, neither too heavy nor too fluff. I know all of this sounds a bit trite, but the Britten had slayed me and I could only sit there, a sodden heap, and allow Lisiecki and Mozart to gently lift me and my spirits back up. Lisiecki, at 21, seems to embody all that is young, fresh, hopeful, filled with promise. The Mozart did too. And the program's concluder, Dvořák's Symphony No. 8, was yet another ideal touch, performed with energy and warmth. It was as if the two latter selections were there to support the gravity of the Britten, and gently return us back to a cheerful, refreshed state.
There are different reactions to traumatic news and acts of terrible, senseless violence. Finger pointing, grandstanding. Retreating to defensive positions and firing verbal volleys. Citing the incident as evidence that [insert the cause/stance you despise] doesn't work, and why we need [insert favorite cause]. But this musical response to the violence was so powerful and beautiful. It said, "we believe in art and its power to rise above ugliness, pettiness, violence. We don't need  words to carry out a positive, resonating message."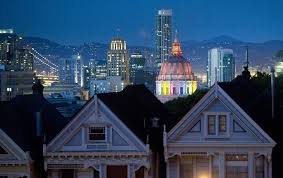 How proud, how honored I feel, to be a part of a community and a city that cares deeply about classical music, diversity, tolerance, and art. One that will speak out, in the face of something so violent and hate-filled. People try to argue that classical music has lost its relevancy and is unnecessary in today's culture. Oh, how far from true. And to Joshua Kosman, writing for the San Francisco Chronicle* that Thursday night's efforts with the same program sounded "wan and inconsequential," I'm here to tell you, Mr. Kosman. You should have been there Sunday afternoon.
Bravissimi, and heartfelt thanks, to James Conlon, Jan Lisiecki and the San Francisco Symphony musicians. Sunday's performance was the kind of experience I'll never forget.
PS: Some good reading: Lisa Houston for San Francisco Classical Voice, interviews Conlon, about music, its power, the Britten piece and Britten himself HERE. And here's another article with interesting details about Conlon and Lisiecki both from Examiner.com. 
*I suppose I should link Kosman's review, although to read his grousing now seems downright petty, never mind that he is an excellent reviewer and what he heard on Thursday was what he heard on Thursday. By Sunday, we were living in a different world. So, Google it yourself if you want to read something intelligent but negative. For me, I'd rather focus on everything that was good about Sunday's performance, which is to say, everything.