The San Francisco Symphony is right across the street from the San Francisco Ballet. I attend both. I sharpen my skills as a dance reviewer while watching the ballet, so it would stand to reason that I learn more and more about composers and their music while at the symphony.
Except when it comes to Shostakovich.
Soviet Russian history, the era's political climate and its effect on an artist, music that alternates between melodic, tender and fiercely brash—all this unfolded with Alexei Ratmansky's Shostakovich Trilogy. As the name suggests, it's a trio of contemporary ballets set to the music of Shostakovich.
I was a little intimidated, in truth, thinking about how it might all play out. Over the past few years, across the street at the San Francisco Symphony, I've seen performances of Shostakovich's Cello Concerto no. 2. It's… challenging listening at times. A performance of his Violin Concerto was easier on the ears—lovely, actually—but now this, a night at the ballet with only Shostakovich. Contemporary ballet, at that. Would it be wholly enjoyable, the way all the other San Francisco Ballet performances have been for me?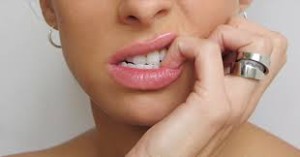 I needn't have worried. Ratmansky's Shostakovich Trilogy was mesmerizing, remarkable, meriting all the praise directed its way since its premiere with American Ballet Theatre in 2013 (it was a co-commissioned between the ABT and the San Francisco Ballet). Ratmansky, Russian-born and Bolshoi trained, forms his work around a strongly classical base, and for Trilogy he hunted down the perfect music. The whole project draws from his longtime appreciation and reverence for Shostakovich, who struggled considerably under the oppressive, censorious Soviet regime. Like I said, it was like watching an era of history unfold there on the stage. Astonishing how much could be said without a word. And we're not talking any pantomime, either. It was intelligent, clever, beautiful-to-watch choreography that achieved it.
Symphony No. 9, the night's first work in this triptych, had been a 1945 commission to celebrate Russia's triumph over Nazi Germany. Instead of the brooding triumphalism expected, however, Shostakovich stubbornly opted for lighter fare, the lightest of his fourteen symphonies. There are interesting theories as to why he did this. Great ambivalence toward Stalin and his repressive dictates? Nose-thumbing the regime, but doing it ever so carefully so that the music couldn't be faulted? Although the audiences liked it, Stalin did indeed take offense, and the censorship board banned the symphony in 1948, citing its "ideological weakness." In Ratmansky's choreography, cheery melodies parody regimented obedience, while gentler passages hint at despair, unease, wariness. A relentlessly energetic corps moved on and off the stage, interspersing dance passages with brisk, purposeful strides.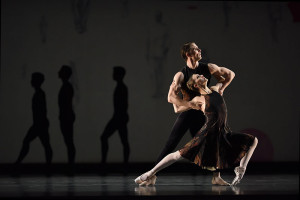 Sarah Van Patten and Luke Ingham were beguiling, vulnerable, as one of the two lead couples, their eyes uneasily sweeping the landscape before stepping into their next move. At the end of the pas de deux, Van Patten crumpled to a seated position in a tight, controlled fashion, sliding further down to one elbow, and finally to the floor, body still rigid, eyes wide open and wary. Wow. Ever so effective and well done.
For the second piece, Ratmansky used Chamber Symphony, an orchestral arrangement of Shostakovich's well known String Quartet No. 8, composed in 1960. This was one of Shostakovich's most personal works, and through Ratmansky's choreography, we see it all: the man's existential brooding, his troubled, eternally censored career, his marriages and loves, his quest to express his own art in spite of pressure to conform. Davit Karapetyan, as the lone man, was brilliant. Throughout, he commanded the stage, walking, striding, leaping, pressing his head into his hands, slumping in exhaustion, only to be swept back to his feet by the corps men, a mandate to "keep moving, never stop; you must keep up the dance." Boy, did that say it all, in more ways than one.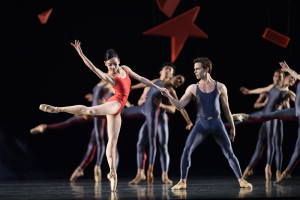 The third work of the trilogy utilized Shostakovich's 1933 Piano Concerto No. 1. It moves and moves and moves, against an intriguing backdrop of dangling vivid red shapes—stars, blocks, airplanes—suspended from above, against a bullet-grey background. Lead couples Frances Chung and Joan Boada, Tiit Helimets and Sofiane Sylve, were on fire in their respective pas de deux passages, Chung and Boada's power and technical brilliance pairing well with Sylve and Helimets' silken elegance. The corps ensemble tore through the choreography with equal effectiveness. Toward the end of the concerto, the music speeds up even more, as do the dancers' movements, almost a parody of forced Soviet cheer. It's insane.
Great job, all you talented artists. A heartfelt thanks particularly to Alexei Ratmansky, for helping me to discover, really discover Shostakovich, the man and artist behind the famous Soviet composer.
A different version of this review first appeared at Bachtrack. Read it HERE