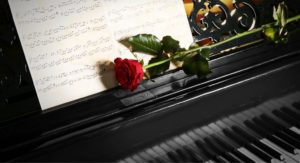 Valentine's Day is a funny sort of holiday. Some argue it's simply a Hallmark fabrication, to get people to buy cards, spend unnecessary money. Others like to recall its curious, barbaric origins in the ancient celebration of Lupercalia. Me, I'm a fan of tertiary holidays, like St. Patrick's Day and Valentine's Day, that allow me the opportunity to celebrate something specific, indulge in what I love, with the people I love (or not, if they don't love what I do). This year, however, there's a Valentine's Day snag. Having only recently discovered that red wine wasn't as good for me as I'd thought it was, all these years, and even more recently discovering that now chocolate is something to eat only in small amounts, due to the presence of heavy metals in it, how best to celebrate this year? Something still delicious, slightly decadent and thrilling?
With classical music, that's how! And, as if to solidify the rightness of this decision, my heart bloomed with happiness the moment I started creating this Top 10 list and checking them out on Youtube. I just adore each and every one of these pieces of music. Several, I've blogged about already, and yet I just can't seem to say enough good things about them.
So here I am, offering you this Valentine's Day gift, and if you scoff at the notion of celebrating the day, for the "Hallmark invented it and that's that," consider giving these songs a listen anyway. They are delicious, uplifting, sensuous. And they won't give you a hangover.
There are all sorts of moods represented in this list, just as there are all sorts of love. There's "early days" passion. There's "I am aging and growing weary but my love for you is all encompassing, all forgiving, and I offer it to you." There's the "I'm going to take care of myself tonight/this weekend because I'm stressed, cranky, and I love myself and know that I deserve a good dose of self-love and some indulgent, romantic music." There's the ache of having loved and lost, a feeling so painful and bittersweet, it has its own transcendent beauty.
It's all here. Enjoy the journey. (They are in no special order.)
Top 10 Classical and Hopelessly Romantic Tunes for Valentine's Day
1) Leo Delibes, Lakshmi, "Flower  Duet")
This one needs its own embed. Not only is the music stunning, watching these two talented singers in this more casual professional environment is such a treat. I could almost stop the list right here and watch this all day. Blogged about it HERE.
2) Claude Debussy,  Beau Soir  https://www.youtube.com/watch?v=s48mhjl-fcw
Short, but oh, so sweet.
3) Puccini, "Nessun Dorma"  https://www.youtube.com/watch?v=i2rfo48Wtmo
This is one of those stunning opera arias that singers employ to win big-stakes competitions. I've seen Olympic skaters win gold utilizing this piece of music. It gives you prickles and makes your heart soar.
4) Tchaikovsky Violin Concerto, 2nd movement https://www.youtube.com/watch?v=BdbM7kZz-lU
Tchaikovsky had wanted to dedicate this concerto to a young man, violinist Iosif Kotek, but ultimately refrained, partly to avoid gossip about the true nature of their relationship. But listen to this music: it comes from a place of pining for love. It is pure, poetic longing for what he could not have, particularly since Tchaikovsky was loath to reveal his homosexuality from the general public.
5) Bizet's Carmen, Act III "Intermezzo" https://www.youtube.com/watch?v=FeUwHaWltHI
Another one that is short but just stunning. Makes my heart soar.
6) Dvorak, Serenade for Strings in E major, op 22 "Larghetto"
This one made my Valentine's Day list because my husband bought the CD for me, years back, as a Valentine's Day gift. This particular movement is my favorite from the collection of Dvorak's Serenades, which includes op. 24 as well.
7) Saint-Saens, Violin Concerto No. 3, second movement https://www.youtube.com/watch?v=NZN8Vjbvfcg&t=1s
I wrote about this back in early Classical Girl years; you can read about my "struck by lightning" feeling, listening to it at 30,000 feet, HERE. This concerto, and this movement, doesn't get performed nearly enough. It's such a gem.
8) Mascagni, Cavalleria Rusticana , "Intermezzo" https://www.youtube.com/watch?v=BIQ2D6AIys8
This one wins the prize for being the least recognizable title and composer, for the most memorable, gorgeous tune. You've heard this. I know you have. (Probably in a commercial for Italian food products.)
9) Chopin, Andante Spianato in G-major, op 22 https://www.youtube.com/watch?v=oS_XjkILFMY
This was brand new to me, as I combed the internet yesterday for favorites I might have missed. And here I was, thinking I knew all of Chopin's music.
10) Solveig's Cradle Song from Grieg's Peer Gynt
A gorgeous, lyrical example of a love that stands the test of time, as Solveig sings:
The winter may pass and the spring disappear,
the summer too will vanish and then the year.
But this I know for certain: thou'lt come back again; 
And e'en as I promised, thou'lt find me waiting then.
Bonus one, because I can't do math…
Schubert, Impromptu No. 3 in G-flat https://www.youtube.com/watch?v=FxhbAGwEYGQ
There's a funny story to this one: I heard it in a movie theater one night, before the film started, and was stunned by its beauty, but it took me literally 10 years to actually find out what it was, and who composed it. You can read about that HERE.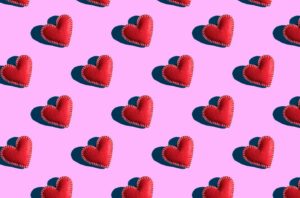 I think what I love so much about classical music is that all the pieces on my list truly send me to these various places, far from my world, and gently deposit me back. The music gives and gives, asking nothing in return. I think my world would be a colder, grayer place, without it. I hope you, dear reader, feel the same (or at least that it gives and gives to you).
Happy Valentine's Day!