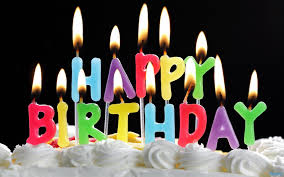 Today, September 17th, is my birthday. I am no longer that milestone, easy-to-remember "fifty years old,"  I am now "over fifty." Which, in truth, doesn't bother me. I am healthy; my body and I get along well. I can still dance, jog, kick-box and pretzel around in yoga. I remember as a kid, how "old "people (read: anyone over 39) would soberly intone, "be glad you have your health" and "treasure your health." Back then, their reverence for it baffled me. Being healthy meant you never got out of school on a sick day. Never. Because I was very, very healthy.
I can well appreciate their words now. I am fit and in good health and it sends a shiver of gratitude over me when I ponder what my quality of life might be if I didn't have this. In particular, on my 51st birthday, I consider my ballet practice. While some parts of ballet suit me extremely well right now, all that work on alignment, keeping the belly pulled up and tucked in, striving for balance within elegant movement, there are other parts that challenge my joints in a way that the average 50 year old might be looking to avoid. The knees. The hips. The fact that, in spite of the jumping and leaping we ballet dancers do, we are only wearing thin ballet slippers and not cushioned cross-training sneakers. But for me, it's "so far, so good." Lucky, lucky me.
So. My continued good health is as much of a birthday gift as I could hope for. Well, that and a little champagne around cocktail hour. Well, okay, and one of those Baskin Robbins ice cream cakes (mint chocolate chip ice cream atop chocolate cake) that my son and I like so much and eagerly anticipate each September 17th.
I suppose I do have one more wish. I'd love 10,000 views for my birthday. My blog, now that I've been working at it for 7 ½ months, is coming along nicely, with 70 blog essays posted, and it's a delight to watch traffic come in from around the world, wanting to read my articles about Paris's Palais Garnier (a HUGELY popular post) https://www.theclassicalgirl.com/502/  and prima ballerinas Alina Cojocaru https://www.theclassicalgirl.com/artist-spotlight-alina-cojocaru/  and Ulyana Lopatkina. https://www.theclassicalgirl.com/ulyana-lopatkina-and-her-swans/  Lots of people wanting to read more about violin virtuoso Augustin Hadelich, https://www.theclassicalgirl.com/augustin-hadelich-a-fiery-artistry/ and to my delight, there have been quite a few views of "John Cage's As Slow As Possible". https://www.theclassicalgirl.com/john-cages-as-slow-as-possible/  (This latter one, I sense, is because there is about to be a note change, occurring within a month, which, when a piece of music is being played as slow as possible — in this case 639 years — a note change is a big deal and won't occur again until September 2020.) And my Mother's Day essay. https://www.theclassicalgirl.com/duplicate-of-mothers-day-essay/ Who would have thought so many people around the world would be coming to read the Mother's Day essay, through every season?
My blog is at 9,840 views (over 30,000 views if you count spam but I only do that on bad days when I need an ego boost). On the average day, of late, I've gotten 75 views. On a good day it's over 100. On my best day, it was close to 200. So. Feel like giving me a birthday gift this week? If you're here, reading this, do me a favor and click on a few of the above links if you haven't before read the article. Or heck, if you have, read again! Or send a link of this blog to someone who might be interested in the above subject matter.
I'm so close, it's thrilling. And even if you don't do a thing, dear reader, you've already made my day by showing up to read this. You've made my year by showing up at my blog to check out my writing. In the early days of blogging, there were few visitors and views, because, well, that's what happens when you start up a blog. It was a lonely, lonely time. Today, I feel utterly rich.
I've got my health and I've got my blog with its interested readers. I've got supportive family and friends encouraging and enriching my endeavors. What a wonderful thing to celebrate on my birthday.