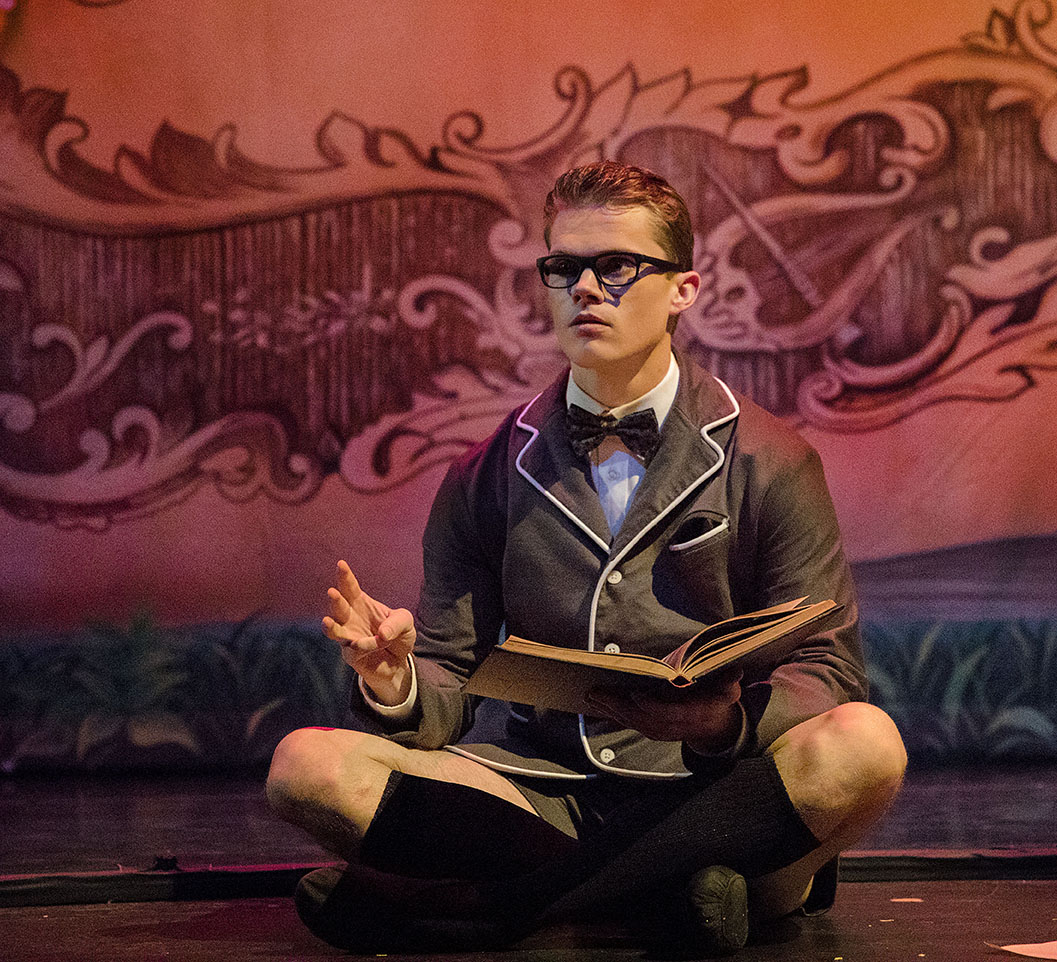 Diablo Ballet turns 25 this season, and that's something worth celebrating. And celebrate, they did, with a world premiere of a full-length ballet, Once Upon a Time, on March 22 and 23 at the Lesher Center for the Performing Arts. Choreographer Julia Adam has woven a host of fairytale characters—Little Red Riding Hood, Cinderella and her stepsisters, Alice in Wonderland and the White Rabbit, Sleeping Beauty, Snow White and more—into a narrative ballet that's smart and funny, with broad appeal. The score featured George Gershwin's An American in Paris and Benjamin Britten's "The Young Person's Guide to the Orchestra," performed live (and impressively) by the Contra Costa Wind Symphony, director Brad Hogarth conducting.
Michael Wells and Jackie McConnell were adorable and engaging as the Boy and the Girl around whom the story centers. The setting is a schoolroom, with Raymond Tilton their stern schoolmaster. Tilton is tall, and the way he fills a stage with his presence, delivers high entrechat jumps with impeccable feet and soft landings, made him perfect for the role. The band of cheerfully unruly students included Rosselyn Ramirez and Amanda Farris as sisters, Maxwell Simoes and Felipe Leon as brothers, with Jillian Transon and Jacopo Jannelli completing the ensemble.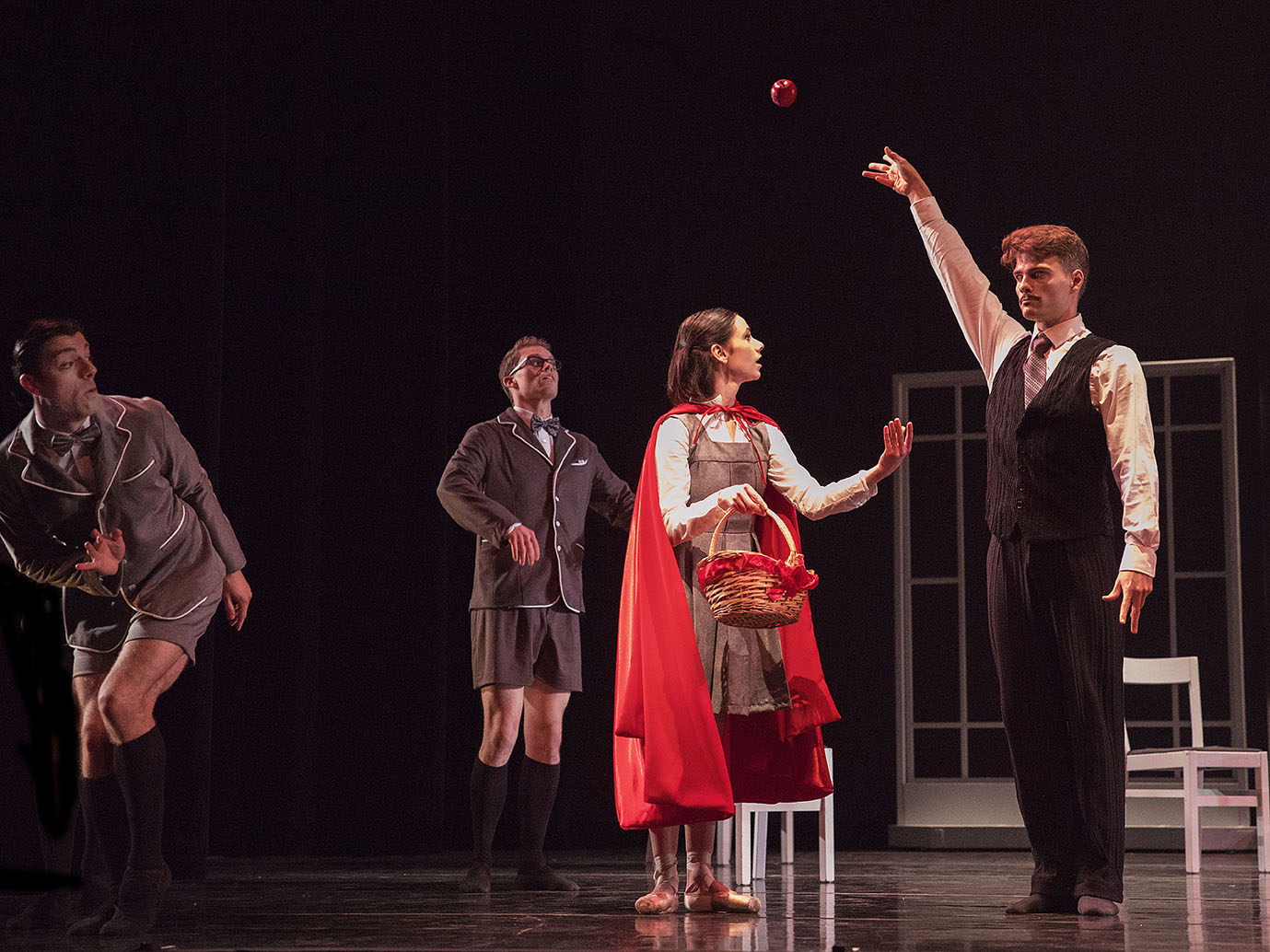 Adams, a critically acclaimed choreographer with over 70 works to her name, has concocted a delightful romp of a ballet that holds equal appeal for adults (whew!) as well as children. Buoyant lifts and jumps abounded. Gorgeous partnered leaps from Ramirez and Farris were ably supported by Simoes and Leon (who later charmed the audience with their Tweedle Dee and Tweedle Dum). Adam's choreography is both lushly classical and playful, such as when one partnered lift ended with forklifted arms for the lifter, the female's legs out in the splits, feet flexed. Tilton's sauté arabesques commenced a "follow the teacher" line of dancers. Wells promenaded in an attitude that sent his back leg over a sitting girl's head. In the back row, dozed Jillian Transon (a precursor to Sleepy of the Seven Dwarves fame?) There was always something fun to watch. Antics abounded until the moment the Boy received a thump on the forehead that knocked him out, and he woke, à la Dorothy and The Wizard of Oz, in a place populated by fairytale creatures.
The ballet, in two scenes, runs 45 minutes, which proved the perfect amount of time for Saturday afternoon's family-friendly audience. The kids loved the production; their rapt silence was punctuated only by excited whispers each time a new fairytale character came out. For the adults, subtler entertainment: Raymond Tilton stole the show more than once in his various en travesti roles, including Cinderella's stepmother, the evil queen from Snow White, the Queen of Hearts from Alice in Wonderland, where he perfectly balanced hilarity and authority. Transom, new to the company via the San Francisco Ballet, was a grace-laden fairy godmother with lovely piqué arabesques. Ramirez and Farris, always strong, lyrical dancers, entertained as Cinderella's two stepsisters. Jacopo Jannelli's White Rabbit was so funny, with rabbit ears that quivered so realistically, they made me laugh like a kid.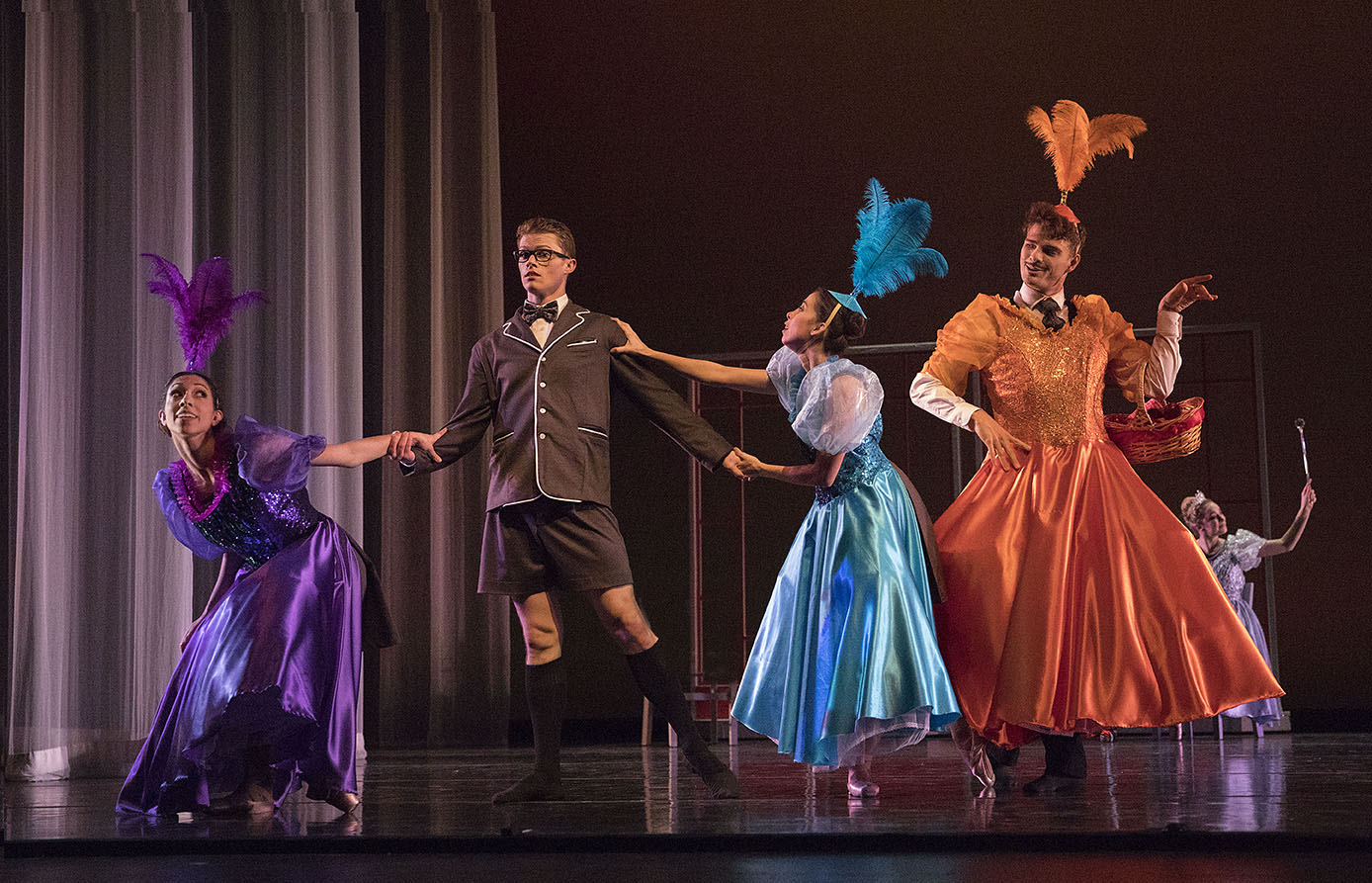 The troupe is small—only ten dancers—and for a ballet packed with multiple fairytale characters, it meant dozens of fast changes in and out of Mario Alonzo's costumes. A decision to incorporate tie-in-the-back costumes was a good one, clever, effective and efficient. It also helped the kids (okay, and the adults) keep track of who was who, through all the fast changes. Costuming grew purposely convoluted later on, to great comic effect, as stepsisters Ramirez and Farris marched out with both dresses and dwarf beards. Scene one's schoolroom motif returned when a huge load of papers was released from above like confetti, highlighted by Jack Carpenter's lighting. And in the closing moments, as the Boy whirls the Girl around, her legs flying out, there's a second paper drop, this time red bits, against a red glow (think: Red like the Riding Hood), and it was beautiful to watch as the curtain descended. A great ending to a great production.
The program also included a short film, "From the Foundation to the Pillars: A Diablo Ballet Retrospective," by award-winning filmmaker, Walter Yamazaki, to help commemorate the 25th anniversary of this gem of a company, based in Contra Costa County.
"Looking back on 25 years warms my heart to know that Diablo Ballet's mission has remained committed to enriching, inspiring, and educating children and adults through the art of dance," artistic director Lauren Jonas shared in program notes. In this endeavor, the company has been wildly successful. Their PEEK Outreach Program, which began with one classroom in 1995, is now in six schools once per month for the entire school year, serving Bay Point, Hayward, Martinez, Oakland and a special-needs class in Walnut Creek. In addition, they are in their fourth year of working with at-risk teen girls incarcerated in Juvenile Hall. And since 2018, they've touched the lives of mentally ill and developmentally disabled individuals at a rehabilitation center in Castro Valley.
How I feel about Diablo Ballet was epitomized by a post-performance moment just outside the auditorium, when the lovely, smiling Jackie McConnell, still costumed as Snow White, squatted down and beckoned two little girls in their own costumes to come over. Their awe and excitement and her genuine warmth were so touching to watch. I stood there, pretending like I was caught in the crush of patrons milling around, but the truth was, I just wanted to keep watching the magic that every member of this company passes on, onstage or off.
PS: exciting news from Diablo Ballet! In a press release, the following was just announced:
(March 26, 2019) WALNUT CREEK — As part of its 25th Anniversary, Diablo Ballet announced today that it will be opening its own ballet school at the end of summer at Performing Academy's Diablo location in Pleasant Hill. Classes will be offered to students ages three through adult who enjoy dancing as well as those who wish to pursue a professional career in ballet.
The Diablo Ballet School will be the first in the East Bay to be run by a professional ballet company. Under the leadership of Lauren Jonas, Co-Founder and Artistic Director of Diablo Ballet and School Principal and company dancer, Raymond Tilton, the School has a dual mission: to train classical ballet dancers who wish to pursue a professional career in ballet and to offer young children and adults in the Bay Area an introduction to classic ballet and the joy of dance by professional dancers.
The school will be located at the Performing Academy Diablo location in Pleasant Hill. This location will also be the new home of Diablo Ballet's company rehearsals. Classes will range from Pre-Ballet to Adult Ballet classes, including Ballet I, Ballet II, Ballet III, Intermediate and Advanced Ballet. Students will have performance opportunities each year and Intermediate and Advanced Ballet students will be given the opportunity to perform with Diablo Ballet in one program during the Company's regular season. Registration will begin in May on the company's website. For information, please call (925) 943-1775 or visit www.diabloballet.org.