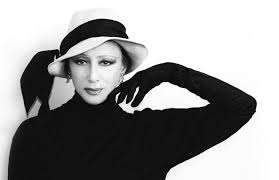 Today the ballet world has lost one of its greatest of greats; Maya Plisetskaya has died at the age of 89 in Munich. One of the Bolshoi's most famous and iconic prima ballerinas, she served to define Soviet Ballet for a generation, before advancing into choreographing and directing, while still performing onstage into her sixties.
Somewhat prophetically, I learned more about her history her only last week, while reading Jennifer Homan's excellent (but long!) Apollo's Angels – A History of Ballet. Plisetskaya's background is stirring and unforgettable. Here's an excerpt from the book:
"If [Galina] Ulanova represented Leningrad and a pure Kirov style, Plisetskaya was her opposite: a woman of Moscow with no "real school" (that is, no sustained Vaganova training), no tradition, "no beliefs," and a childhood bloodied by the twentieth century. Her life in dancing began in 1934, when she was admitted to the school of the Bolshoi Ballet at the age of nine. Her father had been a committed Communist, proclaimed a national hero for his work on behalf of the Soviet coal industry and presented with one of the first Soviet-manufactured cars by Molotov himself. He was also, however, a Jew. In 1937, at the height of the purges, he was arrested (and eventually executed) and her mother was deported to a camp in Kazakhstan. Barely a teenager and faced with terror, war, and dislocation, Maya took refuge in ballet and the Bolshoi Theater; like so many other dancers, she found a home there and in 1943 was invited to join the company. Thus the little girl whose father Stalin had murdered would soon become the de facto prima ballerina of the USSR. But her devastating personal loss and profound—and profoundly ambivalent—relationship to the Soviet state did not go away. There lay the foundation of her art."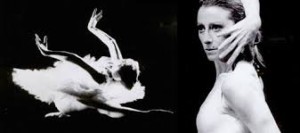 Plisetskaya went on to become one of the greatest of Soviet ballerinas, obtaining the title of prima ballerina assoluta, the rarest and highest of rankings in the ballet world.
Here she is at an 61 years old, dancing "Dying Swan" with the astonishing fluidity of movement (her arms – OMG!) for which she was renowned. Astonishing to watch. https://www.youtube.com/watch?v=Luz5g-doa34

I love the way Jennifer Homans, in Apollo's Angels, goes on to describe Plisetskaya, giving me a much better vision and perspective of the legend than I'd had before. Here's another excerpt:
"As a performer, Plisetskaya excelled in the hard-edged, technically demanding roles that Ulanova eschewed: Raymonda, the black swan in Swan Lake, Kitri in Don Quixote. She never danced the role of Giselle ('something in me opposed it, resisted, argued with it'), but instead played the iron-willed Queen of the Wilis. […] Physically this made sense: Plisetskaya was beefy and strong, with thick legs and a muscular back. Stylistically, her movements were hard and unyielding, never elegant or polite. Her technique was raw but powerful–she lacked the refinement of the Kirov school, but could save a step or pull herself back into alignment from a dangerously off-balance position by dint of sheer force. Films of Plisetskaya's performances show her throwing herself into dancing with an abandon few ballerinas would dark, and in her sharp light, Ulanova's restrained purity can take on the paler glow of piety. She was brazen and often moved with questionable taste. "I knew some things, others I stole, some I figured out myself, took advice, blundered through. And it was all haphazard, random."
I can't decide whom I adore more: Maya Plisetskaya, for the power of the woman she was, in all her flaws and glory, or the dance historian who brought her to life for me. (Needless to say, I highly recommend giving Apollo's Angels a read.)
Today I will call it Maya's day. Rest in peace, beautiful prima ballerina assoluta. May the world never forget you and how you enriched and helped define the dance world of the late 20th century.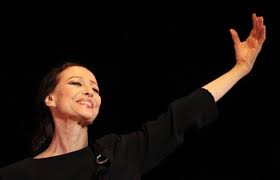 PS: More wonderful links of her dancing. Here's her, in Maurice Bejart's "Bolero: https://www.youtube.com/watch?v=SsSALaDJuN4 And her dancing Kitri in a 1950's Don Quixote. Remember how Jennifer Homans said she threw herself into her dance? Perfect example: https://www.youtube.com/watch?v=FmsokIChU-0&list=RDFmsokIChU-0
PPS: but do yourself a favor and read Apollo's Angels. If you read one book about ballet and its history in your life, this should be it. http://www.amazon.com/Apollos-Angels-A-History-Ballet/dp/1862079501